Well, hello 2016 – so nice of you to join us! I was getting tired of 2015, so let's see what you have to offer :)
As is the case every year, I'm going to try to eat healthier more consistently this year. I'm a huge believer in balance – I like to eat right during the week and then allow myself to eat whatever I want on the weekends, in moderation. That, coupled with regular exercise, is the right combination for me, but I can always do better. Case in point: we spent New Year's Eve with some friends and had a seriously delicious, gluttonous dinner: beef brisket, mac & cheese, smashed potatoes, monkey bread for dessert…..so friggin good, I can't even tell you. Thank goodness I managed to eat a handful of baby carrots and some grapes, but now I'm in desperate need of a diet reboot. Cue: obligatory healthy first post of the year!
I also want to take my oral health a lot more seriously this year! This means cutting down on sugary snacks and swapping soda and other drinks with a high sugar content for healthier alternatives. Consuming too much sugar can lead to lots of different oral health issues such as sensitive gums, tooth decay, and cavities, so if, like me, you are on a health kick, alongside regular trips to a Dentist in San Ramon or a dentist in your area, you should be aiming to reduce your sugar intake.
Today I'm bringing you a super simple and easy Green Smoothie that can be made with so many different ingredients. The ingredients in my recipe below work great for me because not only are they tasty and healthy, but I almost always have everything on hand at any given time. When bananas or greens start to go bad I throw them in the freezer and use them in this smoothie. And if I have it on hand, I also like to use plain Greek yogurt, kiwi or frozen mangoes. Experiment with what you have to find your favorite combination. I just find that bananas give great texture and sweetness, while frozen fruit gives the smoothie both flavor and that important icy factor – so I always use those two things. 
It's honestly one of my favorite smoothies because it isn't overly sweet; it's light, refreshing, and filling. Each serving is under 300 calories with 11 grams of protein. Give it a try for breakfast and feel those good vibes, people! Happiest new year and best wishes to each and every one of you! Let's do this, 2016!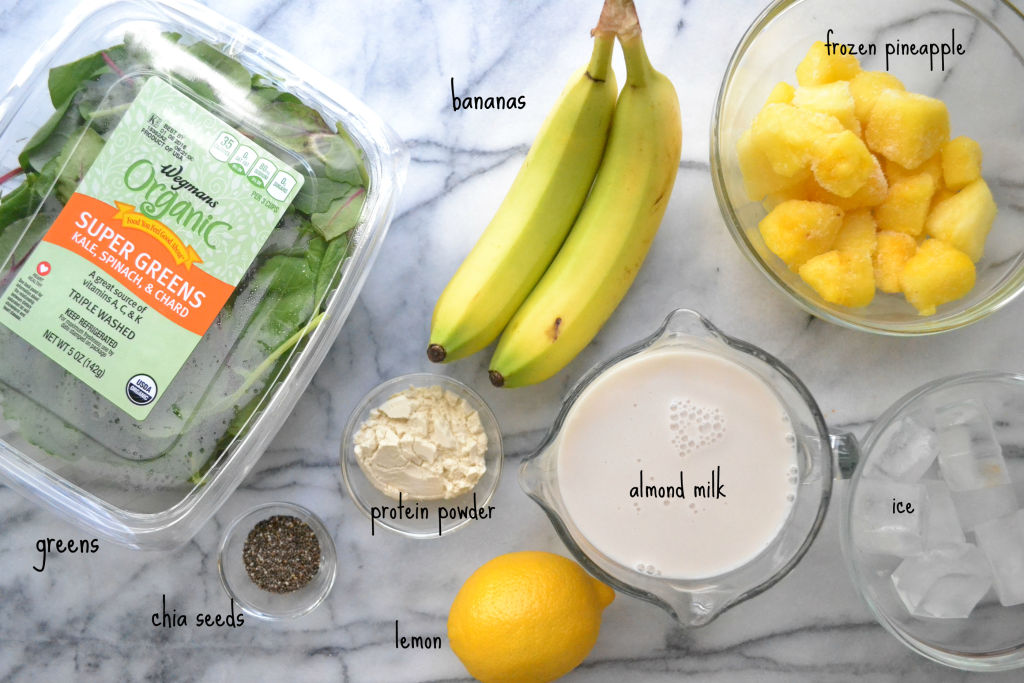 Just throw all the ingredients into a blender, and blend for a minute until smooth (I use the "liquefy" option on my blender).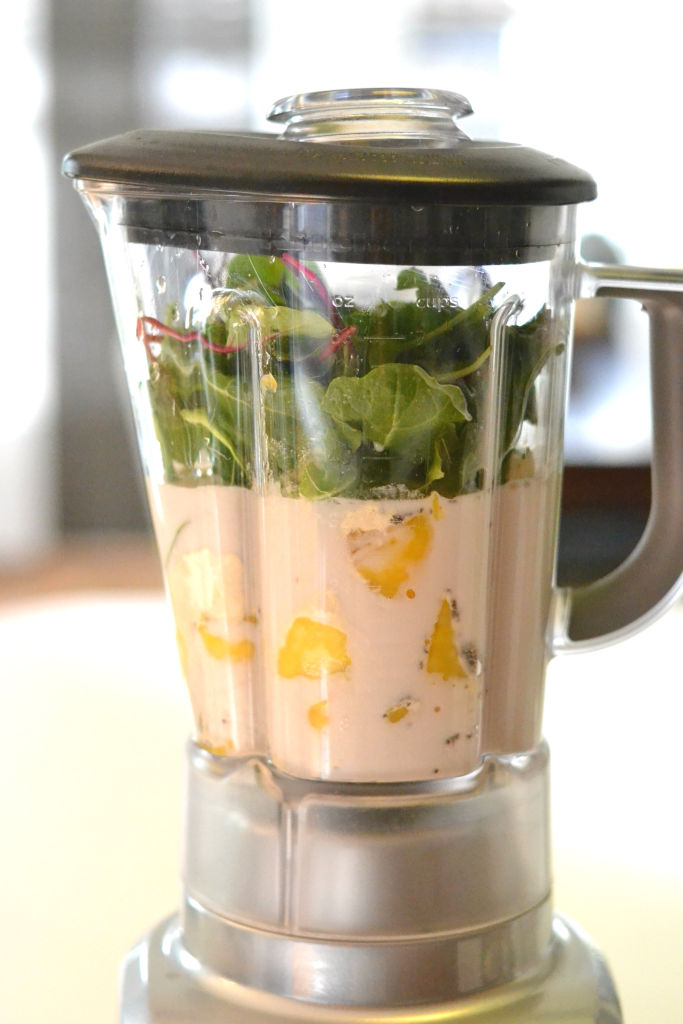 Pour and enjoy :)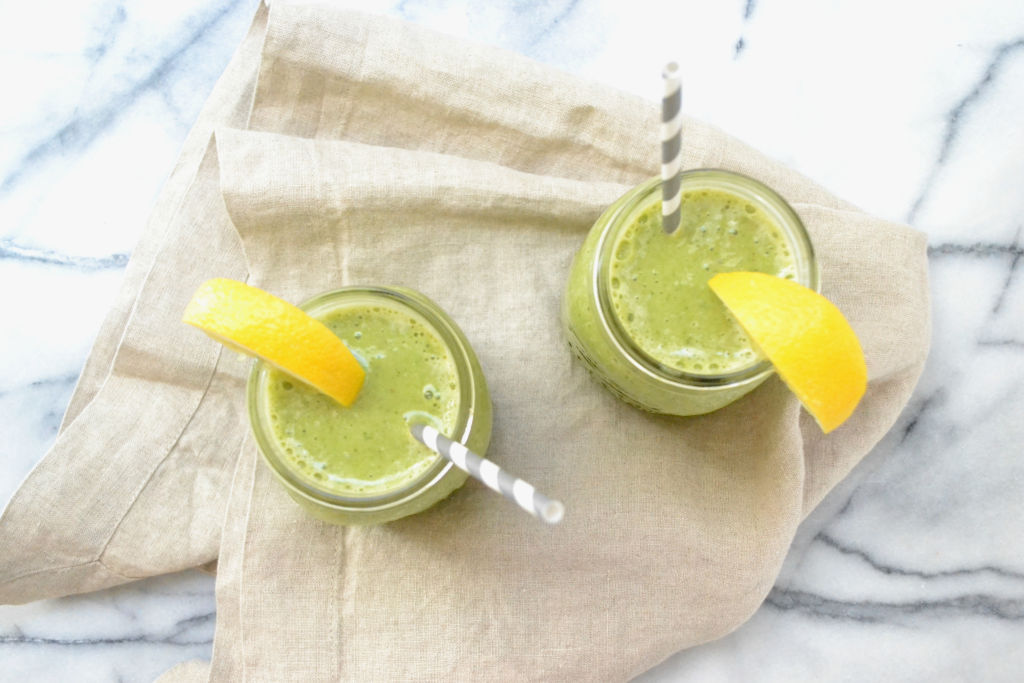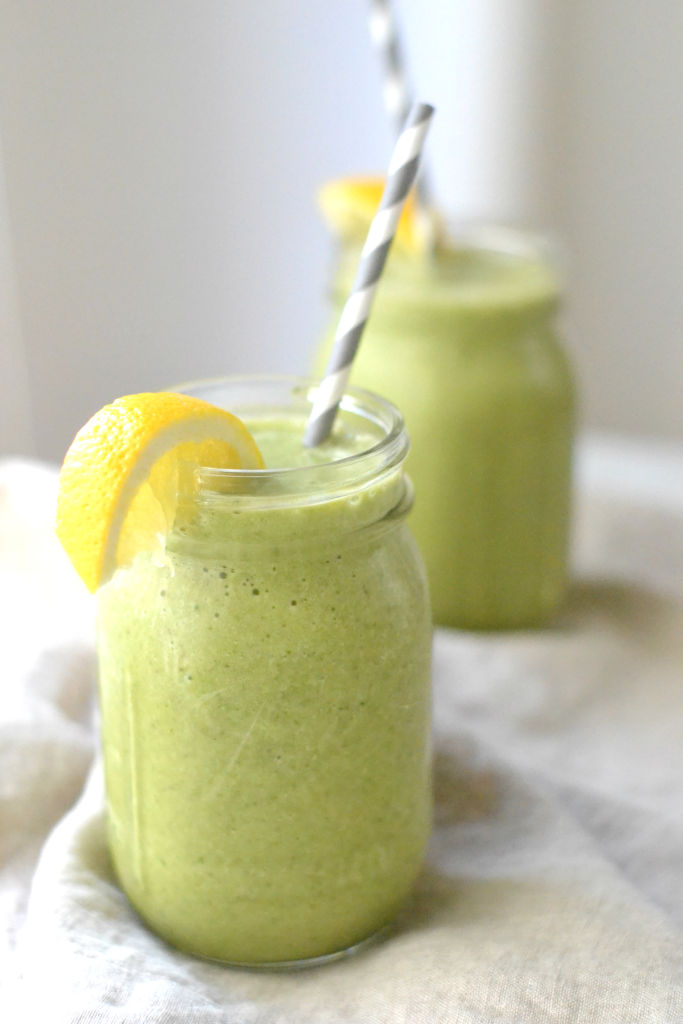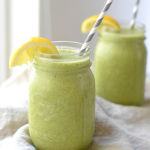 Green Smoothie
2016-01-01 13:52:14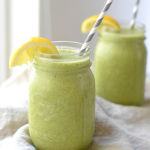 Serves 2
A refreshing and nutritious, protein-packed Green Smoothie with pineapple, banana, and greens....ready in just a couple minutes!
Ingredients
3 cups greens (ex. spinach, kale, chard)
2 cups frozen pineapple
2 bananas
2 teaspoons Chia seeds
2 cups Almond milk
Juice from half a lemon
3 Tablespoons protein powder
A few ice cubes
Instructions
Add all ingredients to a blender. Blend for a minute or so, until smooth.
Serve immediately.
Notes
Tip #1: I get my Chia seeds from Trader Joe's but most grocery stores carry them now.
Tip #2: For my Almond milk, I use Silk Unsweetened Almond Milk.
Tip #3: For protein, I use Body Strong Unflavored 100% Whey Protein.
Love & Food ForEva https://loveandfoodforeva.com/