Happy Monday! I hope you all had the chance to relax and spend some quality time with loved ones this Thanksgiving! We had a lovely week, full of fun and food, and now I'm ready to get back on the healthy train so I can do it all over again in less than a month for Christmas :)
Can you believe tomorrow is December? I don't have a clue what happened to 2015, it just sort of *poof* disappeared….so crazy. The good news is this is truly the best time of year. The moment Thanksgiving was over we picked out our Christmas tree, hung our stockings, and decorated outside with pretty white lights :) Makes me so happy!! Growing up it was tradition to start decorating for Christmas the day after Thanksgiving. I also remember the house being filled with the irresistible smells of my mom's cooking.
To keep that memory going, yet staying somewhat healthy, I decided to make this Homemade Granola. Ohhh, the smells! The nutty, maple scents are so warm and inviting! You will never go back to store-bought once you've made it yourself. It's as simple as mixing every ingredient together, throwing it in the oven, and you're done. You may even have most or all of these ingredients in your pantry already. And I just love having a big batch of homemade granola on hand. So get to making this hearty and crunchy granola, perfect for breakfast, a snack, or dessert!
I like my granola with just nuts, but you can also add any dried fruit you like (ex. raisins, cranberries) at the end once it's baked and cooled.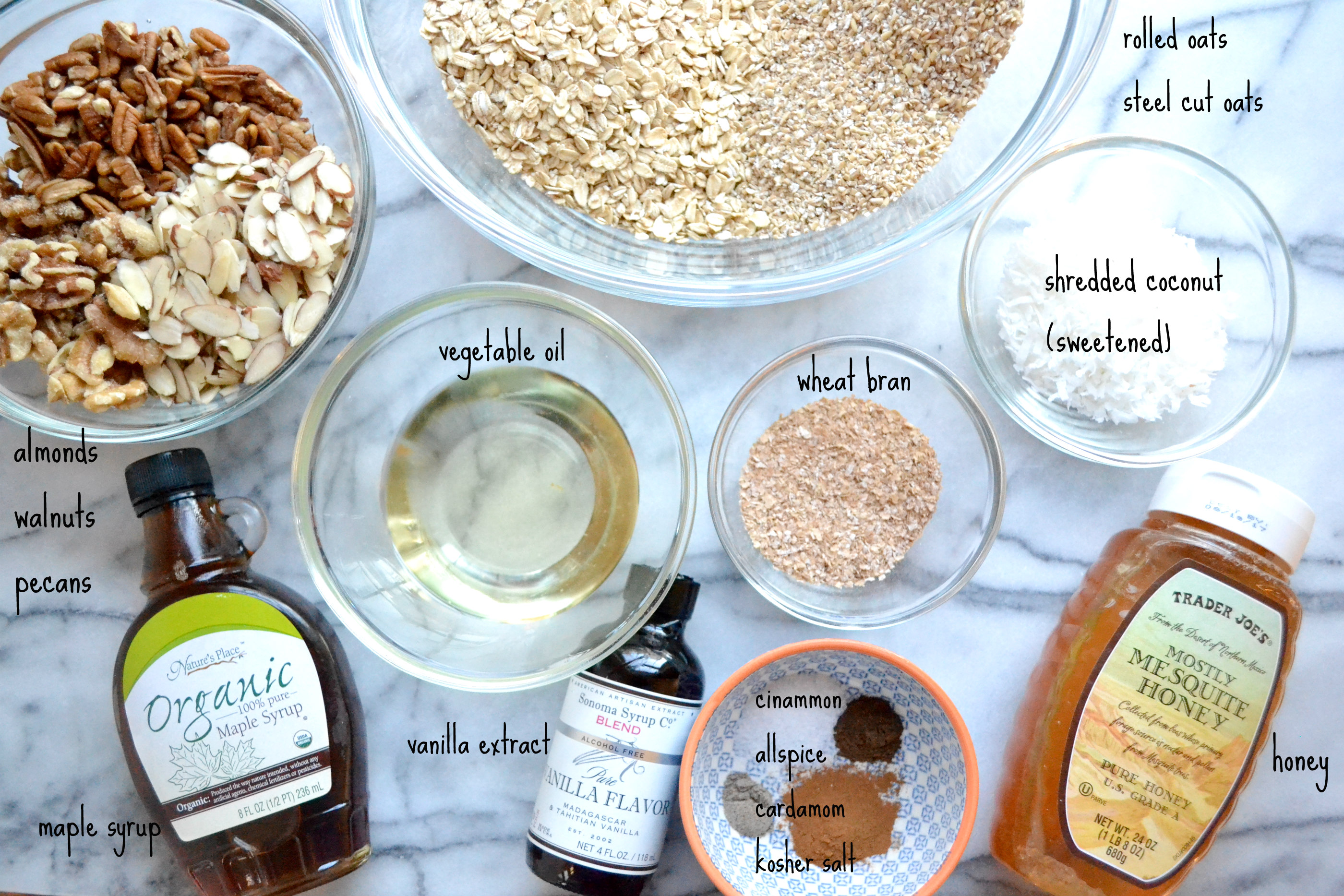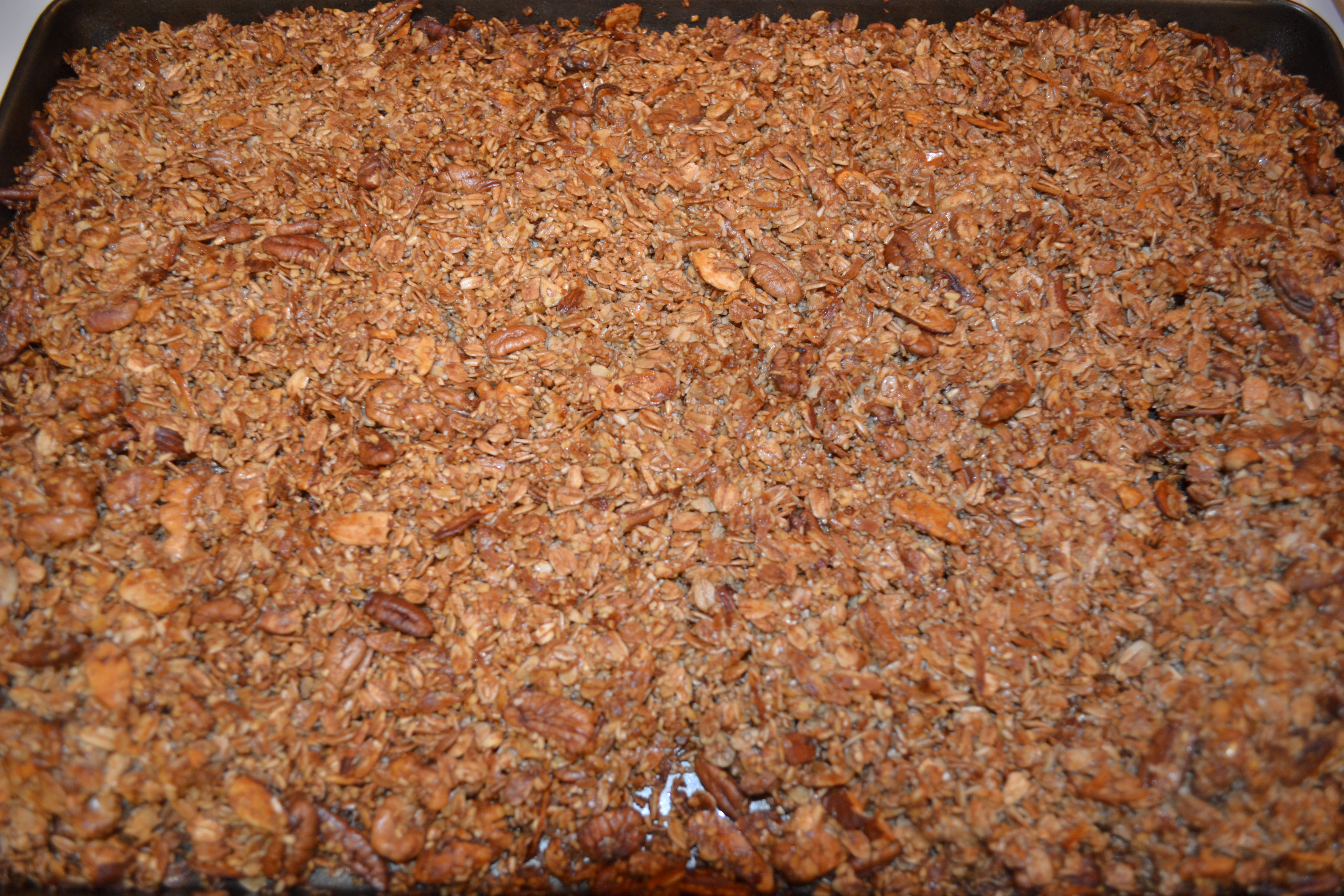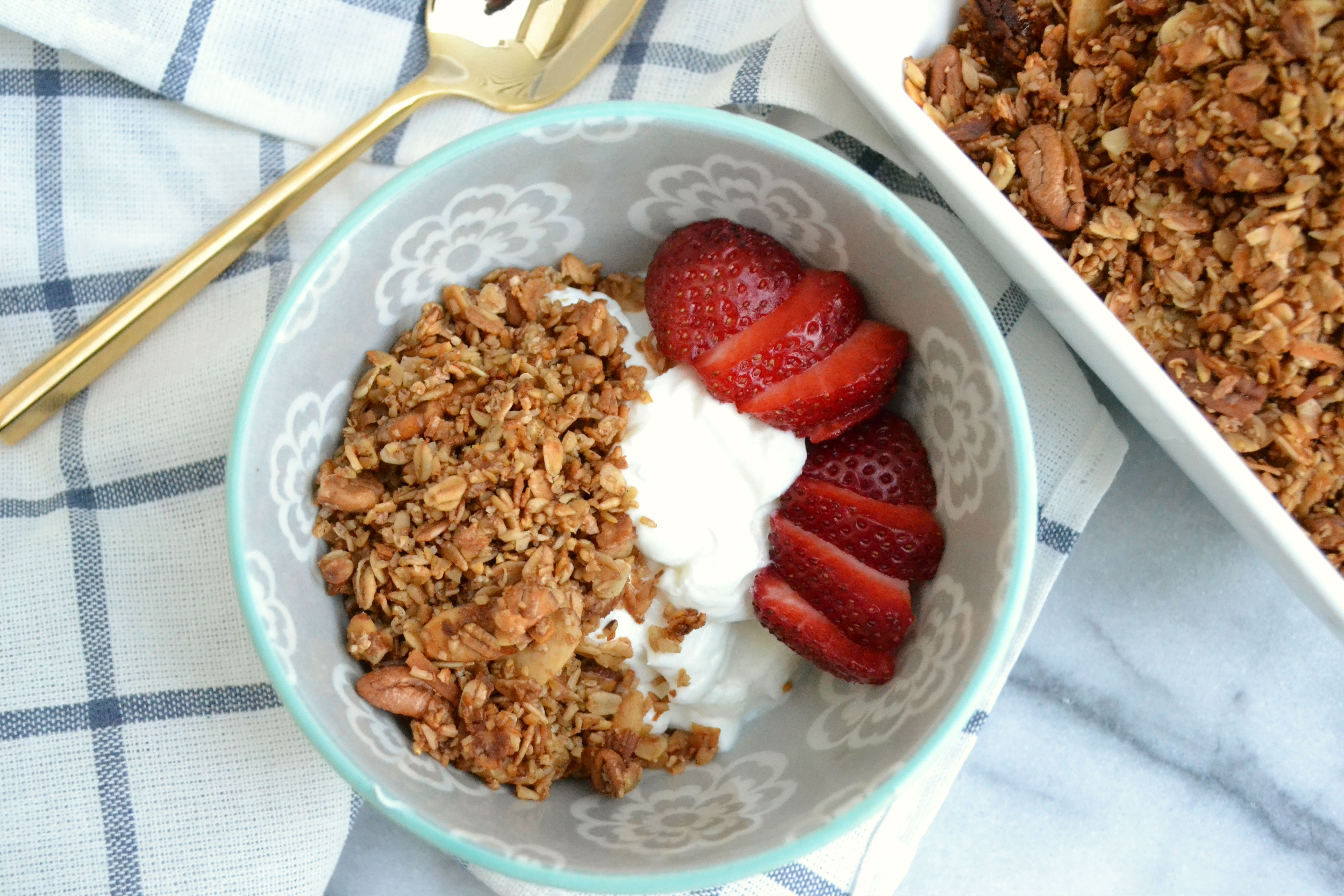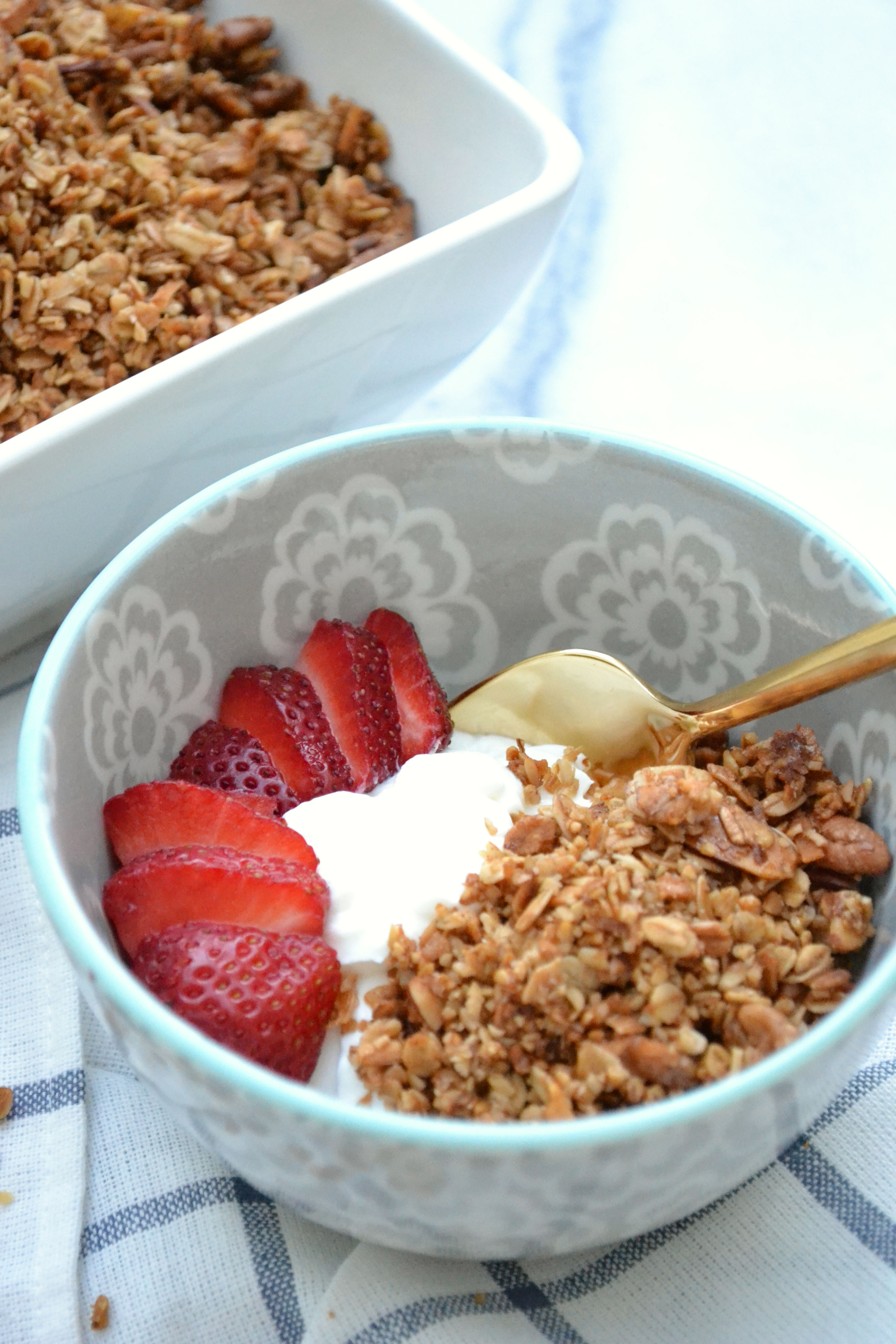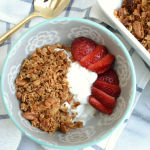 Nutty Homemade Granola
2015-11-29 13:53:59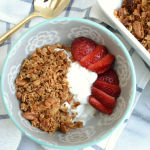 A sweet and crunchy homemade granola, perfect for breakfast, dessert, or a quick snack!
Ingredients
3 cups rolled oats
1 cup steel cut oats
1 cup pecans, roughly chopped
1 cup walnuts, roughly chopped
2/3 cup sliced almonds
1/2 cup sweetened shredded coconut
1/4 cup wheat bran (optional)
1/2 cup vegetable oil
1/2 cup maple syrup (not pancake syrup)
1/3 cup honey
1 teaspoon vanilla extract
3/4 teaspoon cinnamon
1/4 teaspoon allspice
1/8 teaspoon cardamom
1/2 teaspoon kosher salt
Instructions
Preheat oven to 325 degrees F.
Combine all the dry ingredients in a large bowl: rolled oats, steel cut oats, pecans, walnuts, almonds, shredded coconut, wheat bran. Stir well to combine.
In a smaller bowl combine the wet ingredients and spices: vegetable oil, maple syrup, honey, vanilla extract, cinnamon, allspice, cardamom, kosher salt. Whisk together well.
Pour wet ingredients into the bowl with dry ingredients. Stir well to combine with a rubber spatula.
Spray a large baking sheet with nonstick spray. Spread granola onto baking sheet, spread in a single layer.
Bake for 15 minutes. Remove from the oven and stir lightly. Bake 10-15 minutes more, until golden brown.
Let cool. It will harden as it cools.
Notes
Store in air tight food storage containers; it will store nicely in your pantry for up to a month, making it super easy for quick breakfasts, snacks, or desserts! Eat with milk as a cereal, serve on top of plain Greek yogurt with fresh fruit, or sprinkle on top of ice cream for crunch!
Love & Food ForEva https://loveandfoodforeva.com/