I made this for the first time a week ago and it was love at first bite. Full disclosure: the pictures you see in this post represent the third time I've made this in one week (#noregrets). Monkey Bread is something almost everyone has had, and it's easy to see the appeal: butter, sugar, bread. Need I say more?! It's very easy to make, only takes a few ingredients, and tastes amazing (read: highly addicting). Plus it makes your whole house smell like butter and cinnamon when you bake it. Oh yes. I've added pecans to the traditional recipe for a little crunch and it is just delicious. So without further ado, I present to you your new favorite dessert, Cinnamon Pecan Monkey Bread :)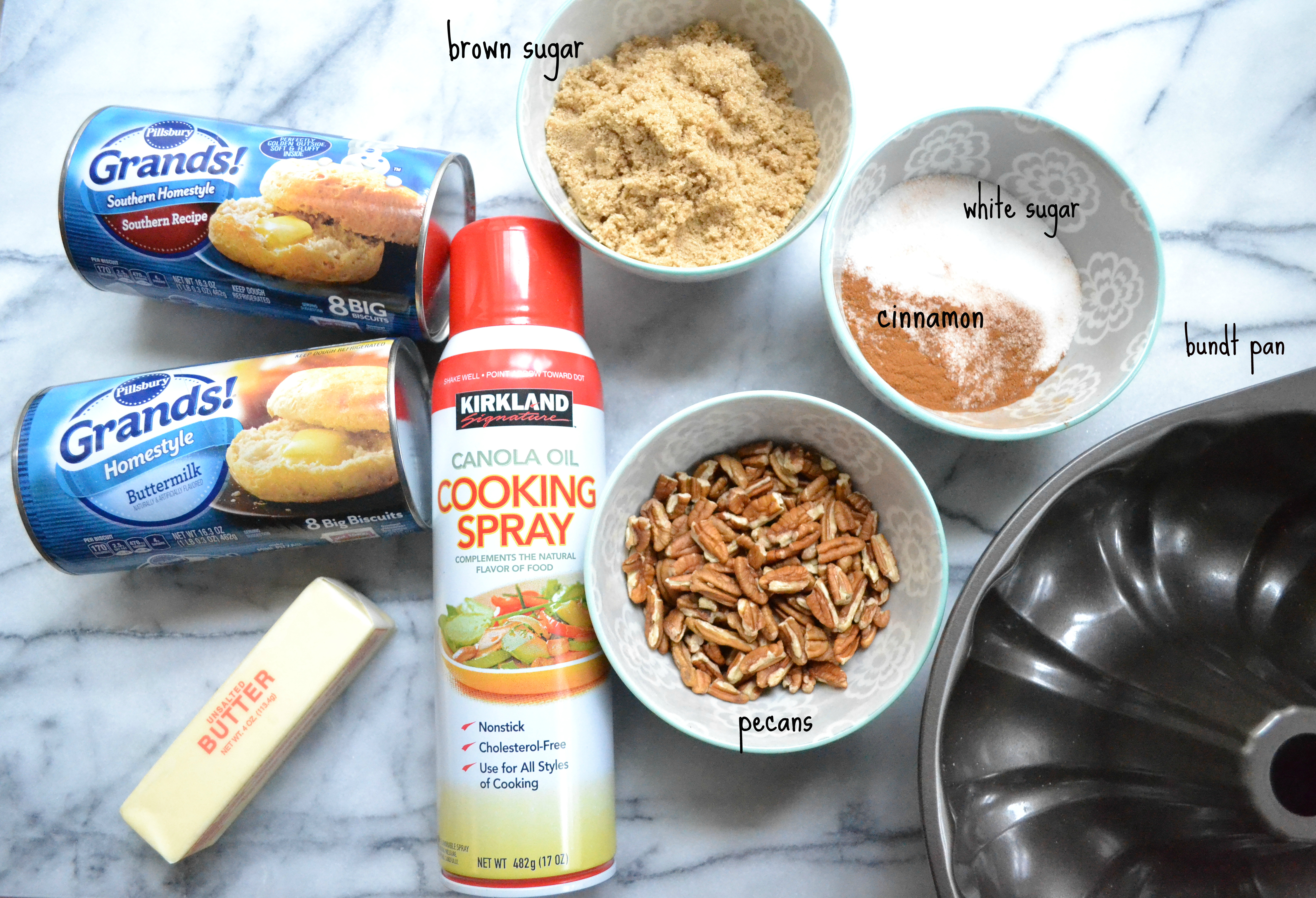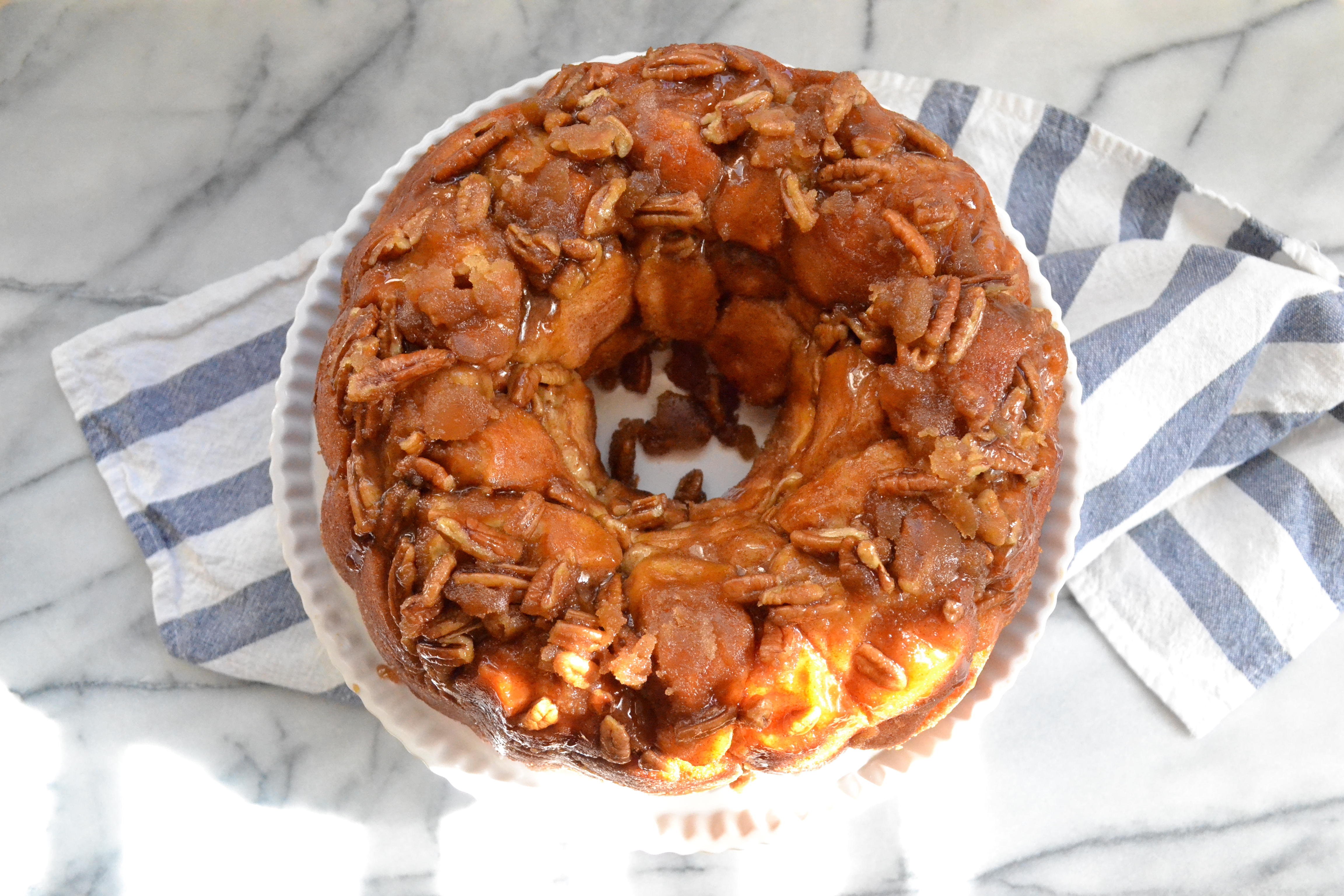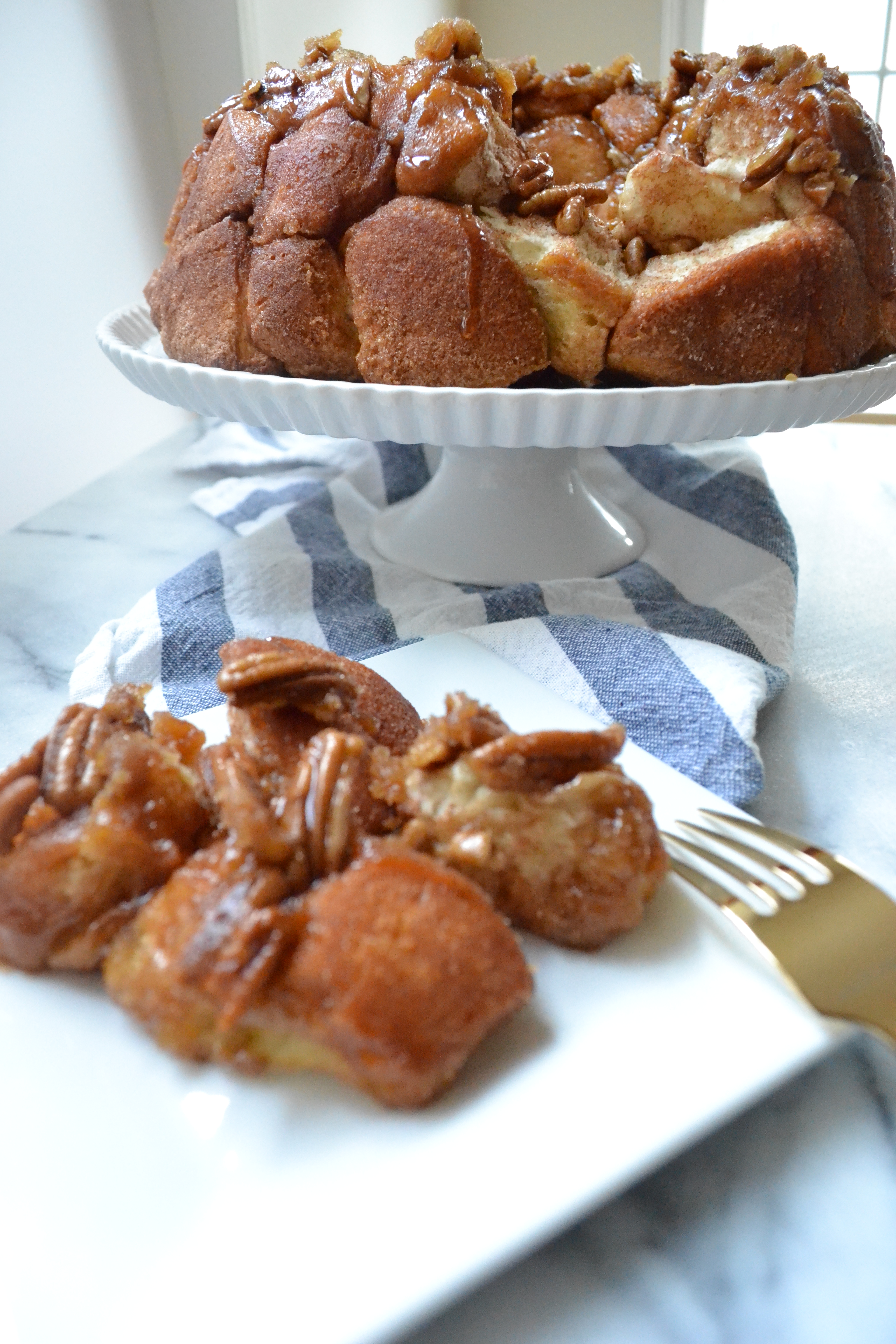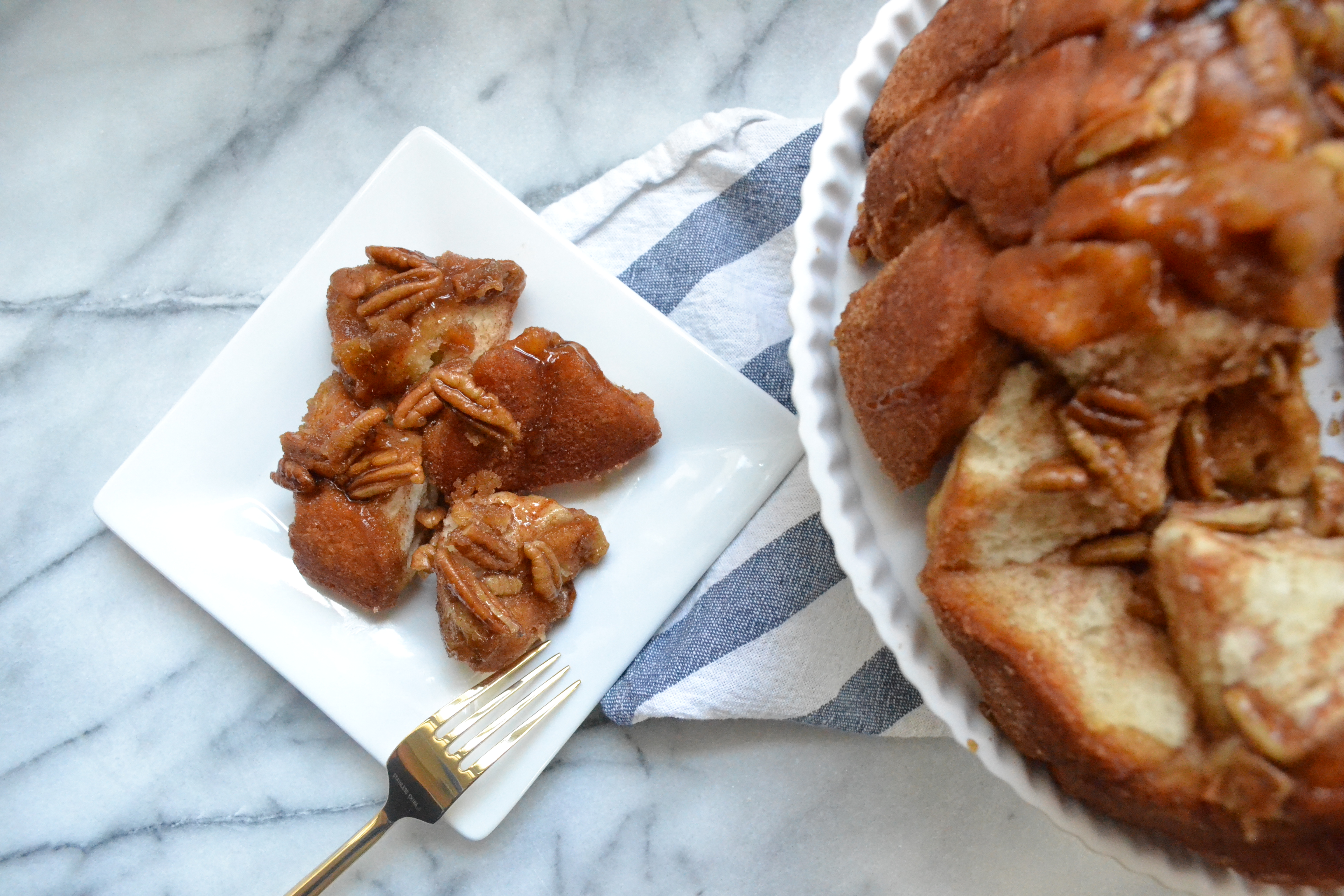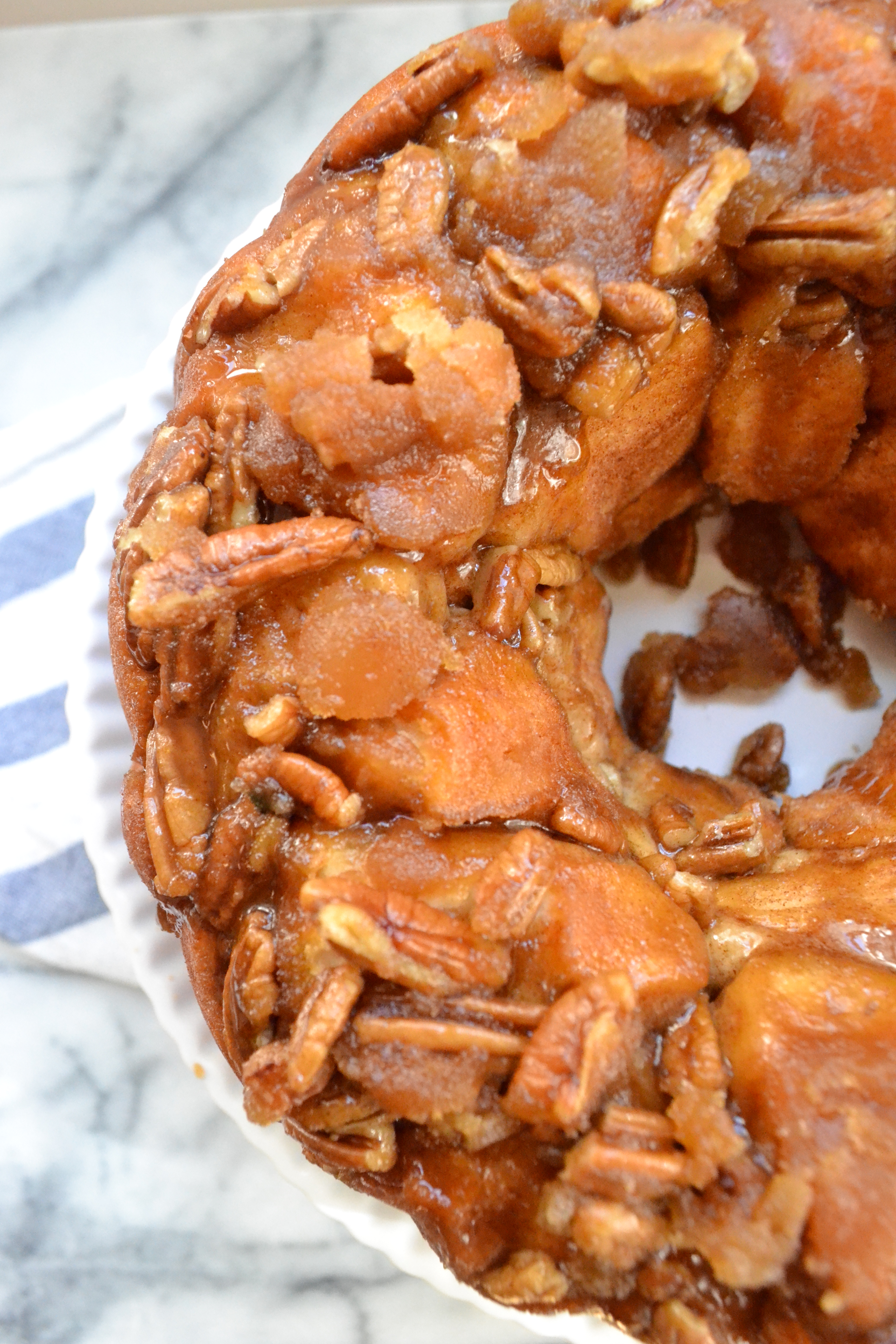 Cinnamon Pecan Monkey Bread
2015-10-18 12:34:31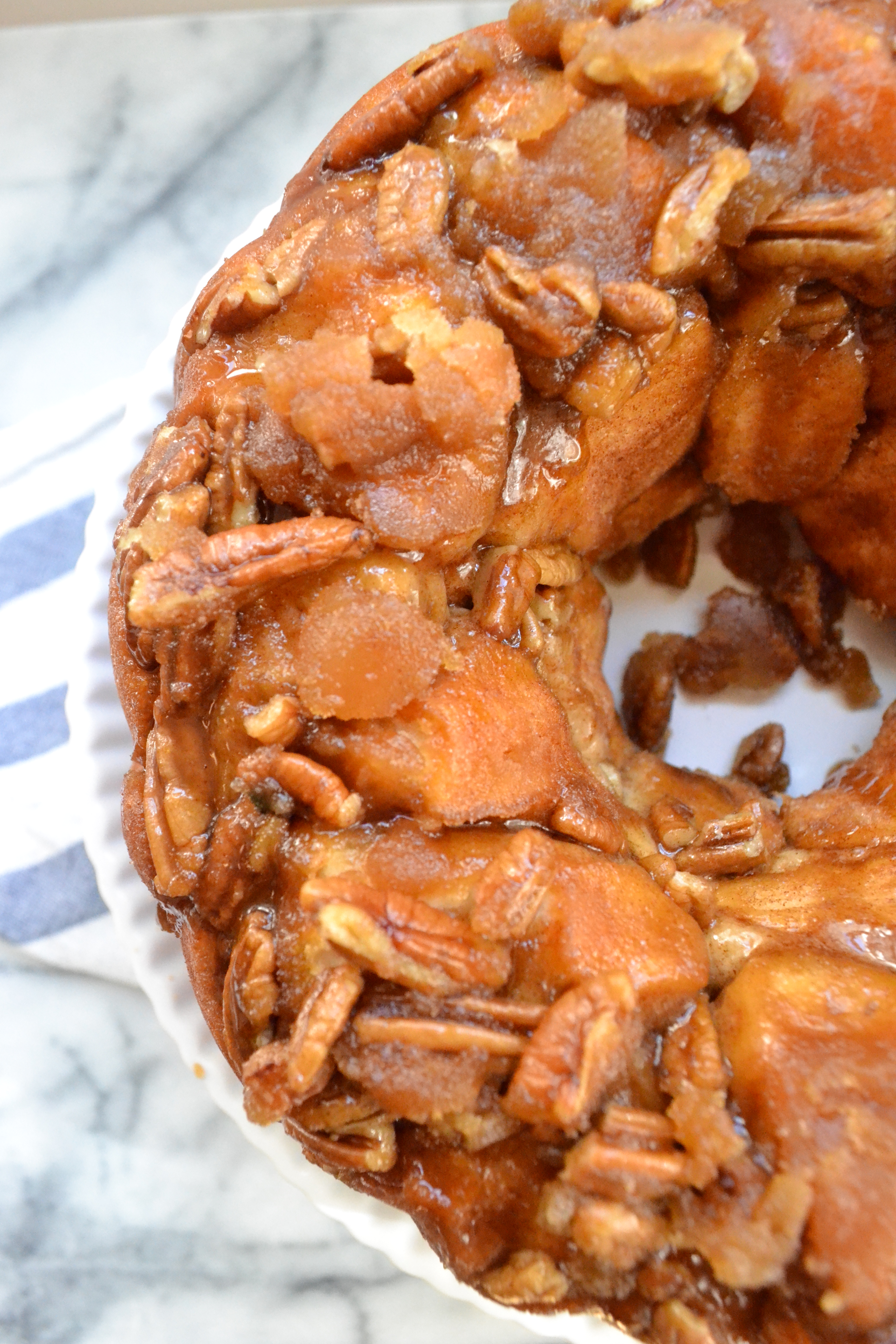 Serves 10
A sweet treat, both crispy and doughy - impossible to resist!
Ingredients
2 cans Pillsbury Grands biscuits
1/2 cup white sugar
1 tablespoon ground cinnamon
1 cup tightly packed brown sugar
1 stick butter, melted
2/3 cup chopped pecans
Special Equipment
12-cup fluted tube cake pan/bundt pan
Instructions
Heat the oven to 325 degrees.
Spray bundt pan with nonstick spray.
Combine the cinnamon and white sugar in a big bowl.
Melt the butter in a measuring pitcher. Add brown sugar and whisk well to combine.
Spread a thin layer of butter mixture at the bottom of the pan. Then top with about 1/3 of the pecans.
Open one can of biscuits, and cut each biscuit into quarters using a pizza cutter.
Place them in the bowl of cinnamon sugar and fully coat.
Layer the dough in the pan.
Top with another thin layer of the butter mixture on top. Then top with the remaining pecans.
Open the second can of biscuits and repeat the same steps: cut into quarters, cover in cinnamon sugar, then layer into the pan.
Spread the remaining butter mixture on top of the biscuits.
Bake about 32 -35 minutes until golden brown.
Take out of the oven, and let cool in the pan for 10 minutes.
Put a plate on top to cover the bread, then flip over and cross your fingers! Serve warm. Yum.
Notes
Tip #1: You can use any flavor of Pillsbury Grands biscuits - they have a ton of them. For some reason I always end up picking two different kinds like "Southern Style" and "Homestyle Buttermilk." In my head it seems like that would make it taste better :)
Tip #2: If you have a nut allergy, you can obviously just leave the pecans out!
Tip #3: Leftovers are just as good, just warm it in the microwave for 20-30 seconds!
Adapted from Pepperminting
Love & Food ForEva https://loveandfoodforeva.com/