I imagine most people have a go-to lasagna recipe, but when I say my mom's lasagna is famous, I mean it. Like, for real. She made it for every birthday, major holiday, and potluck party. Family and friends alike craved her lasagna. And after she passed away this was the first dish of hers that I tried on my own….probably because I watched her make it a hundred times. Over the years I've added my own little spin to her recipe, but I think it's still pretty delicious :) Now everyone asks me to make my Mom's Famous Lasagna and I'm just fine with that!
I'm telling you, this dish is a crowd-pleaser. The biggest problem is there's rarely any leftovers! But if you manage to have leftovers, the flavors just get better over time. This is a great recipe for entertaining because you can make it ahead of time and freeze for later. Or you can bake it off immediately, cut individual pieces, put them into tupperware, and freeze individual meals for lunches and dinners.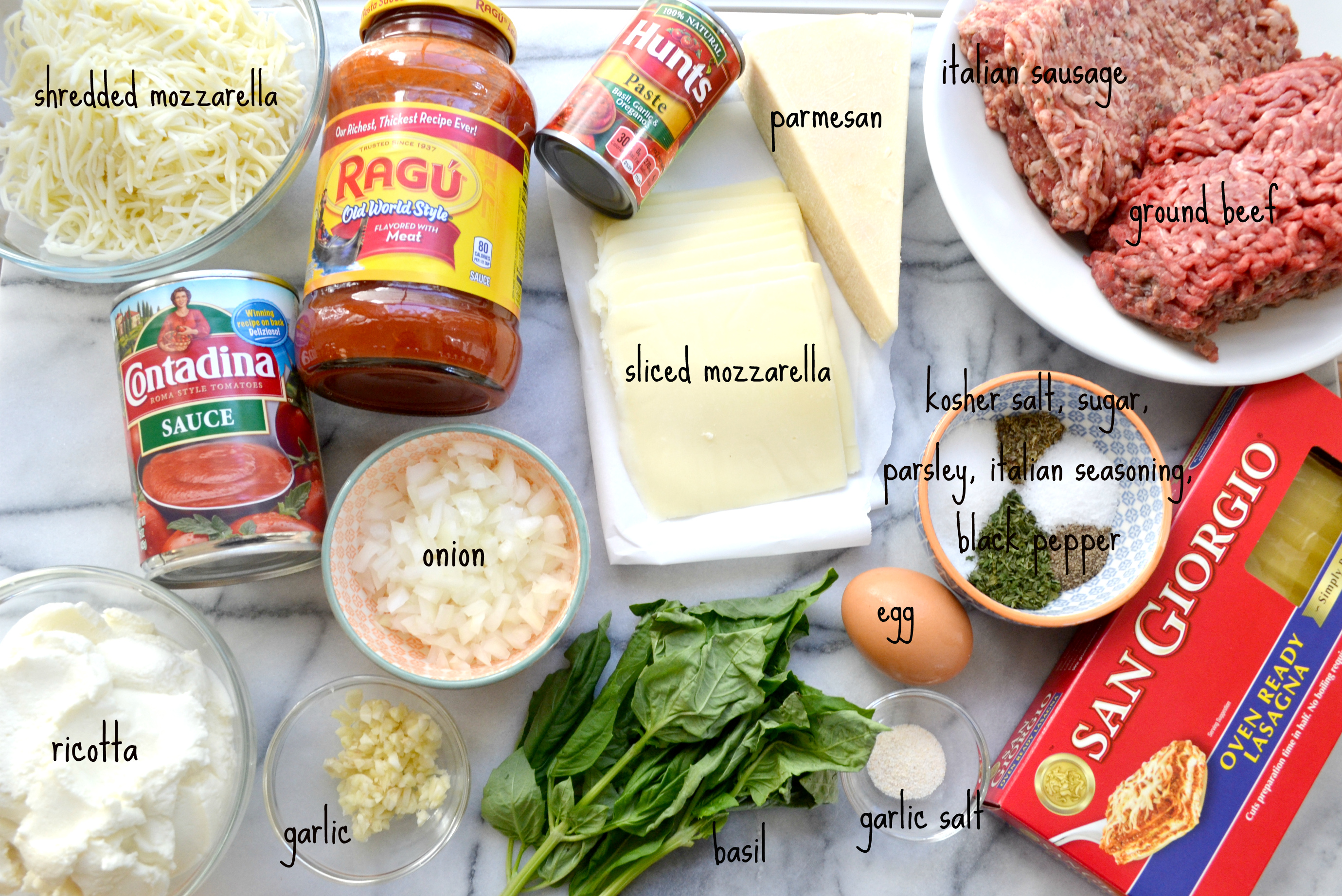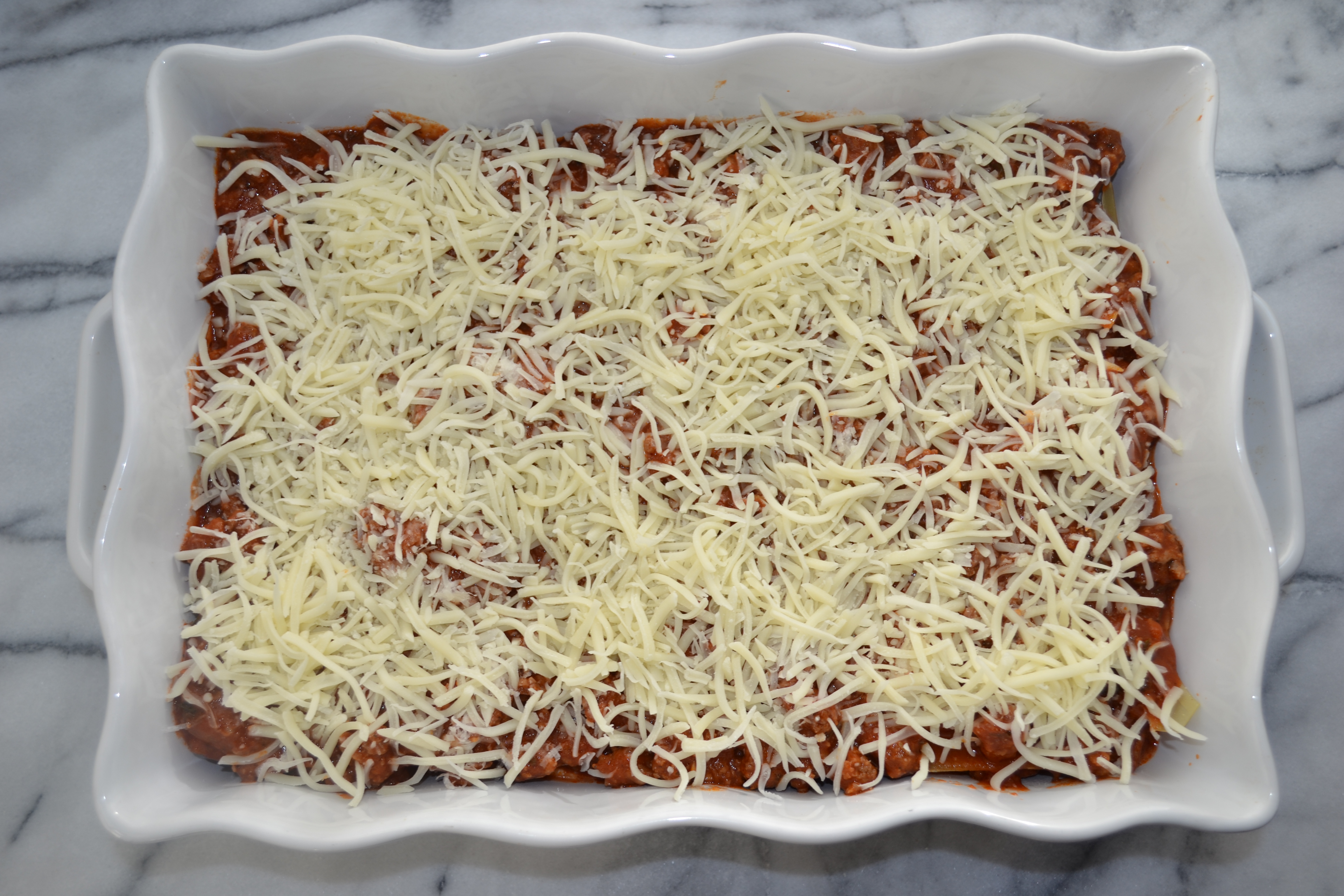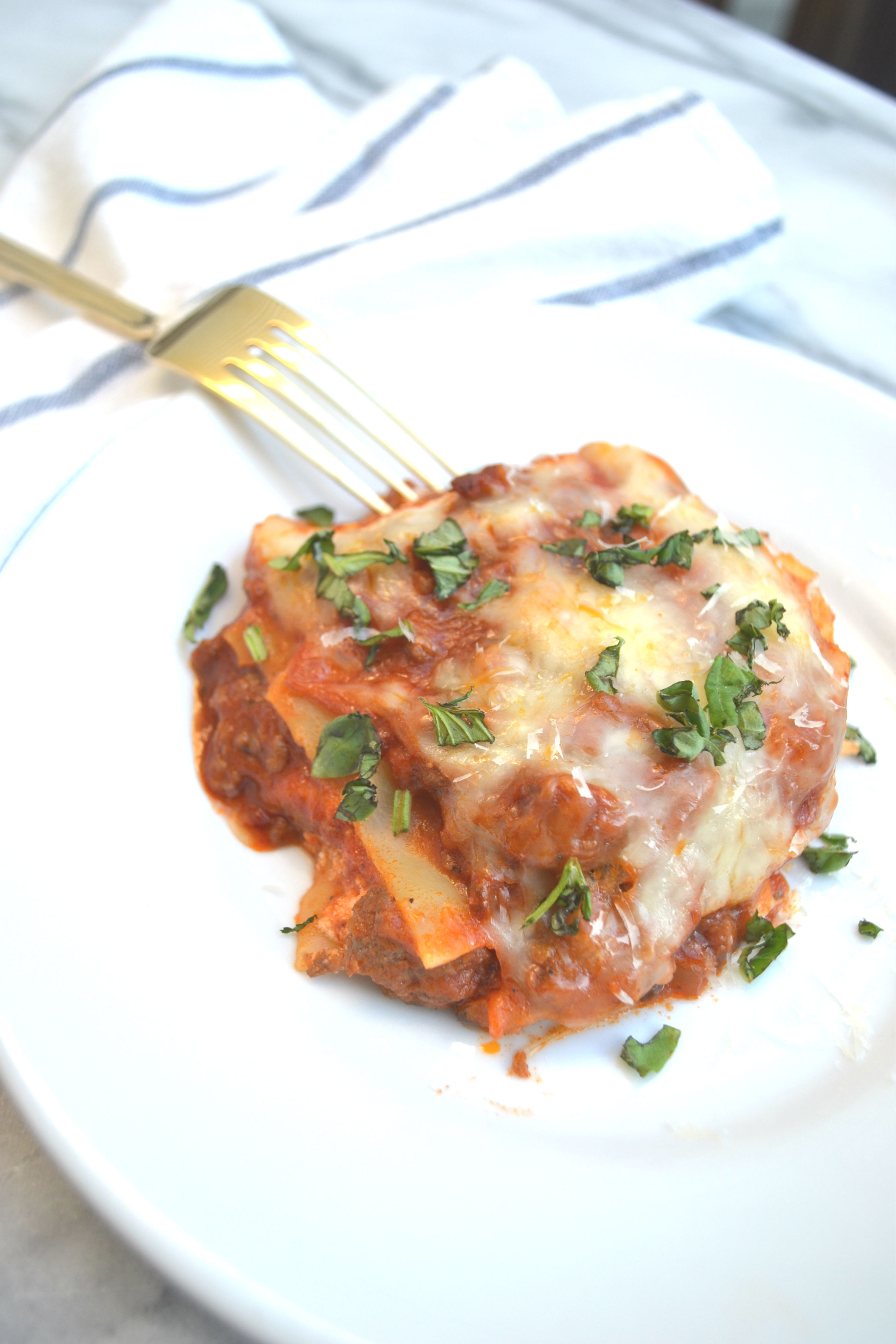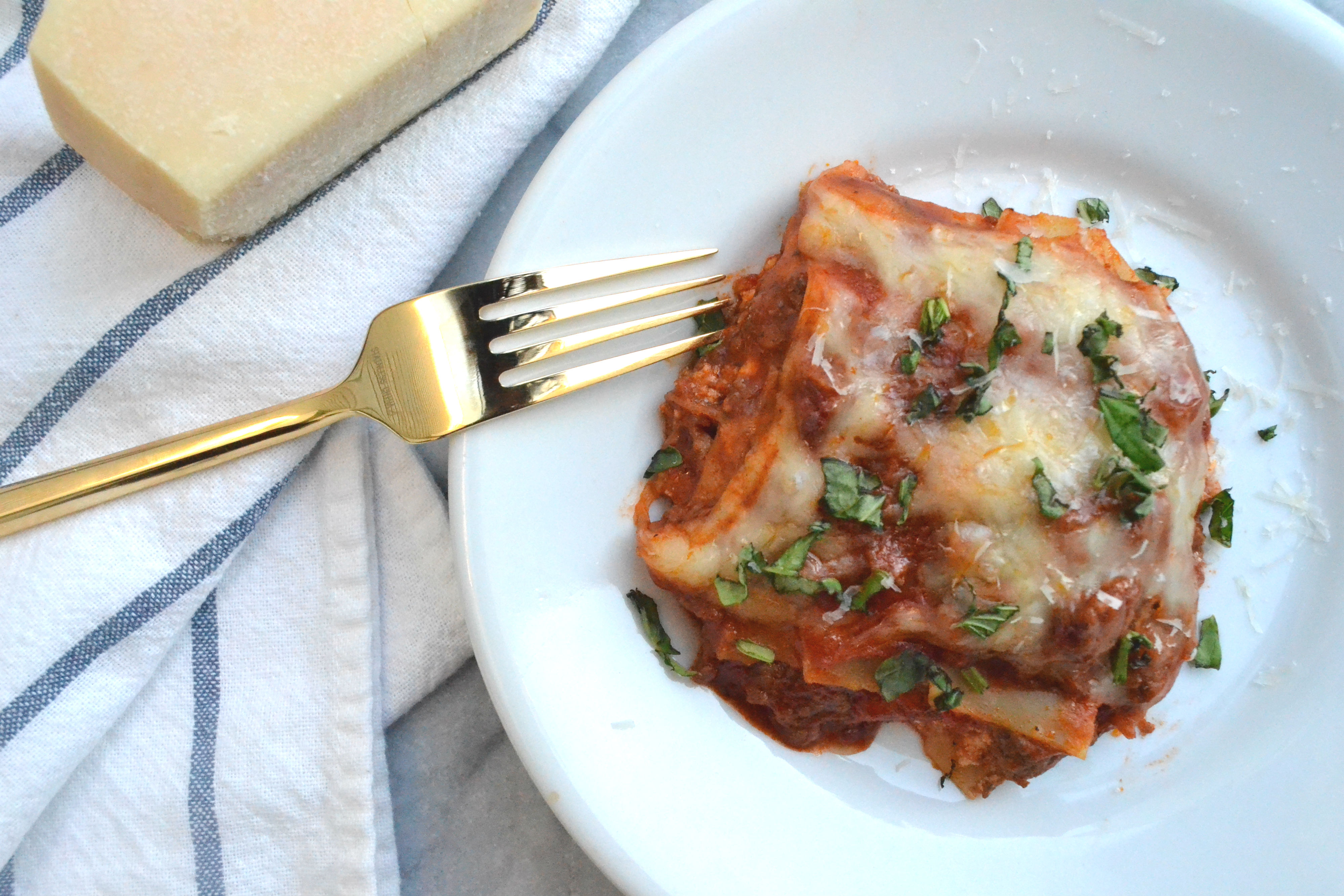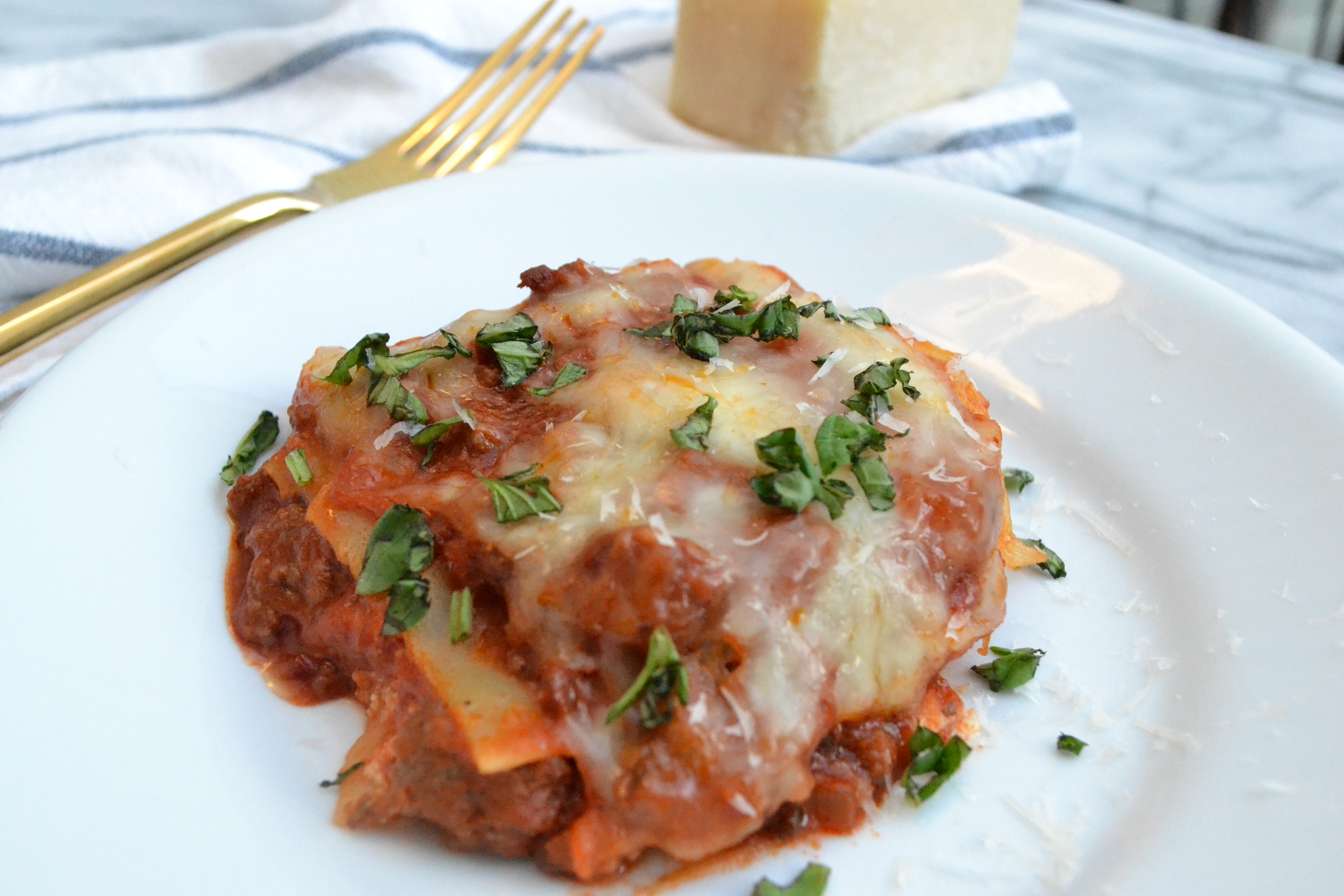 Mom's Famous Lasagna
2015-10-12 18:51:30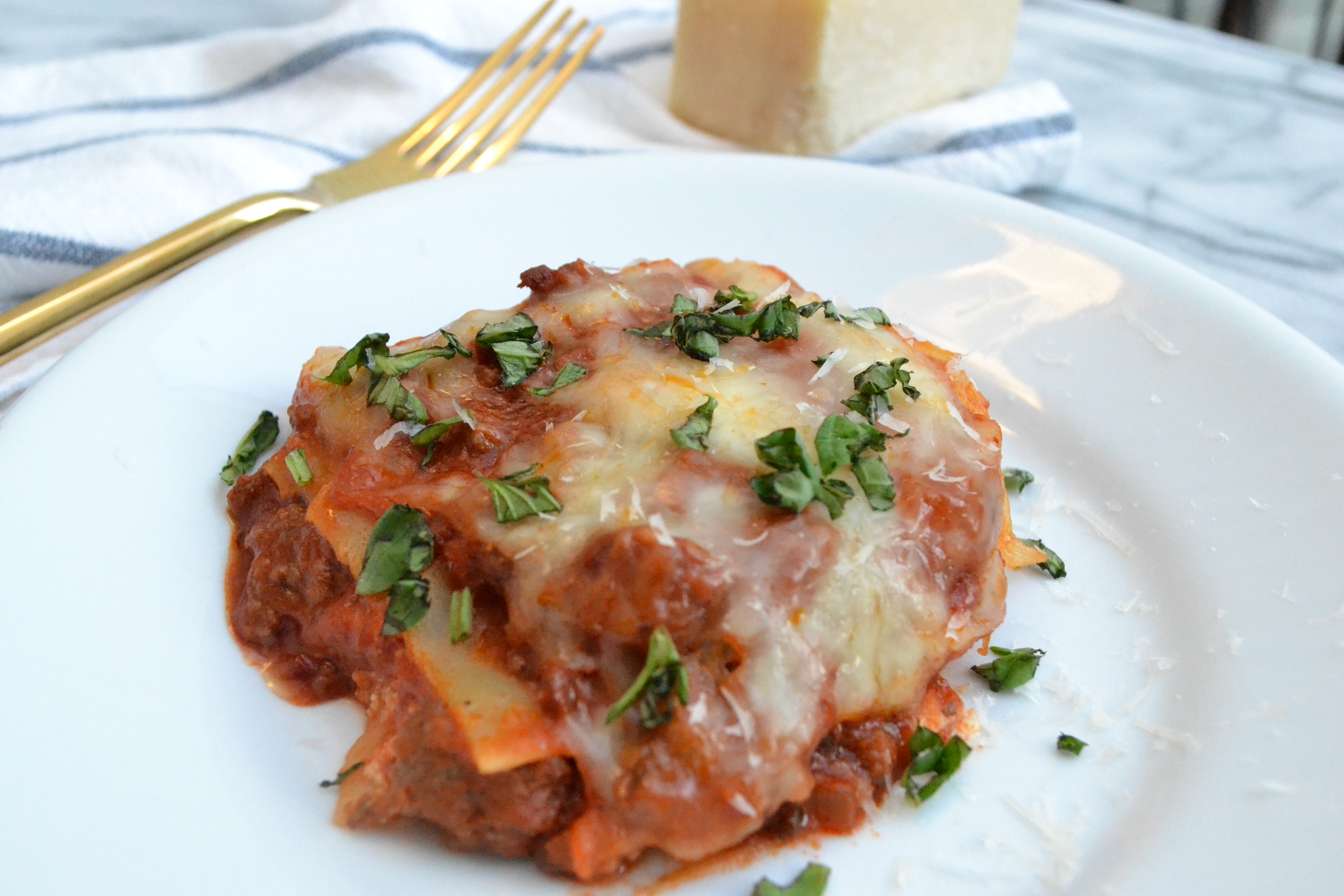 Serves 12
A cheesy lasagna with deeply flavorful sauce, sure to be a crowd-pleaser!
Ingredients
1 lb. Italian sausage (sweet or hot, I usually use sweet)
1 lb. ground beef (90/10 or leaner)
1/2 onion, small dice
3 garlic cloves, minced
1 jar pasta sauce (24 oz, any brand)
1 can tomato paste (6 oz)
1 can tomato sauce (15 oz)
2 Tablespoons sugar
1 Tablespoon dried parsley
1 teaspoon Italian seasoning
1 teaspoon kosher salt
1/2 teaspoon black pepper
1/4 cup fresh basil, chopped
1/2 cup heavy cream (magic ingredient!)
1 box oven ready lasagna (don't need to boil it beforehand)
16 oz ricotta cheese
1 egg
1/2 teaspoon garlic salt
12 mozzarella slices (slightly more than half a pound)
8 oz shredded mozzarella
1 cup grated Parmesan
Instructions
Heat a skillet over medium high heat. Add sausage and beef. Break up the meat into small pieces with a wooden spoon.
Cook the meat until it's halfway browned, then add onion and garlic. Stir to combine and cook until meat is completely browned.
Add pasta sauce, tomato paste, and tomato sauce. Stir to combine.
Add sugar, dried parsley, Italian seasoning, Kosher salt, black, pepper, and chopped fresh basil. Stir to combine.
Add heavy cream (oh yes). Stir to combine.
Optional step - lower heat, cover, and simmer for 30 minutes to an hour (stirring occasionally). This will intensify the flavors and is always a good idea if you have the time. If not, it's not a deal breaker.
In a bowl, combine ricotta with the egg and garlic salt.
If you're cooking the lasagna immediately, preheat your oven to 375 degrees.
Assemble the lasagna
Spread 1 1/2 - 2 cups of sauce on the bottom of a 9x13 baking dish.
Cover the sauce with oven ready lasagna noodles. Break up pieces if needed to fill in to the edges of the dish.
Spread on half of the ricotta mixture on top of the noodles.
Top with 6 slices of mozzarella.
Cover mozzarella with 1 1/2 - 2 cups of sauce.
Top with 1/3 of grated Parmesan.
Repeat the layers once more: noodles, other half of the ricotta mixture, 6 slices mozzarella, 1 1/2 - 2 cups sauce, 1/3 of Parmesan.
For the final layer, top with one last layer of noodles, 1 1/2 - 2 cups sauce, the rest of the grated Parmesan, and ALL of the shredded mozzarella. You heard me right.
Cover with foil. Bake for 30 minutes.
Uncover. Bake for 15 more minutes, until bubbly. Remove from the oven and let cool for at least 15 minutes before cutting and serving.
Notes
If you're freezing the lasagna, after assembling cover with foil and freeze. Defrost overnight in the fridge. Bake at 375 degrees, covered, for 45 minutes. Uncover and bake for 15 more minutes, until bubbly.
Love & Food ForEva https://loveandfoodforeva.com/