Happy Thanksgiving week, everyone! Are you as excited as I am about the holidays?! Nothing makes me smile like thinking about this time of year :) And I've decided to kick off the holiday season with this Classic Apple Pie. I've been experimenting with recipes since last year and I've finally come up with the perfect Apple Pie recipe, I swear!
I found THE BEST pie crust recipe from seriouseats.com and you know what the magic ingredient is? Vodka. You heard me right. I sort of think vodka is a magical ingredient in general, but hey, I'll happily include it in my pie crust too :) I know what you're thinking, and no, you can't taste the vodka in the crust. I don't know what the alcohol does, but what I do know for sure is that this is the flakiest, most buttery tasting perfect pie crust I have ever had. Hands down. And I am a crust girl, so I know what I'm talking about. Trust me.
I know what else you're thinking….do I have to make the crust from scratch?? No. I also made this same filling recipe with a store-bought pie crust from Trader Joe's and it was also delicious. But I can't lie, the homemade stuff is real good, guys. So if you have the time give it a try, you won't be sorry.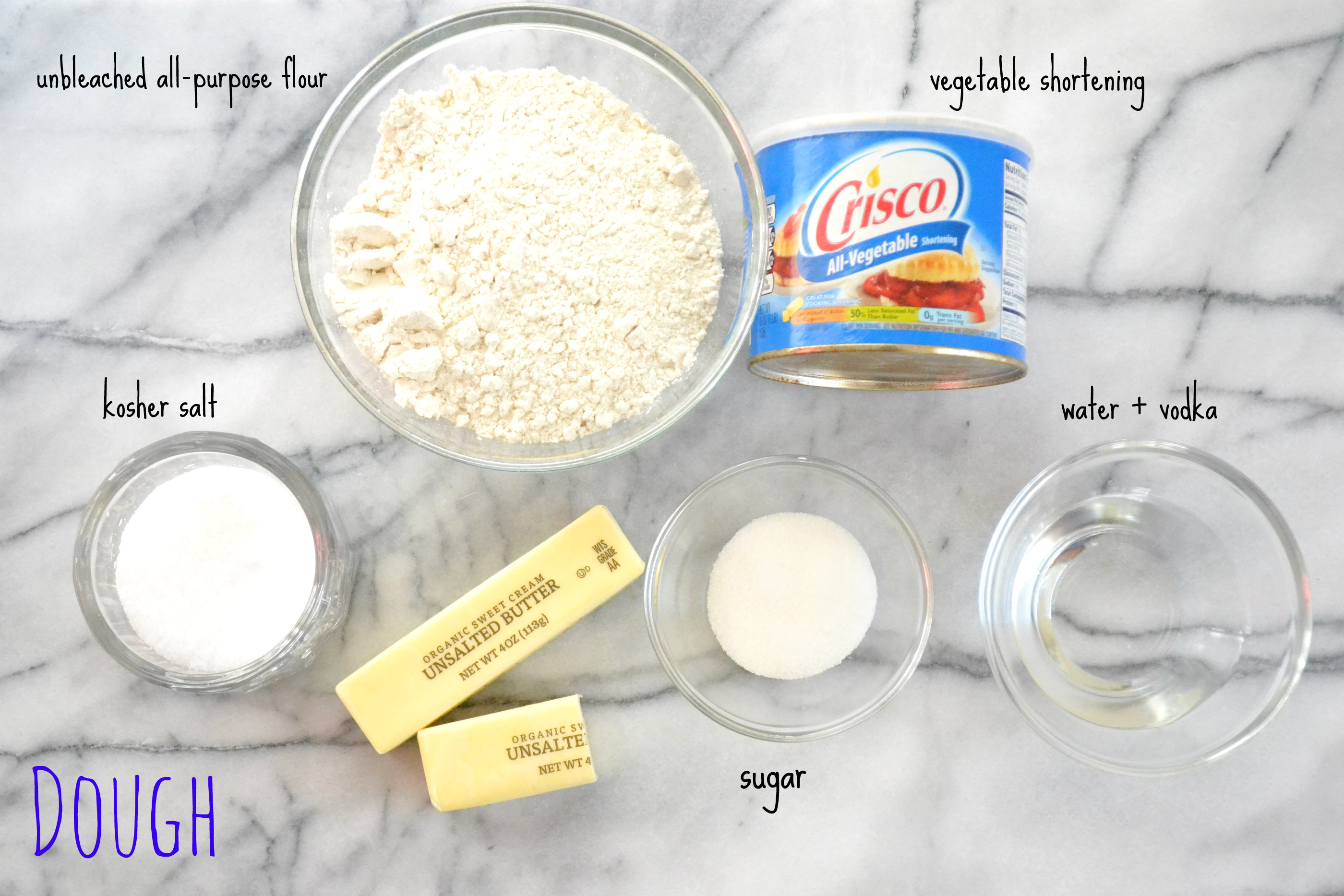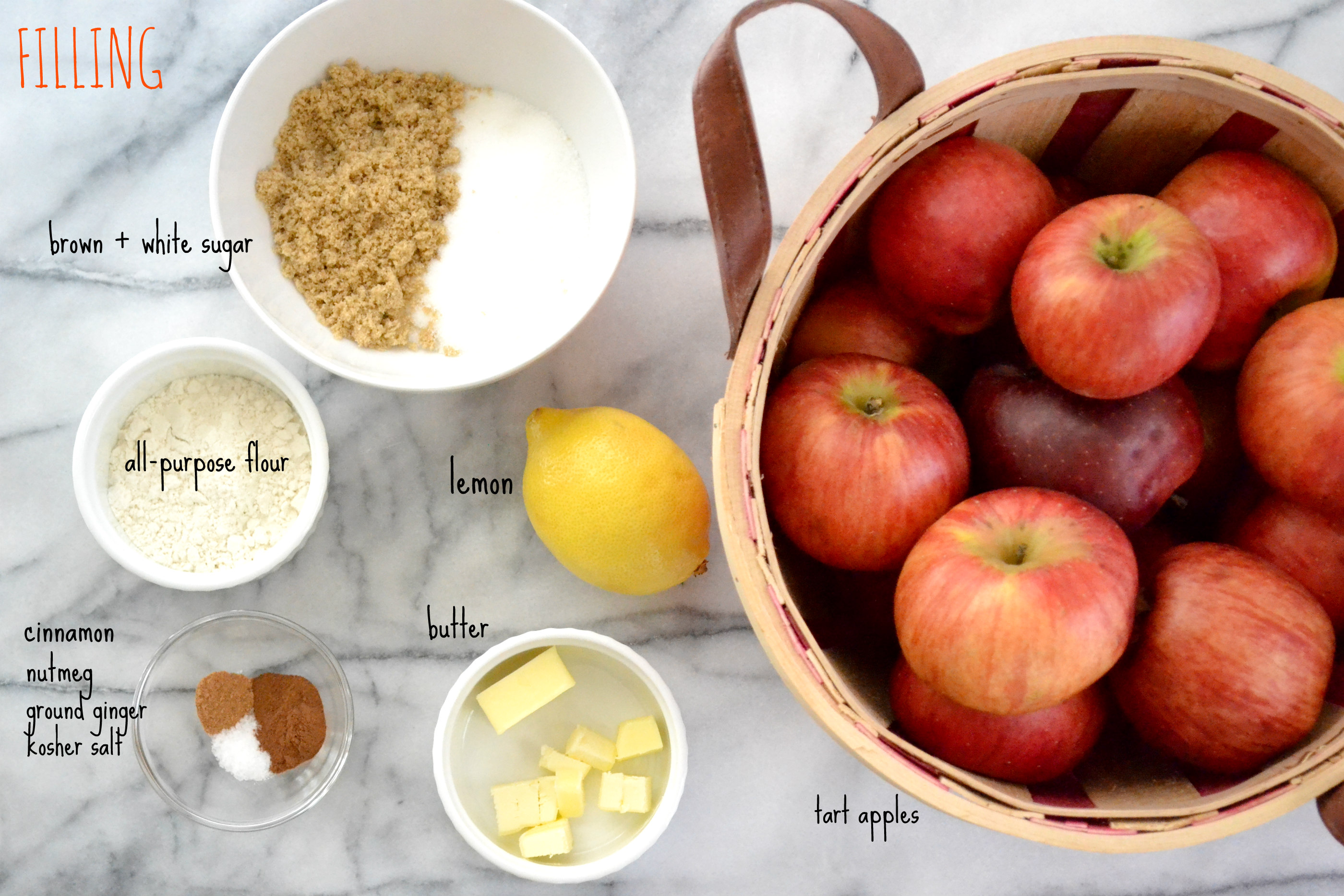 To make the dough, make sure your butter, vegetable shortening, water, and vodka are very cold. Keep them in the fridge right up until you use them.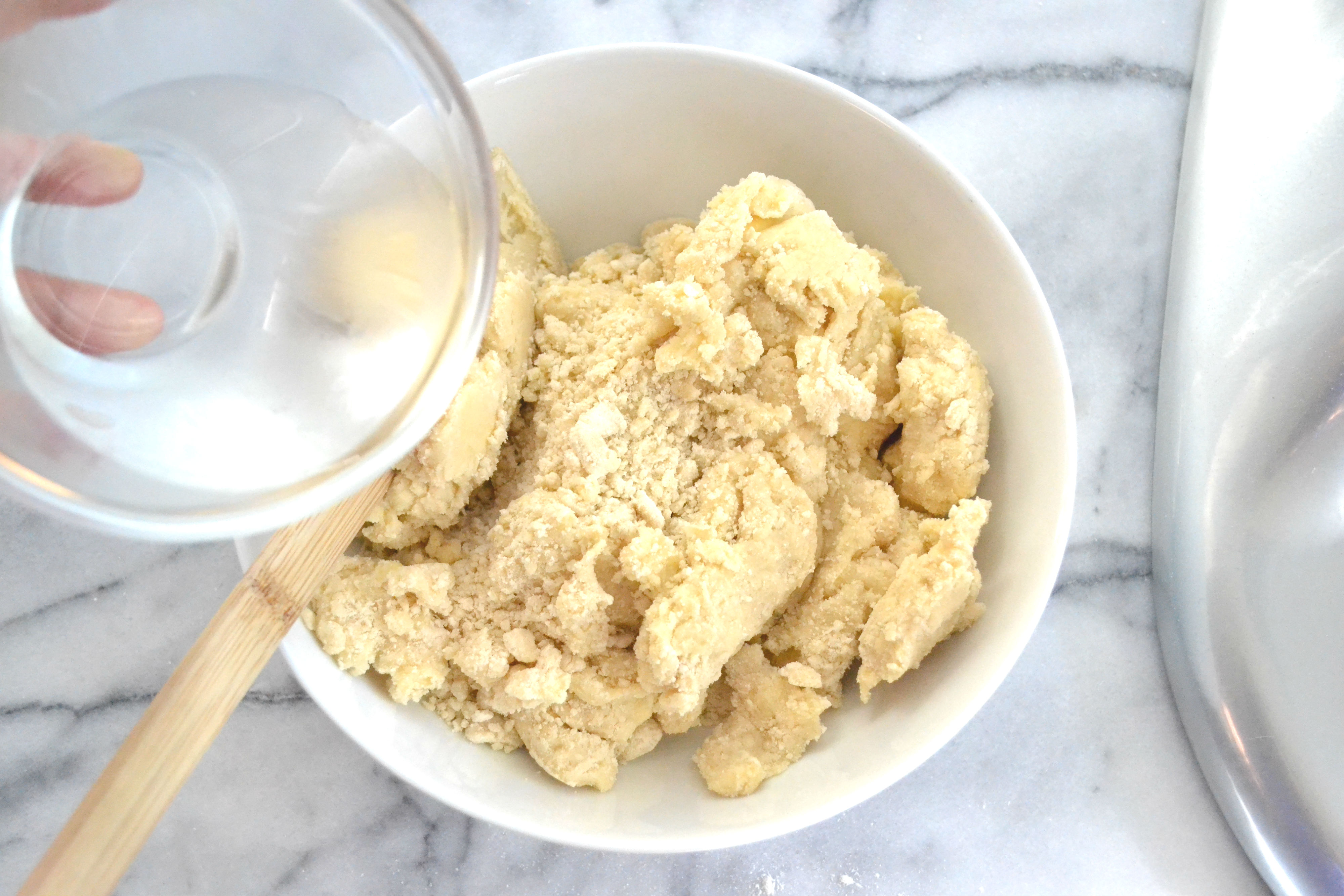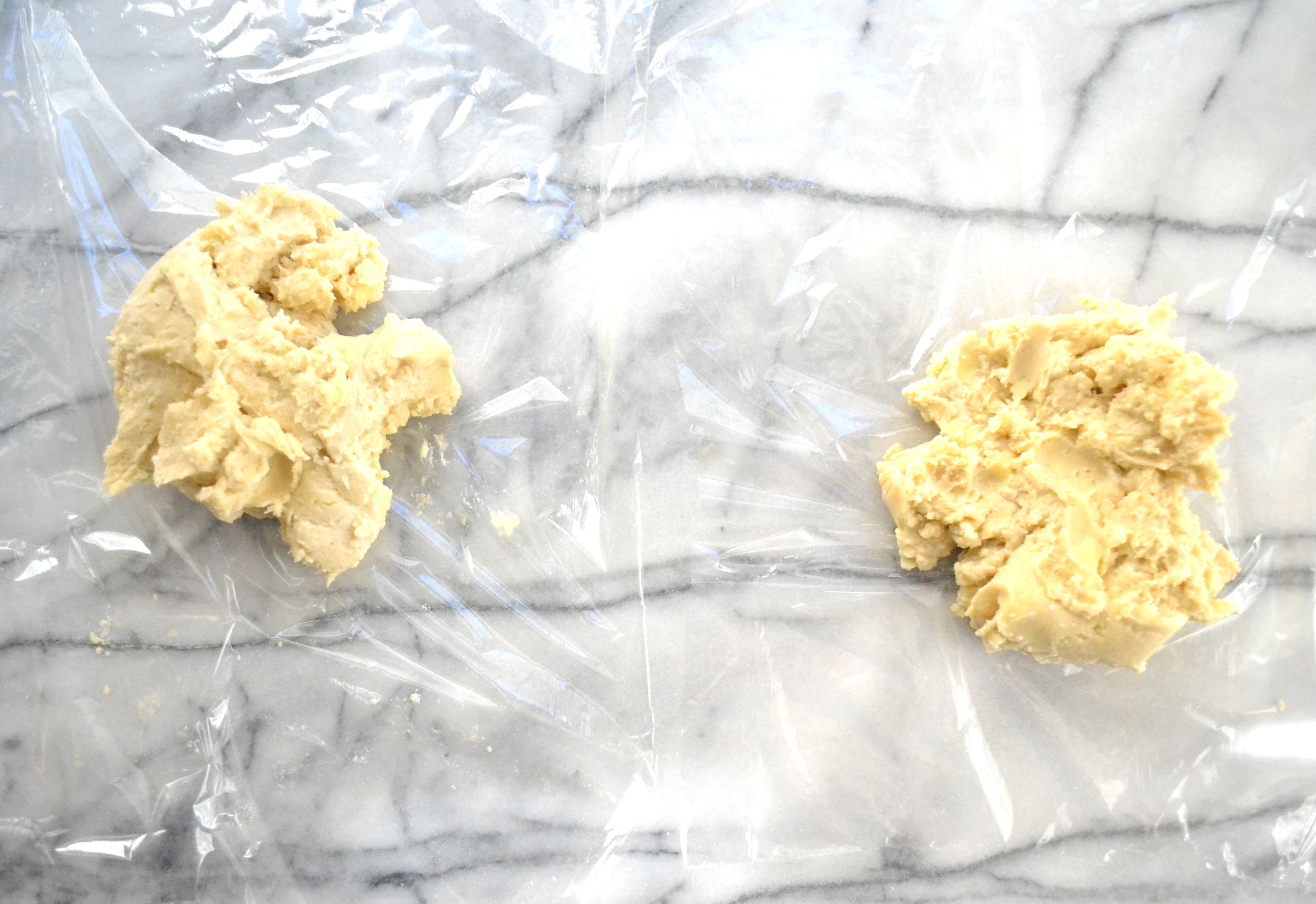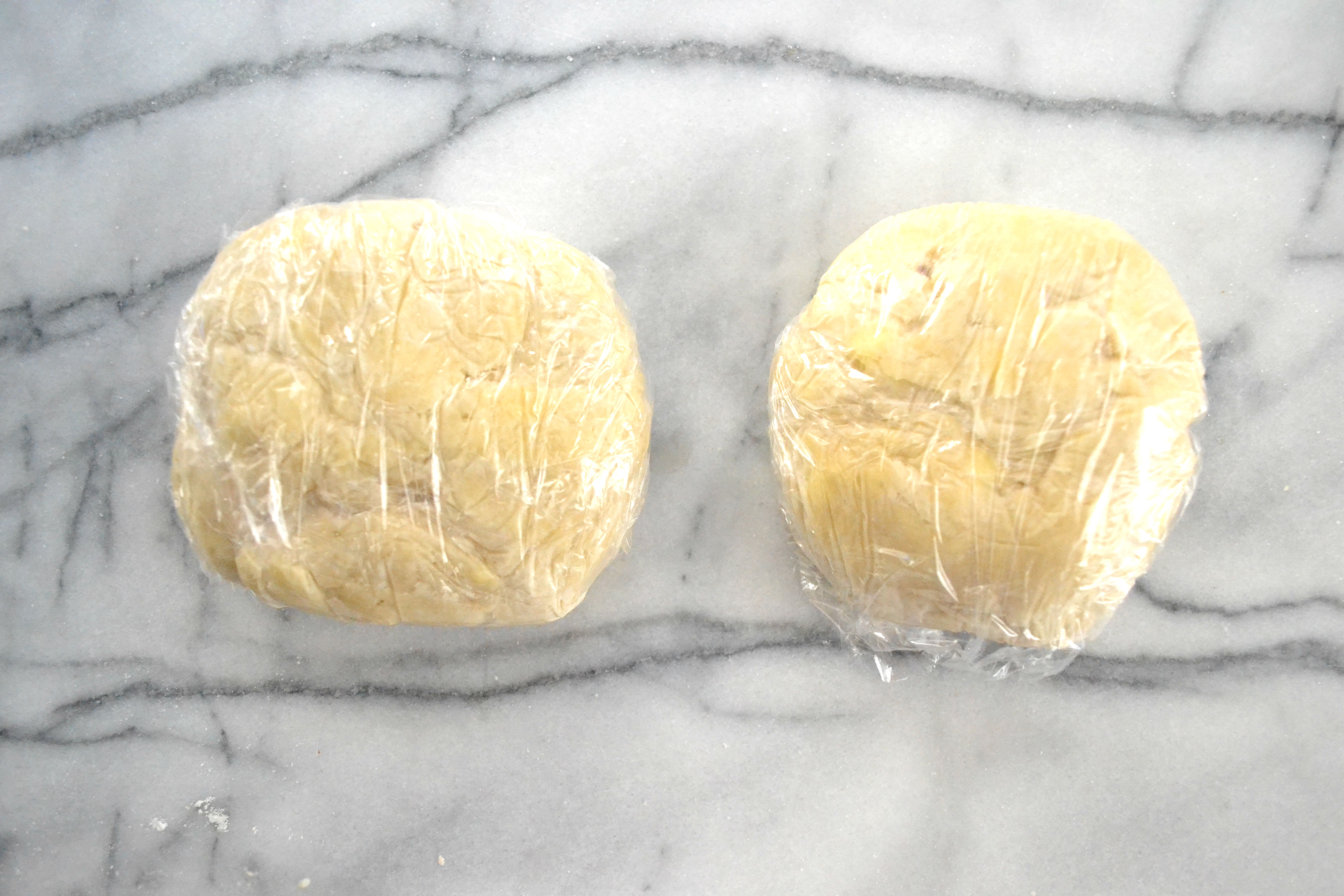 In the meantime, start on the apple filling. Peel, core, and cut the apples into 1/4 inch slices. Then add the lemon juice, white sugar, brown sugar, cinnamon, nutmeg, ground ginger, and kosher salt. Mix together well with a spatula. Set aside for now.
Once the dough is ready, it's time to roll it out! Take them out of the fridge and unwrap one portion of the dough. At this time, go ahead and preheat the oven to 400 degrees F.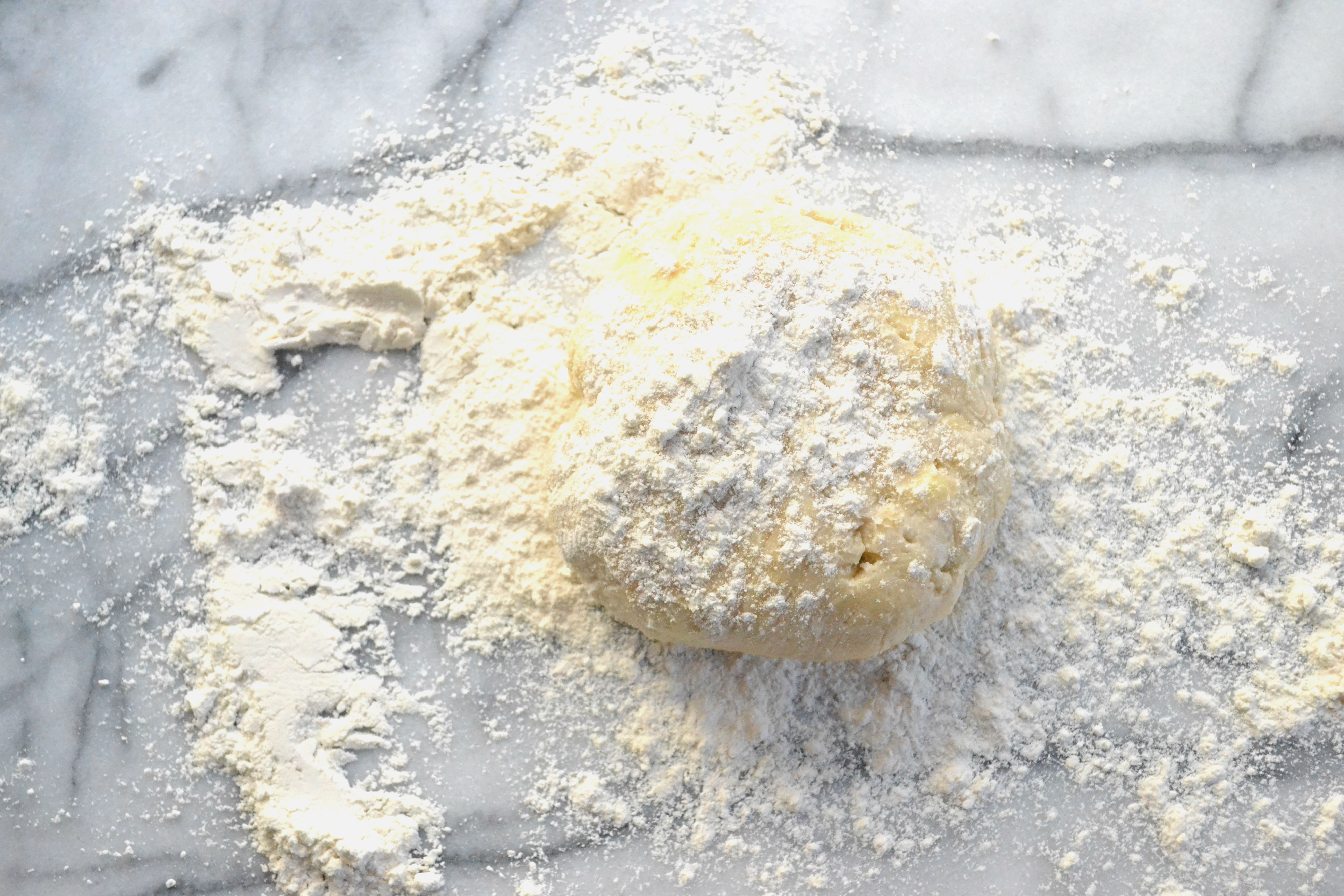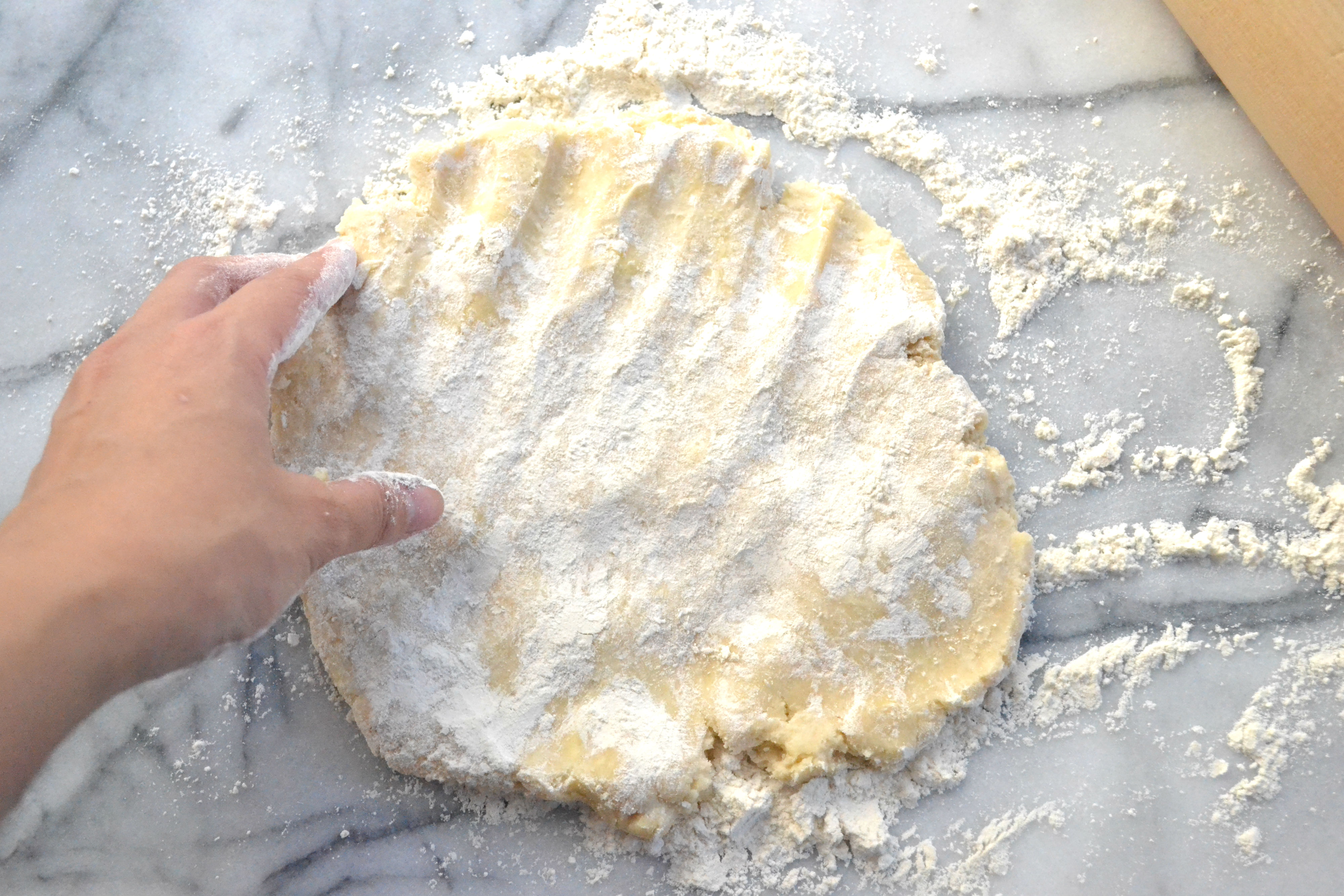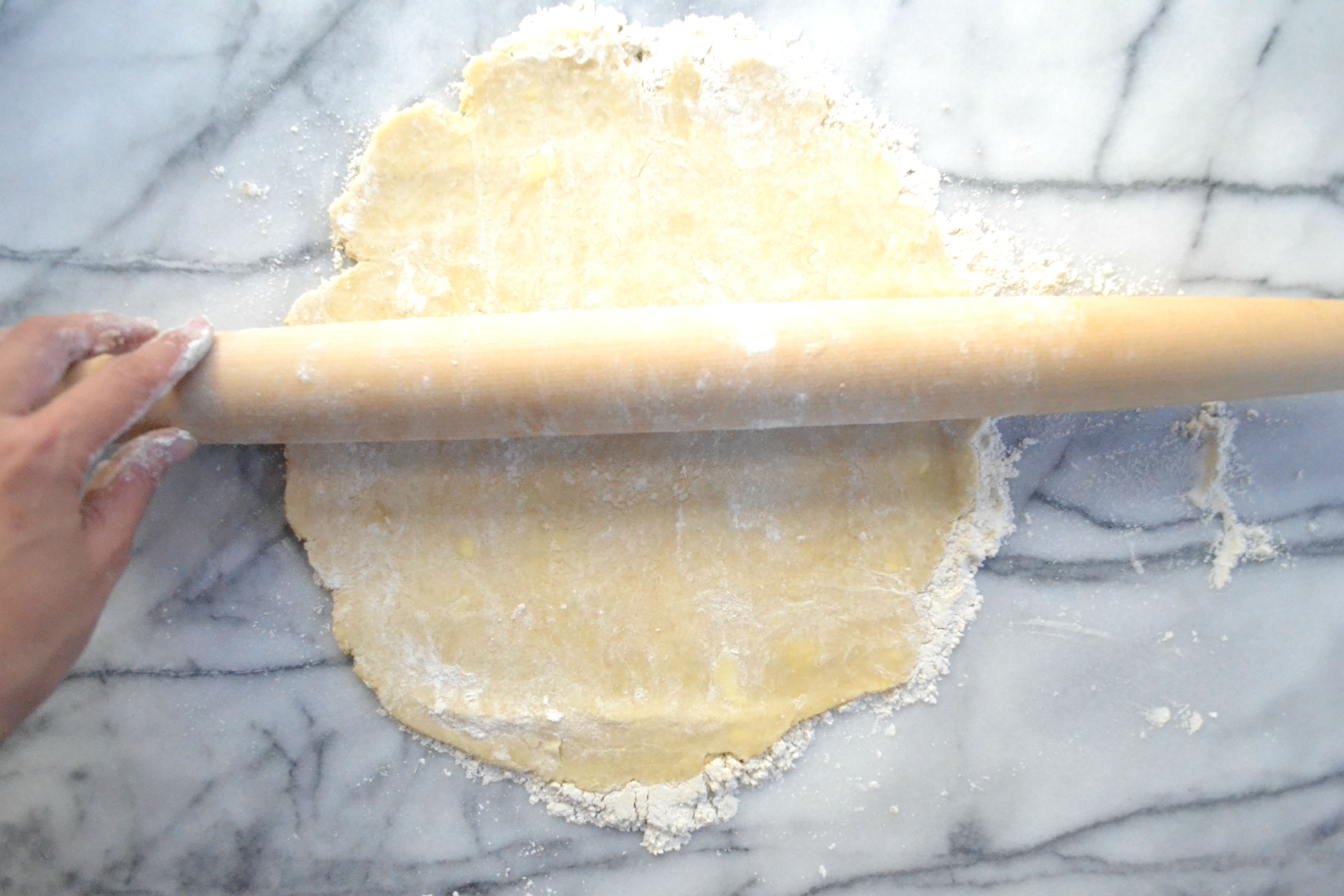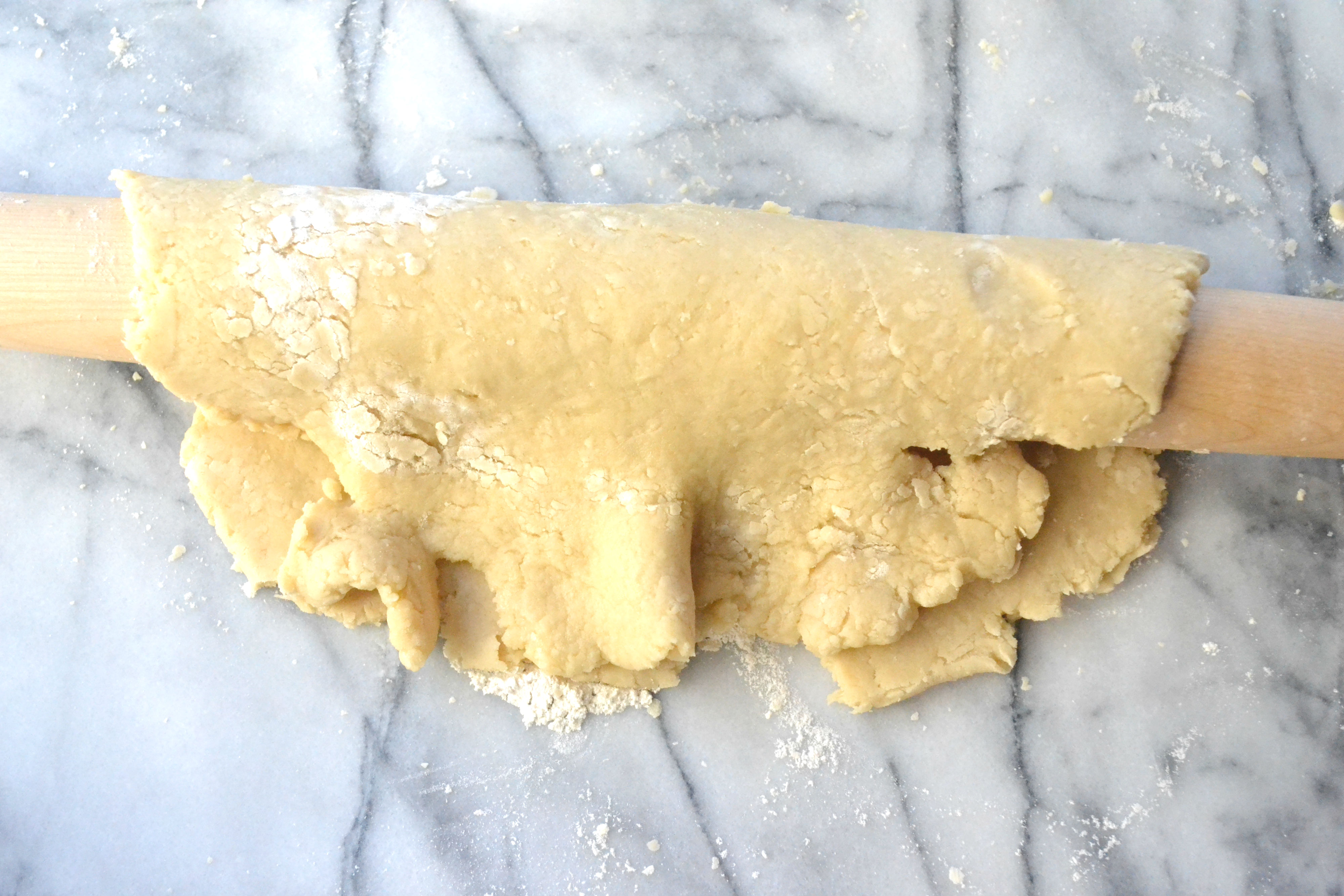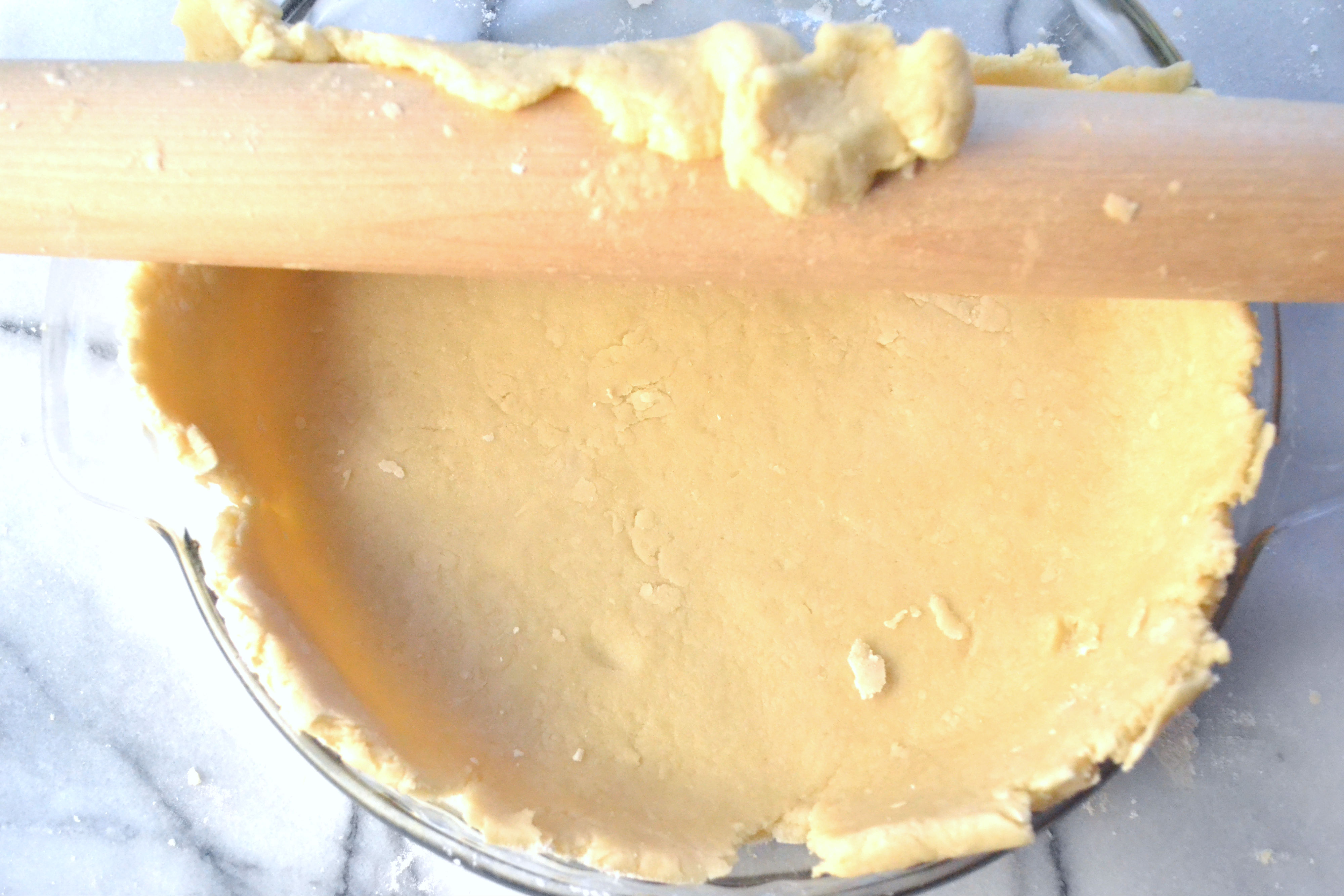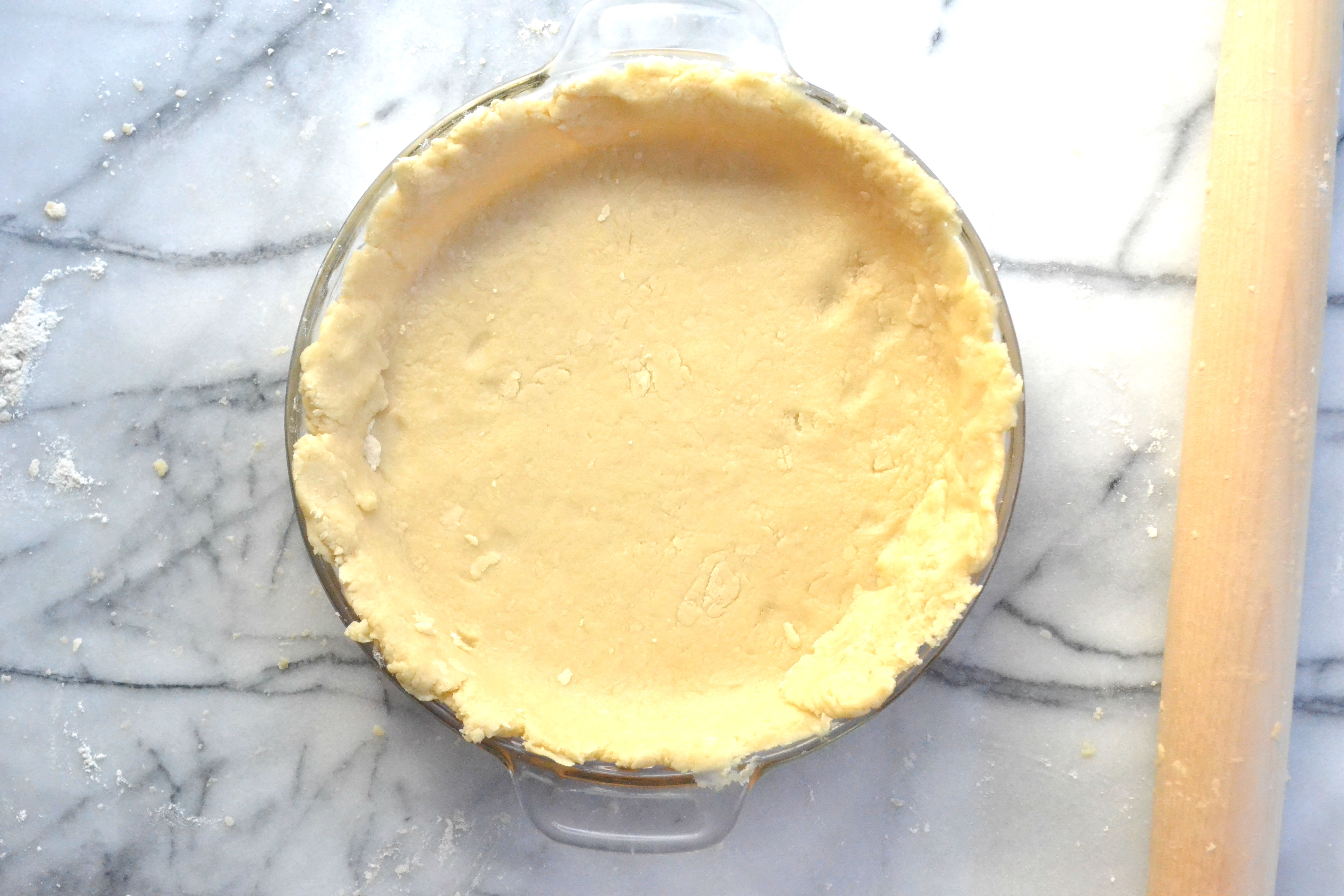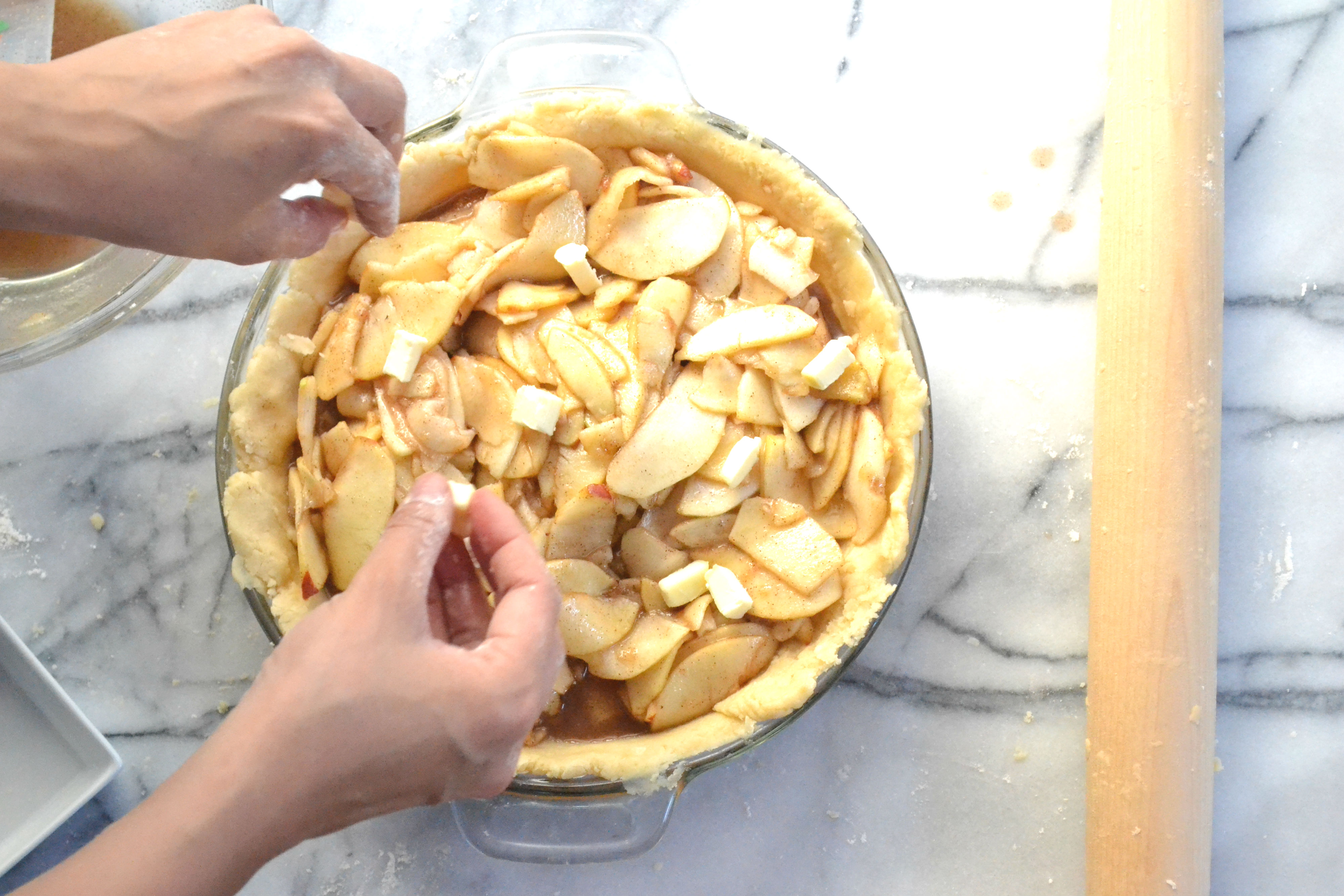 Put the pie aside. Repeat all the steps to roll out the second portion of dough. Pick it up with the rolling pin, the same way you did with the first and lay it on top of the filled pie dish.
Fold the top crust underneath and gently pinch to seal.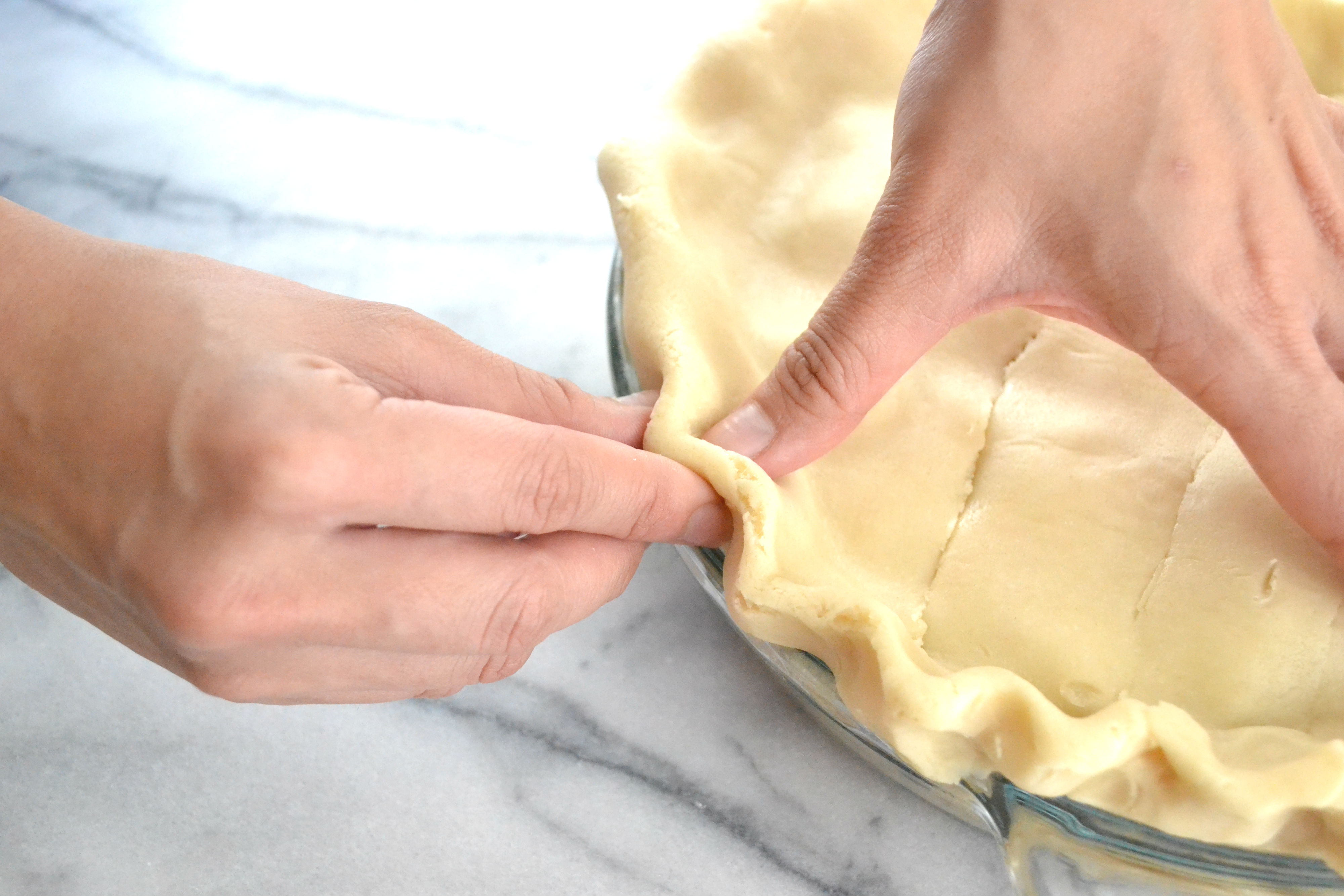 Finally, cut slits in the top of the pie. Melt 1 Tablespoon of butter and brush on top. Sprinkle a teaspoon of sugar over the top.
Cut 2 inch strips of foil and cover the edges of the crust to avoid burning.
Bake the pie for 25 minutes. Remove the foil from the edges, then bake another 15-20 minutes until it's light golden brown. Cool for at least 20-30 minutes before cutting.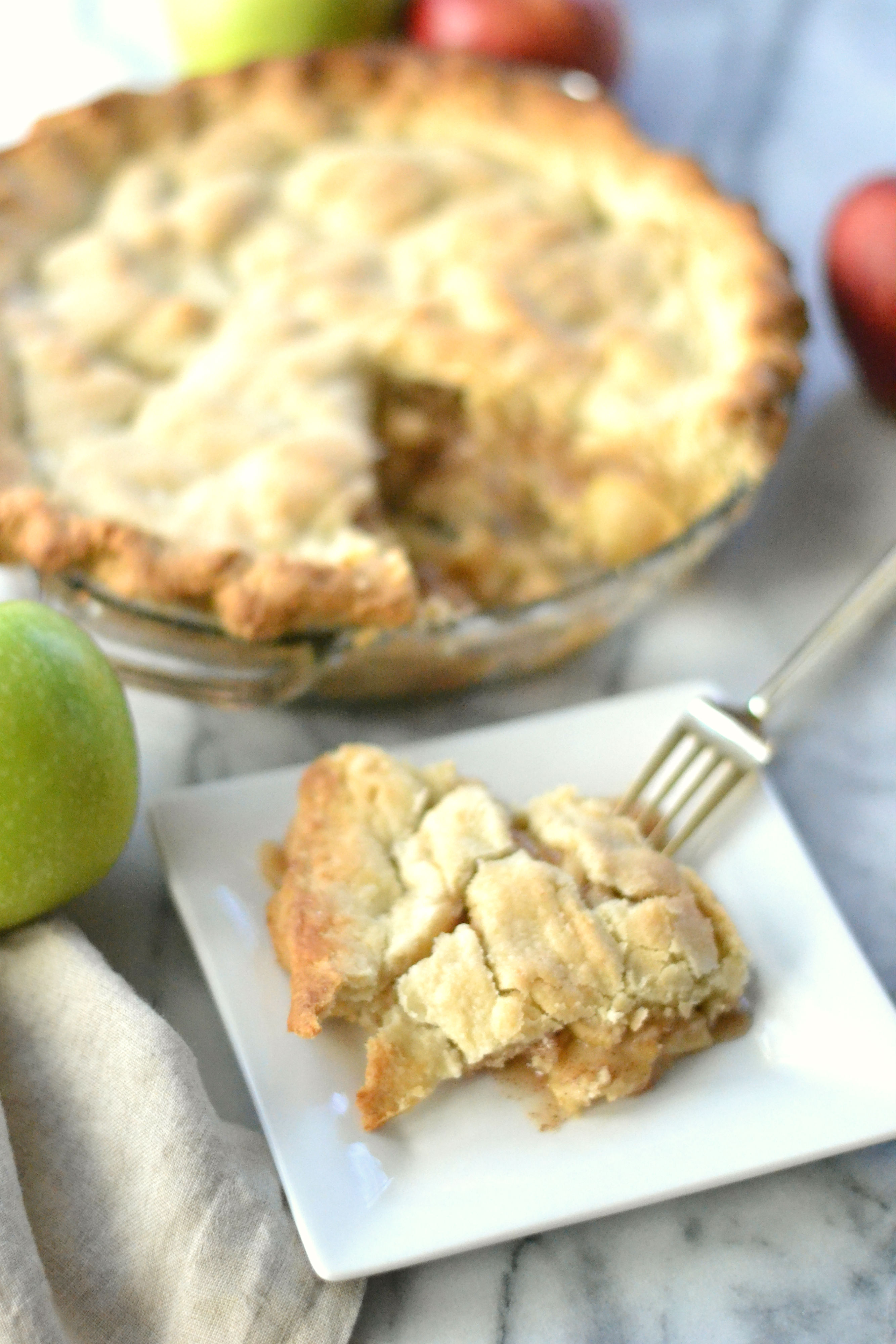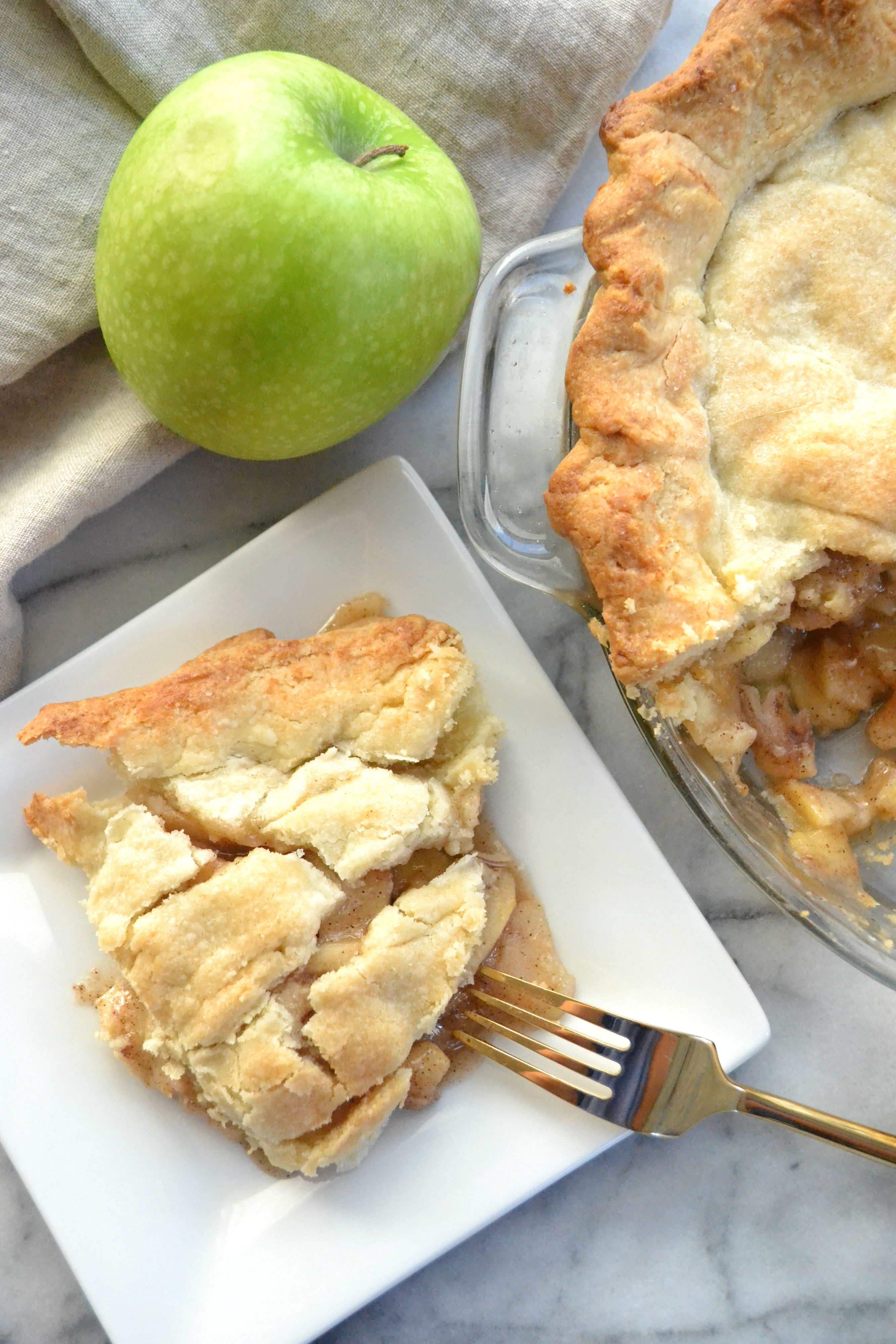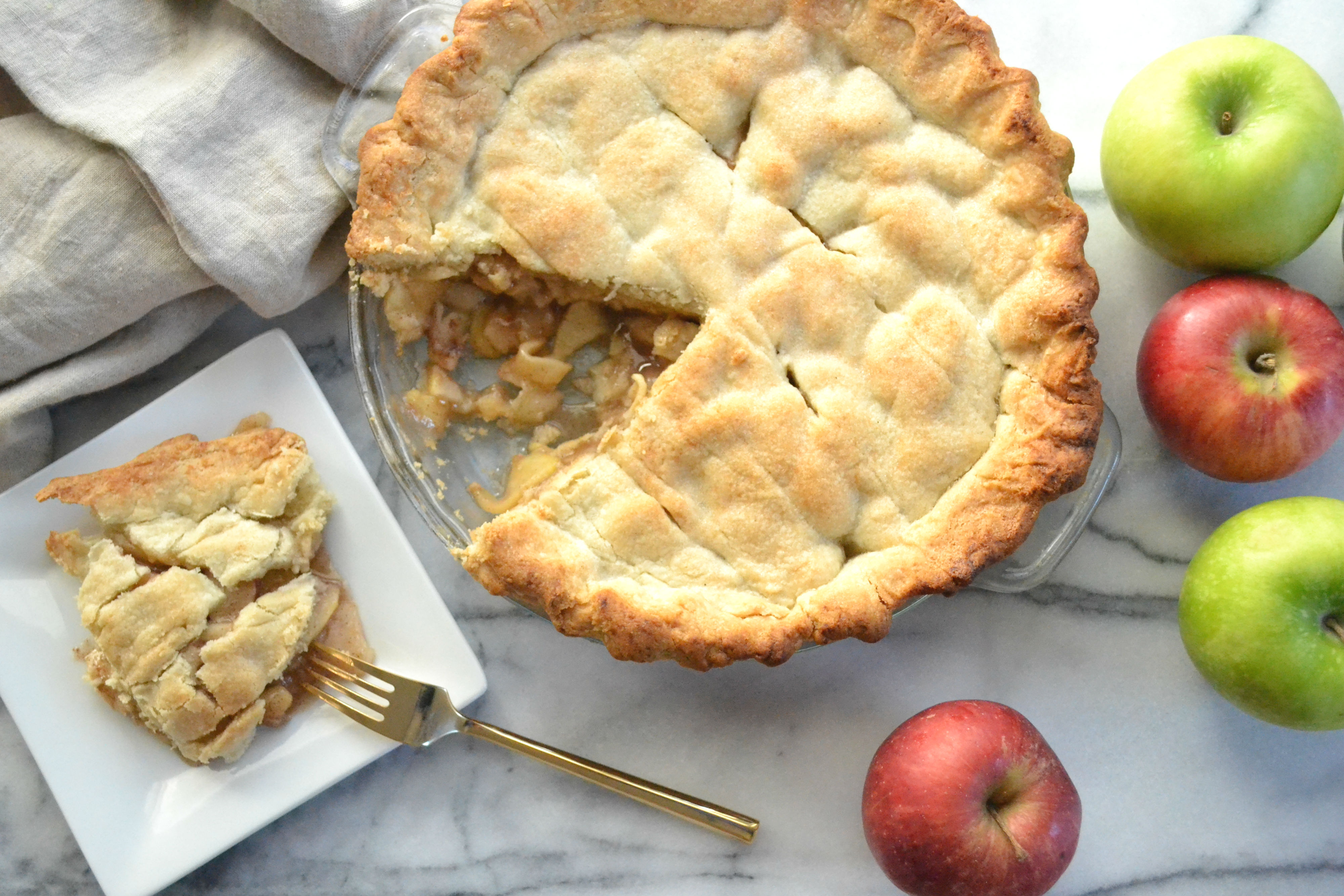 Classic Apple Pie
2015-11-21 06:29:05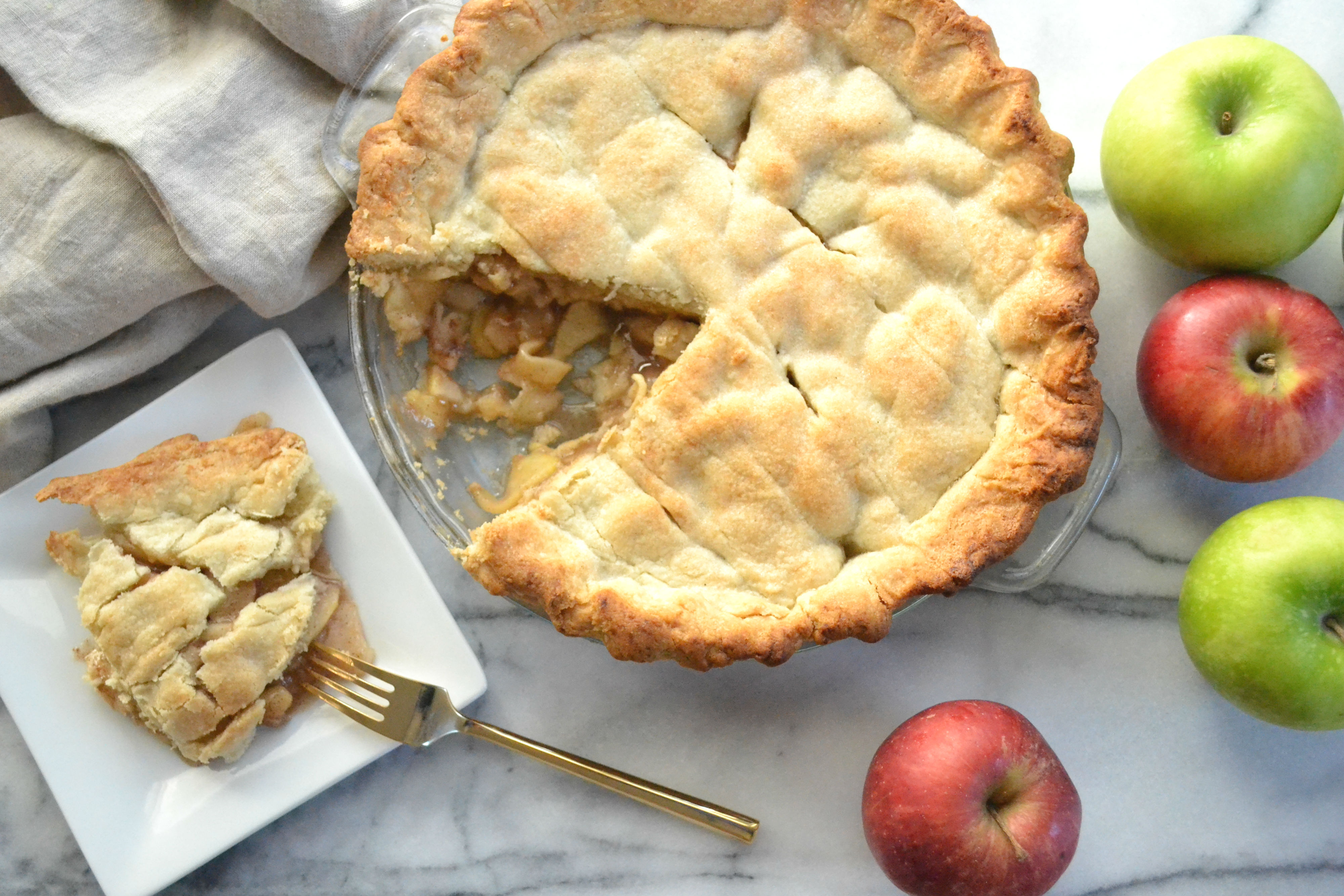 Serves 8
A warm and hearty classic with cinnamon apple slices and the flakiest, buttery crust you'll ever have!
DOUGH
2 1/2 cups all-purpose flour (see note below)
1 teaspoon kosher salt
2 tablespoons white granulated sugar
12 tablespoons (1 1/2 sticks) cold unsalted butter, cut into cubes
1/2 cup cold vegetable shortening, cut into 6-8 pieces
1/4 cup cold vodka (I only use Tito's Vodka for everything!)
1/4 cup cold water
FILLING
6-7 cups of slightly tart apples (6-7 medium apples), peeled, cored, cut into 1/4 inch thick slices
1/2 cup white granulated sugar
1/4 cup brown sugar, tightly packed
3 Tablespoons all purpose flour
3/4 teaspoons cinammon
1/4 teaspoon nutmeg
1/8 teaspoon ground ginger
1/4 teaspoon kosher salt
1 Tablespoon lemon juice
1 TB unsalted butter, cut into cubes
TOP OF PIE
1 Tablespoon unslated butter, melted
1 teaspoon white granulated sugar
SPECIAL EQUIPMENT
Kitchenaid Stand Mixer or Food processor
9-inch pie dish
DOUGH
Start by gathering all of the ingredients for the dough. In a stand mixer add roughly half of the all-purpose flour, and all of the kosher salt and sugar. Mix on low 5-10 seconds until combined. (If you have a food processor that will work as well, and might be even easier. I just don't have one :) )
Add cold butter and shortening to flour mixture. Mix on medium about 10 seconds until it starts to come together. It will be uneven and clumpy, but there should be no uncoated flour. Scrape the sides of the mixing bowl down with a silicon/rubber spatula.
Add the rest of the flour and mix another 5-10 seconds until the mixture is evenly distributed around bowl and mass of dough has been broken up.
Empty mixture into a separate large bowl.
Combine the cold vodka and cold water. Slowly add it to the flour mixture. With silicon/rubber spatula, use folding motion to mix, pressing down on dough until dough is slightly tacky and sticks together. It will be very sticky.
Gather two pieces of plastic wrap. Divide dough in half and place on each piece of plastic wrap. Wrap tightly and form into a 4-inch disk. Refrigerate at least 45 minutes or up to 2 days.
FILLING
While the dough sits in the fridge, peel, core, and slice the apples. Add to a large bowl.
To the bowl of apples add the white & brown sugar, flour, cinnamon, nutmeg, ground ginger, kosher salt, and lemon juice. Mix together well with a spatula. Put in the fridge.
ASSEMBLE PIE
Once the dough has been in the fridge for at least 45 minutes, take both dough rounds out of the fridge. Preheat oven to 400 degrees F.
Throw a good amount of flour (about 1/2 cup) onto a surface where you can roll out the dough.
Unwrap one of the dough rounds and place on top of the flour, it will be very sticky still. Sprinkle another 1/4 cup or more of flour on top of the dough. Knead the dough, combining the flour in order to make it easier to handle and less sticky.
Roll out the dough to about a 10-inch circle. Then, place your rolling pin in the middle of your dough. Gently lift one half of the dough over the rolling pin, as if you were going to fold the dough in half.
Use the rolling pin to pick up the dough and gently place into your pie dish. Gently press the dough up the sides of the dish. It might not look perfect but it will be delicious so don't worry!
Get the apple filling from the refrigerator, and fill the crust-lined pie dish. There may be juices at the bottom of the bowl (this happens to fruit when you add sugar, it brings out the juices). Pour the juices into the pie dish as well. Spread apples into an even layer. Top the apples with the cubed tablespoon of butter. Set aside.
Repeat the steps to roll out the the second dough round. Again, gently pick up one half of the rolled out dough and drape on top of the rolling pin. Lift the dough using the rolling pin to transfer it on on top of the apples.
Fold the top dough underneath and press down lightly to seal the edges. Flute the edges by pinching one side with your thumb and pointer finger on one hand and pushing with your other thumb (see illustration above).
Using a sharp knife, cut 5-6 slits in the pie. Brush 1 Tablespoon of melted butter over the entire pie and then sprinkle 1 teaspoon of sugar on top.
Cut 2 inch strips of foil and cover all of the edges to avoid over burning.
Bake for 25 minutes. Remove the foil from the edges and bake another 15-20 minutes, until golden brown. Cool at least 20-30 minutes before cutting/serving.
Notes
Tip#1: For the dough, it's best to use unbleached all-purpose flour if you have it, but will work with regular all-purpose flour.
Tip#2: You can completely skip the step of making dough from scratch and use a store-bought pie crust, they're delicious too! Just make sure to defrost the crust according to the directions on the box. This will save you about 45 minutes. But nothing beats a homemade crust :) Conversely, you can make the dough up to 2 days ahead of time to save time the day you make the pie.
Tip#3: Don't be afraid to mix different kinds of apples. We used a combination of slightly tart apples (Granny Smith, Stayman Winesap, Rome, York) from an apple picking adventure and it was sooooo good!
Tip#4: The pie will keep well at room temperature for up to 2 days if you want to prepare and bake it ahead of time.
Adapted from Serious Eats
Love & Food ForEva https://loveandfoodforeva.com/