T-minus 2 days to Thanksgiving!! I'm sure most of you are well into your menu planning and shopping. But if you're still in need of an amazing side dish, have I got a winner for you! If you ask me, Thanksgiving isn't complete without some good ole' mashed potatoes. It's my favorite Thanksgiving side for sure, and I'm certain it's because my mom made THE BEST mashed potatoes ever. No, seriously. Luckily, I watched her make it a hundred times because to this day, I have yet to find a close second to these Creamy Parmesan Mashed Potatoes.
I know you're probably thinking, what makes these so great? Mashed potatoes are a pretty standard dish, right? Most recipes are made of the same things: potatoes, butter, milk. But that's where you're missing the boat, folks. There are so many delicious ways to amp them up! My mom's recipe takes the decadent road to potato heaven, and I couldn't be happier. You seriously have not had tastier mashed potatoes. Gahhh, just talking about it is making my mouth water. So I'll stop….without further ado……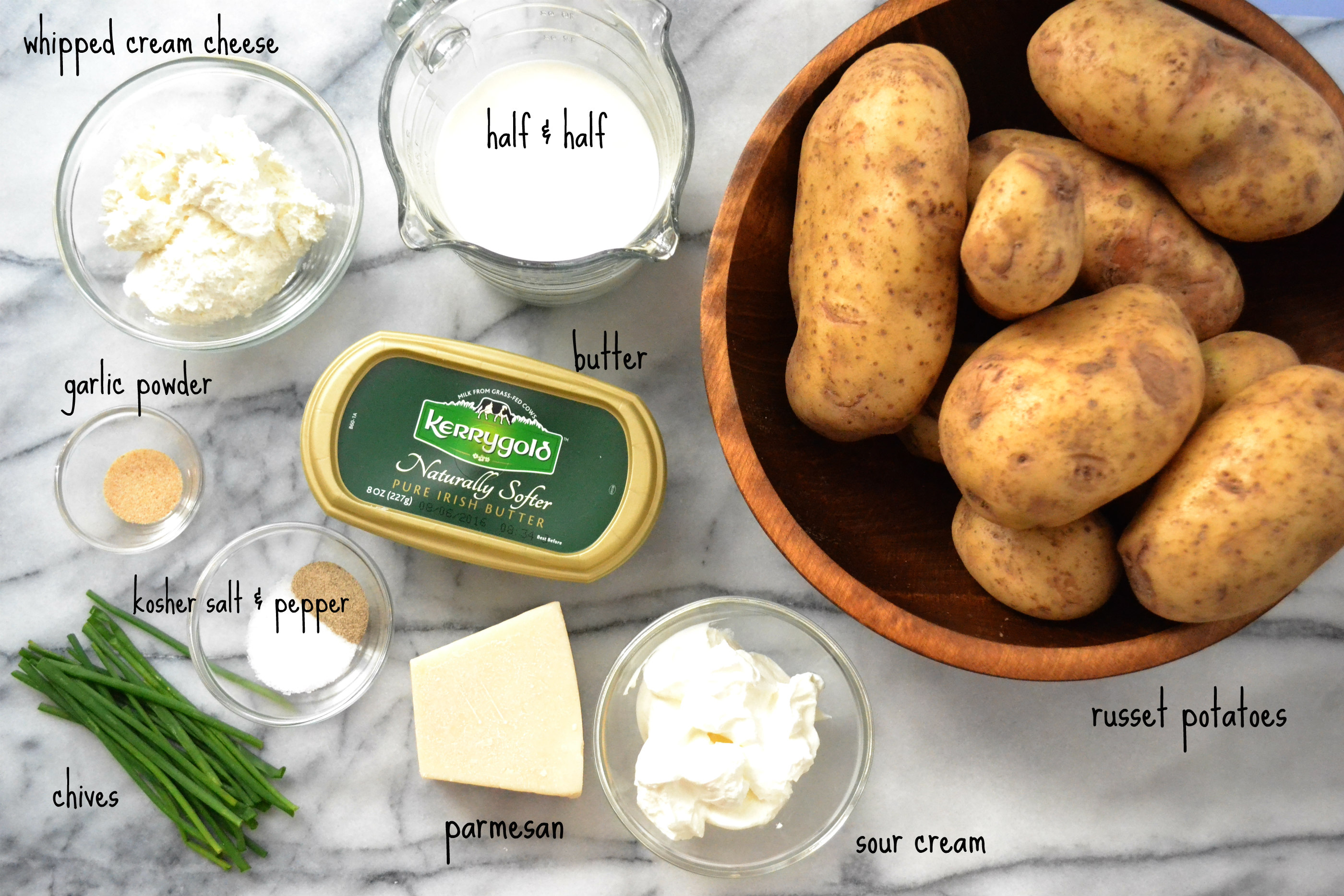 Part of the secret to this recipe is the method of "mashing." My mom always used a hand mixer, which works just fine. But have you ever had gummy potatoes? That can happen if you over mix them, which releases the starch, making them gummy. Years ago I read about the tool below, a Potato Ricer. It looks like a giant garlic press if you ask me. It takes a little longer to use compared to a hand mixer, but you'll never go back when you taste how light and fluffy it makes your potatoes.
Another reason your potatoes could have a glue-like consistency is because you're using the wrong kind of potato. You want to stick to high starch potatoes such as Russet potatoes (these are my favorite) or Yukon Golds (not quite as fluffy but have more flavor). Sometimes I use half Russet, half Yukon Gold. High starch potatoes fall apart easily but are also able to absorb liquids like milk and butter, making them creamy. Mmmmm, I just got hungry again.
Once you have all the potatoes riced, add the following ingredients: butter, half & half, sour cream, whipped cream cheese, grated Parmesan, garlic powder, kosher salt & pepper. Stir well to combine all ingredients, but avoid over mixing. Finally, add chopped chives and gently fold into the potatoes.
And drum roll please…..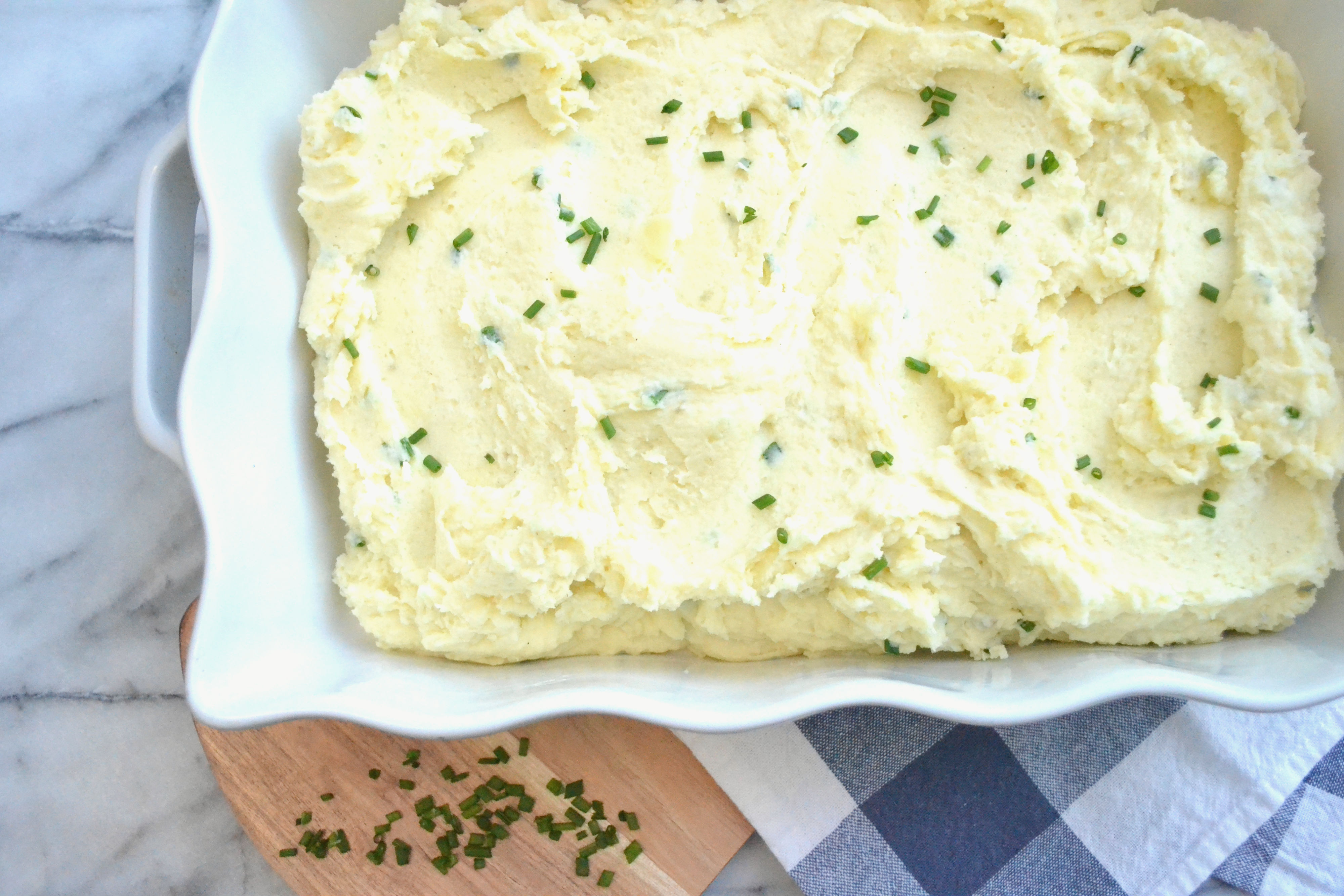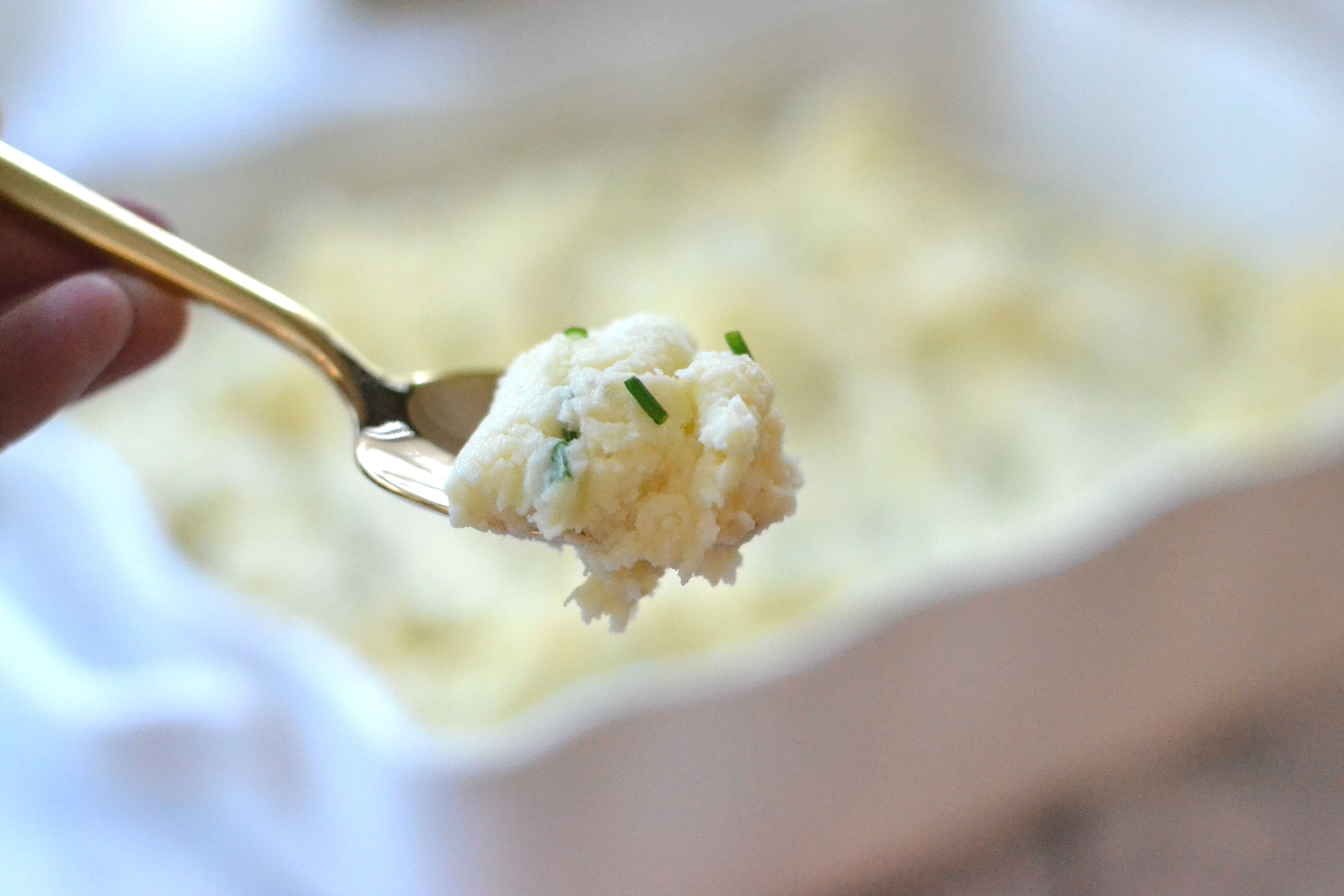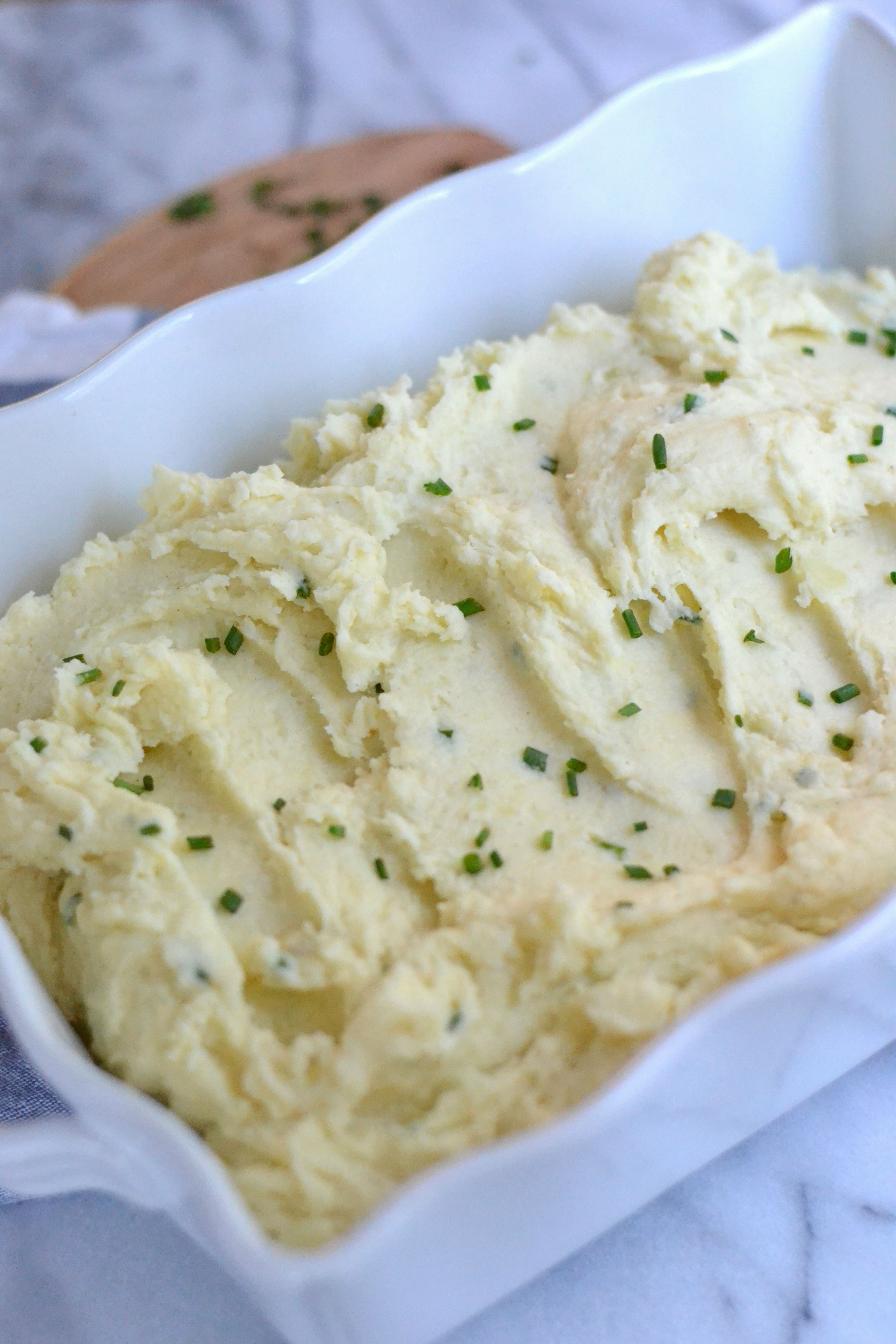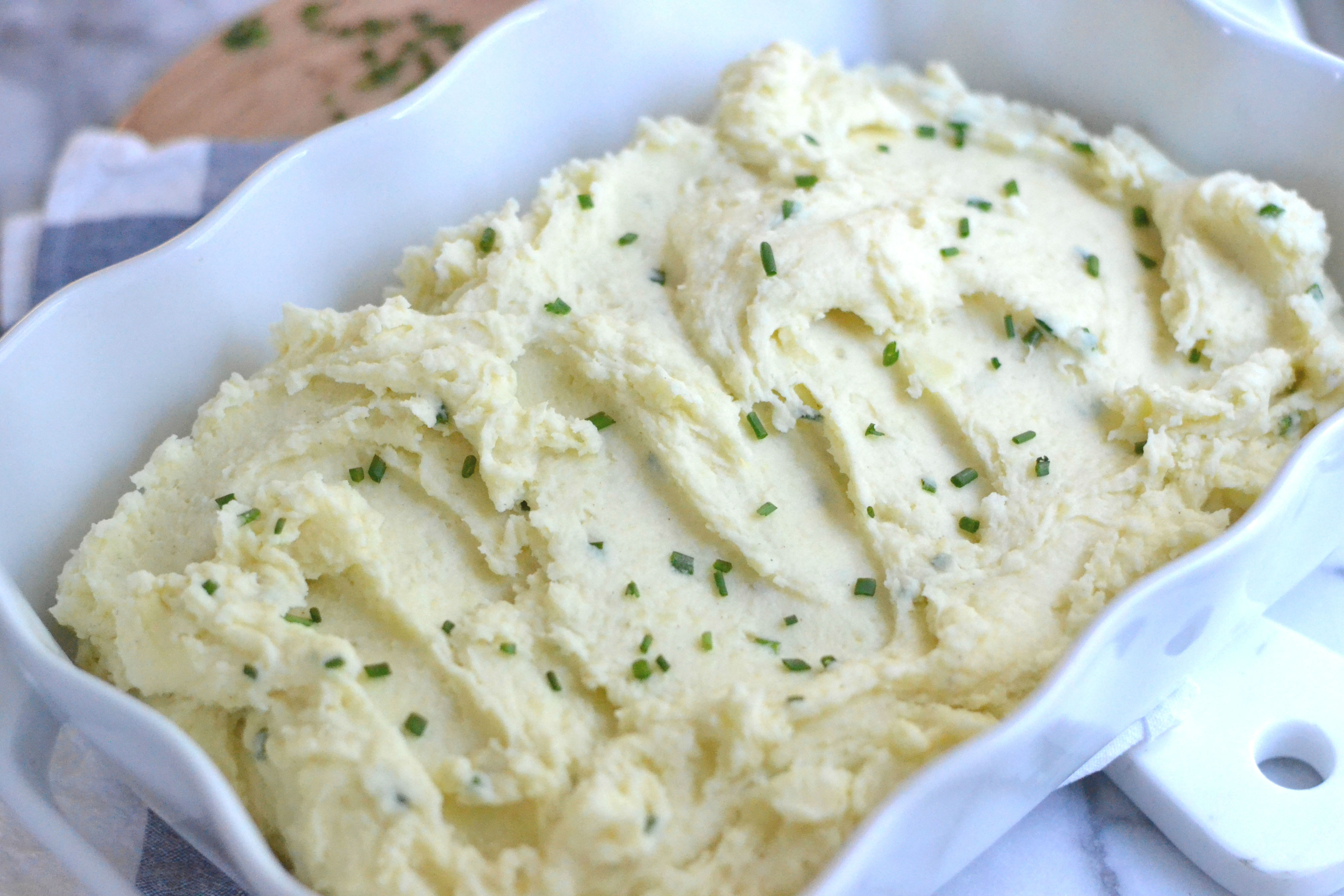 Creamy Parmesan Mashed Potatoes
2015-11-23 20:48:25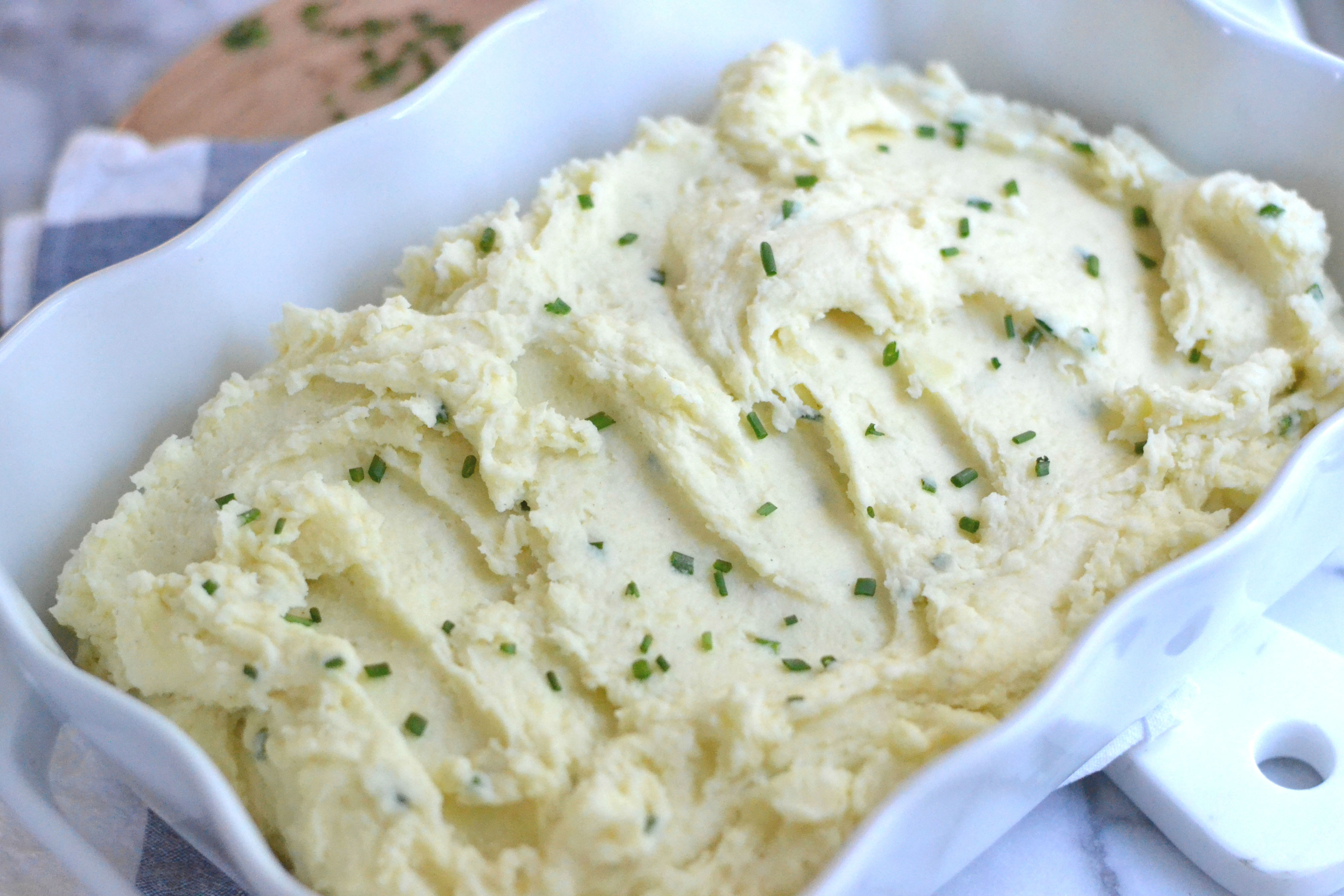 Serves 10
The perfect mashed potatoes recipe: creamy, cheesy, buttery, & fluffy!
Ingredients
5 lbs Russet or Yukon Gold Potatoes (or combination of both)
1 cup Half & Half, warmed
4 oz (or 1 stick) of good butter (see Tip #1 below)
4 oz sour cream
4 oz whipped cream cheese
3/4 cup freshly grated Parmesan (see Tip #2 below)
1 1/2 teaspoon kosher salt
1/2 teaspoon ground white pepper (see Tip #3 below)
1/2 teaspoon garlic powder
3-4 Tablespoons fresh chives, chopped
SPECIAL EQUIPMENT
Potato Ricer
Instructions
Fill a large soup pot halfway with water. Heat on medium.
While the water heats up, peel the potatoes (I find it easiest with a Y-peeler), then cut into 1 1/2-inch chunks.
Carefully add the potatoes into the pot of water. Raise the heat to medium high. Let water come to a boil. Cook until the potatoes are fork-tender, about 25-30 minutes. Monitor the water while boiling so it doesn't boil over.
While the potatoes cook: grate the Parmesan, chop the chives (I like to use kitchen scissors), and warm the half & half in the microwave for 40 seconds on high.
Once the potatoes are done, drain well.
Working in batches, spoon the potato chunks into the ricer and push through to "rice" the potatoes. Have the original pot ready underneath your ricer as you do this. Continue spooning potatoes into the ricer until they're all processed.
Put the pot with potatoes on low heat. Add the butter, stir to combine well. Next add the warm half & half, stir to combine again.
Next add sour cream, whipped cream cheese, grated Parmesan, garlic powder, kosher salt & pepper. Stir well to combine all ingredients. Taste & adjust seasonings as necessary.
Turn off the heat and sprinkle in the chives. Fold them gently into the potatoes. Serve warm.
Notes
Tip #1: For the butter I like to use Kerry Gold Irish Butter. It's so much tastier than standard butter.
Tip #2: I avoid the pre-grated/pre-shredded cheese. I know it's easy to pick up, but that stuff has a harder texture and not nearly as tasty as freshly grated.
Tip #3: Ground black pepper will work as well. I just like to use ground white pepper instead so it blends in better visually with the potatoes.
You can make these 1 or 2 days ahead of time. Once you've made them, put them into an oven safe dish, cover with foil and refrigerate. On the day you are serving them, leave at room temperature for 1-2 hours before baking. Preheat oven to 350 degrees F, then dot the top of the potatoes with a few slices of butter (about 3-4 Tablespoons). Recover potatoes with foil and bake for 25-30 minutes.
Love & Food ForEva https://loveandfoodforeva.com/