Everyone needs a handful of quick and easy go-to dinner recipes. Well, friends, these Korean Beef Lettuce Wraps are it! This is one of my all-time favorite recipes; and it's definitely in my regular dinner rotation. What makes it so great, you ask? Well, I usually have almost all of the ingredients on hand. Even ingredients like scallions (green onions) and ginger are always on hand because I like to keep a sandwich bag of chopped up scallions in my freezer along with peeled ginger just for occasions like this :) Another reason it's so great: from start to finish it'll be on your table in 15-20 minutes flat. Who wouldn't be a fan of that?! And last but not least, it's really really tasty! Guaranteed to become a favorite in your house!
For a heavier meal, serve the beef with white or brown rice!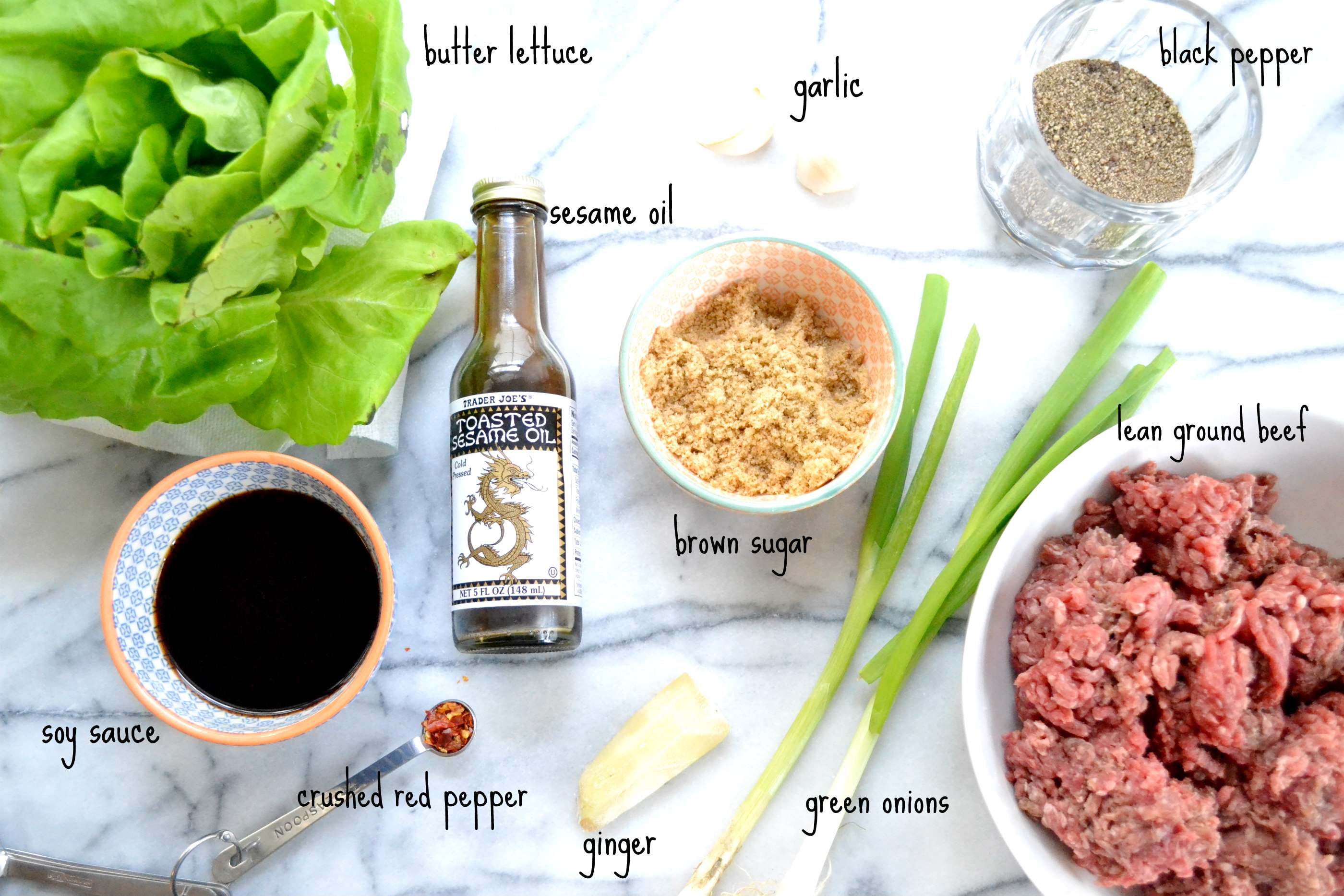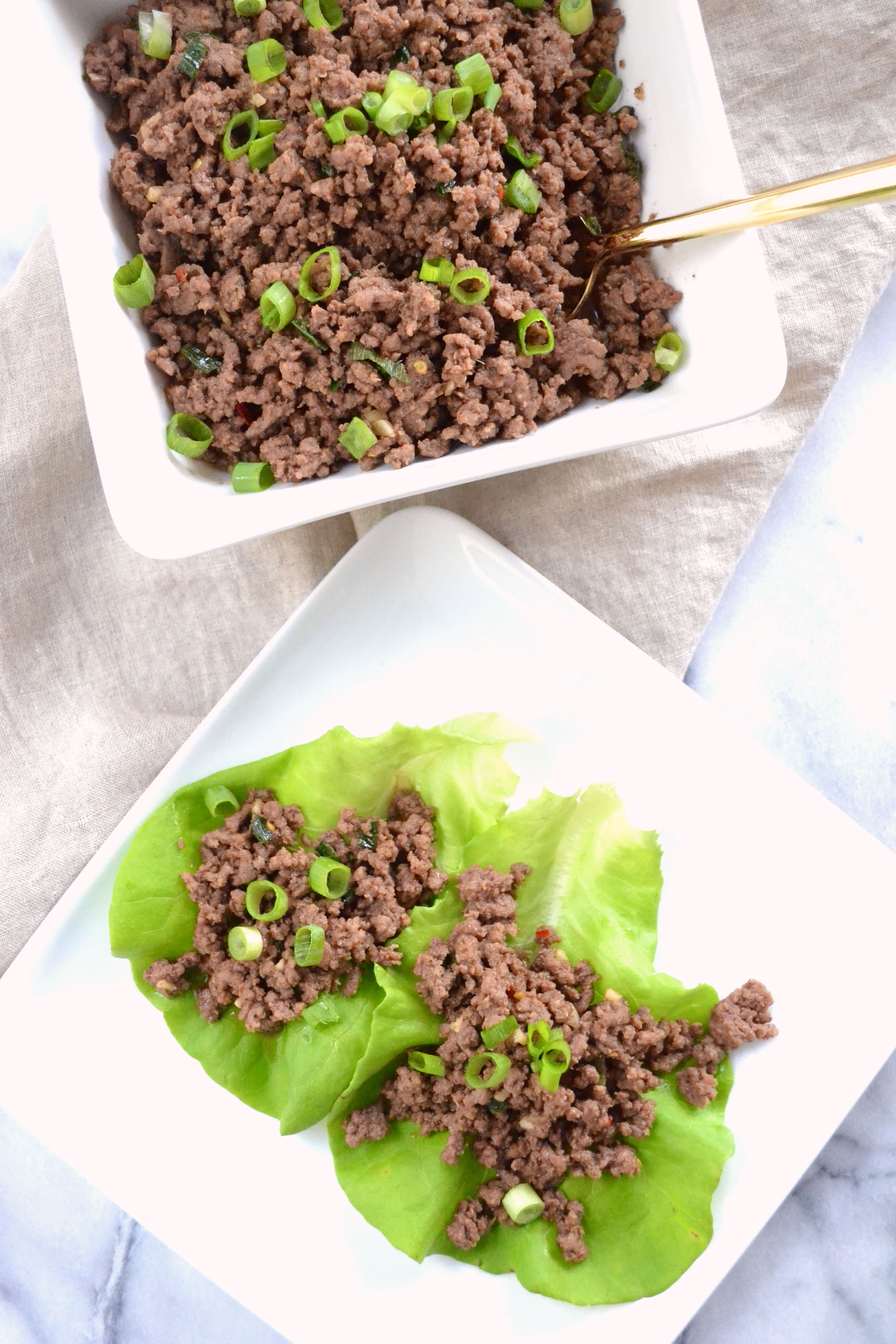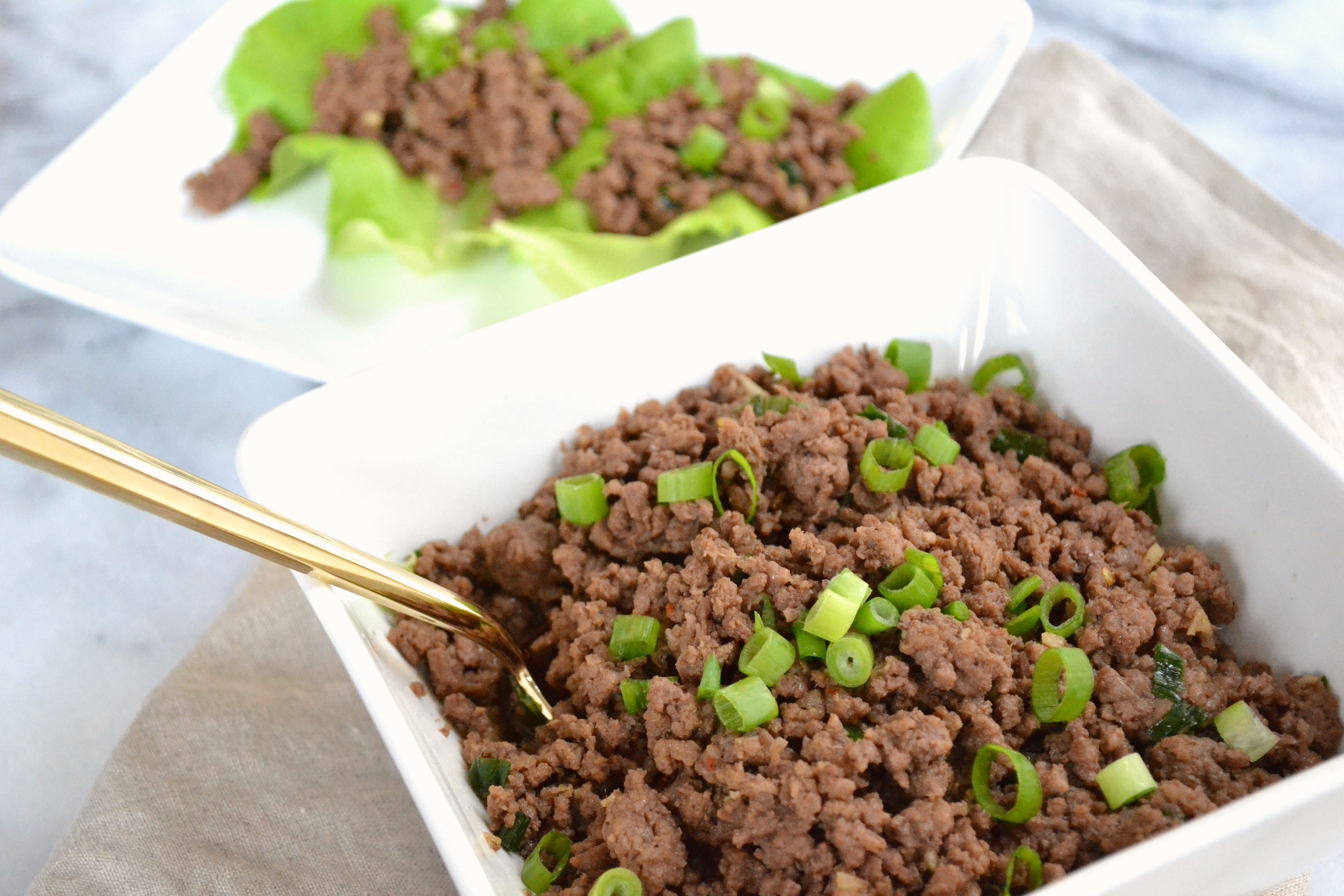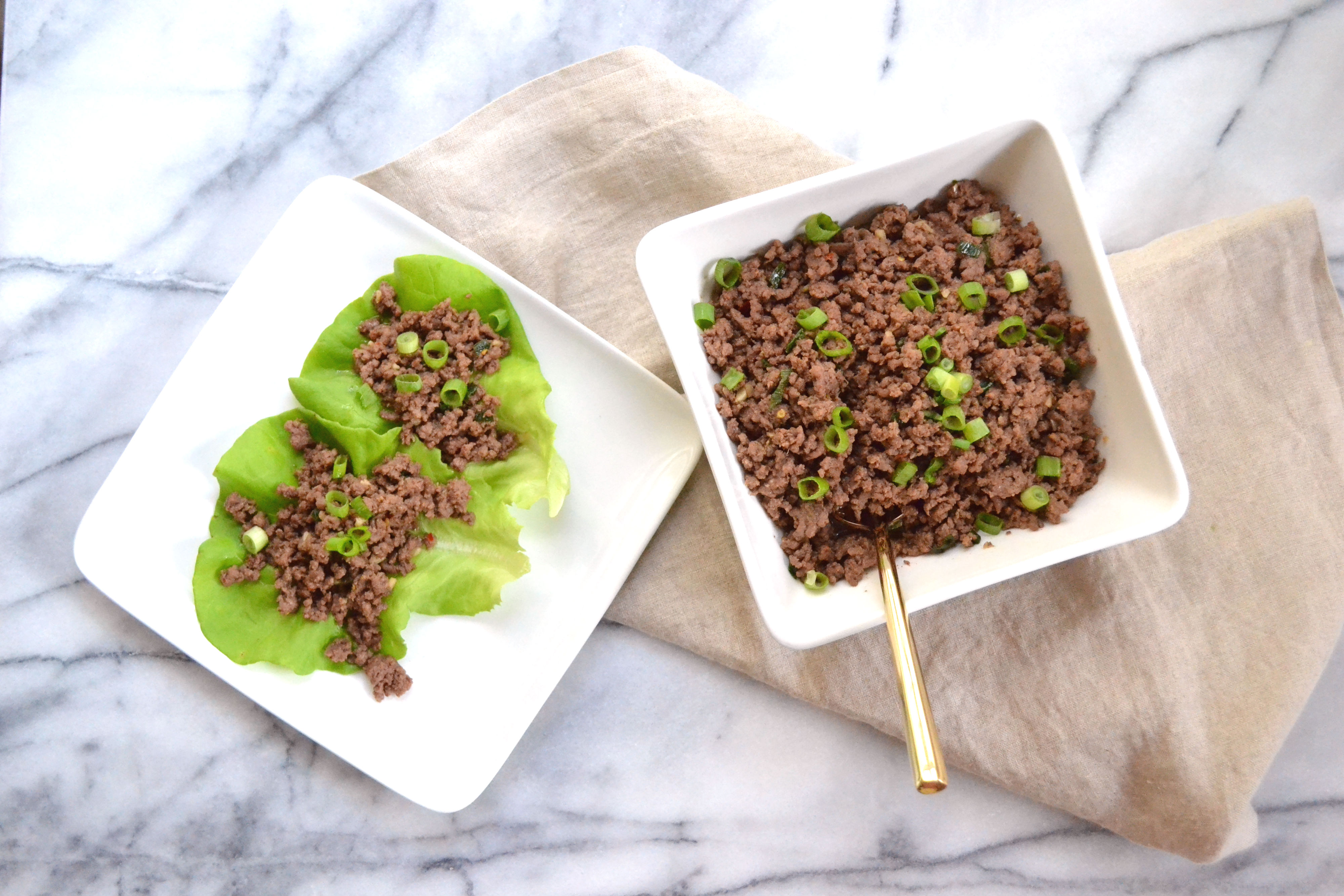 Korean Beef Lettuce Wraps
2015-11-17 15:31:58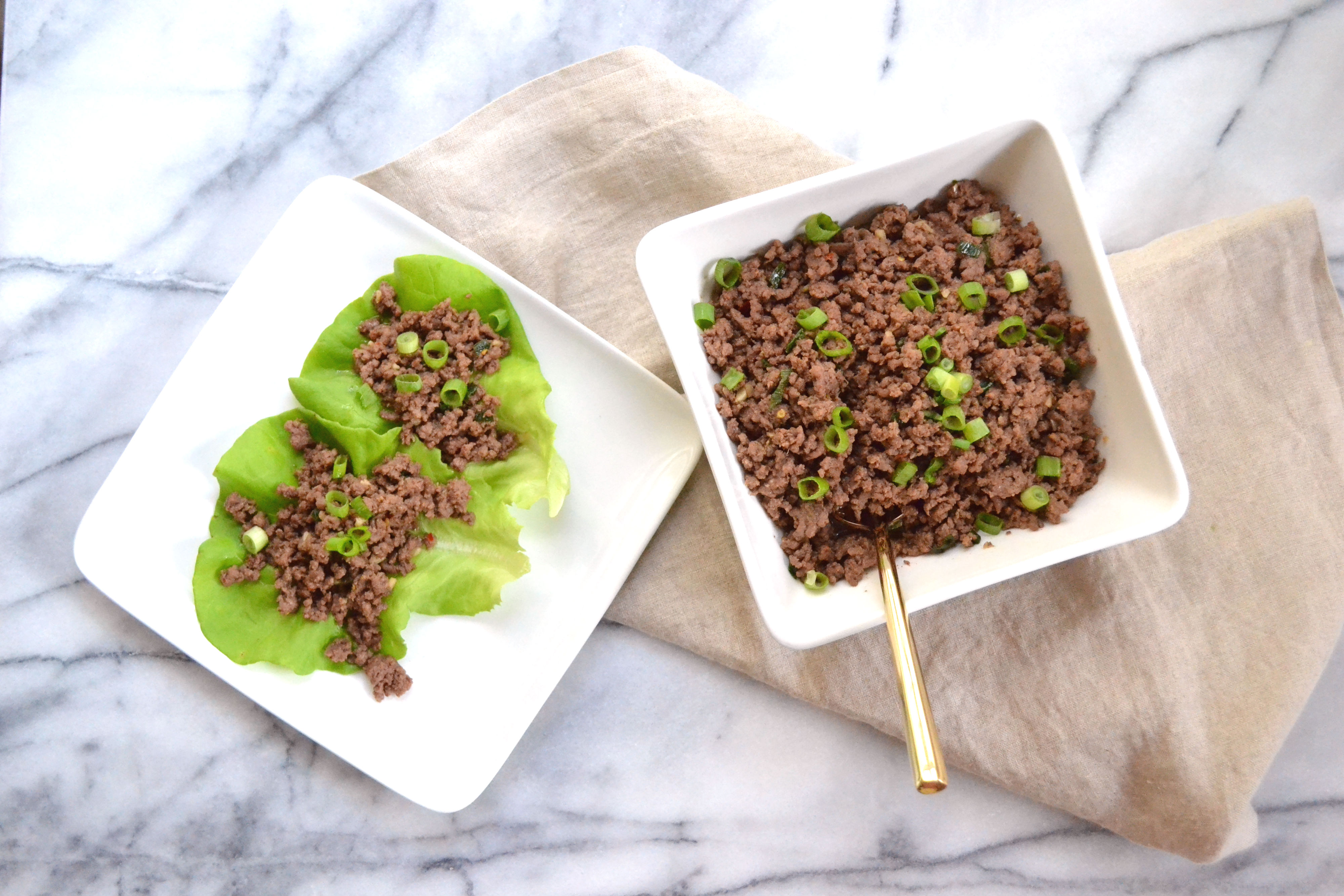 Serves 4
A super simple yet tasty Korean Beef that couldn't be faster to prepare!
Ingredients
1 lb lean ground beef (90/10 or 93/7)
1 Tablespoon sesame oil
3 garlic cloves, minced
1 teaspoon fresh ginger, minced or grated (see note below)
1/4 cup soy sauce
1/4 cup brown sugar, packed
1/8-1/4 teaspoon crushed red pepper flakes (see note below)
1/8 teaspoon fresh cracked black pepper
5-6 scallions, diced
1 head of butter lettuce (8-10 lettuce cups)
Instructions
Heat a skillet over medium heat for a few minutes.
Add ground beef and break up into small pieces using a spatula.
Once beef is halfway browned (slightly pink still) add sesame oil and minced garlic. Stir to combine and cook until beef is completely browned.
If there is excess fat from the meat, drain by simply spooning it out of the skillet.
Add ginger, soy sauce, brown sugar, crushed red pepper, and black pepper. Stir to combine, lower heat, and let cook for a couple minutes.
Turn off the heat and top with sliced scallions.
Serve with individual lettuce cups or white/brown rice for a heavier meal!
Notes
Tip #1: Buy ginger in big pieces, peel them, then freeze in sandwich bags for use later. They keep great in the freezer and makes it very easy to grate the fresh ginger using a micro plane, instead of mincing, which can be tricky sometimes!
Tip #2: For just a tiny bit of heat use just 1/8 teaspoon of red pepper flakes. For more of a bite use 1/4 teaspoon (this is the route I usually take). Feel free to skip it altogether or use just a pinch if you're not into spicy food.
Adapted from Lizzie Write
Love & Food ForEva https://loveandfoodforeva.com/