I really love this time of year – the crisp air, vibrant colors of leaves, and of course Thanksgiving is hard to beat. November is also the month I was born and the month I got married so there's plenty to be excited about! But I'd be remiss if I didn't mention another fall favorite of mine: FOOTBALL!!! Sundays are made for relaxing, football, and food if you ask me. And let me tell ya, these Sweet & Spicy Asian Wings are so. friggin. good. Perfect for an afternoon on your couch! Bonus: this is one of those recipes where you mix all the ingredients together in one bowl, then throw it in the oven. Easy peasy. You're going to want to make these this weekend. So go grab the ingredients tonight and thank me later :)
You can make these mild by not using the Sriracha sauce, or pump up the spice by adding more!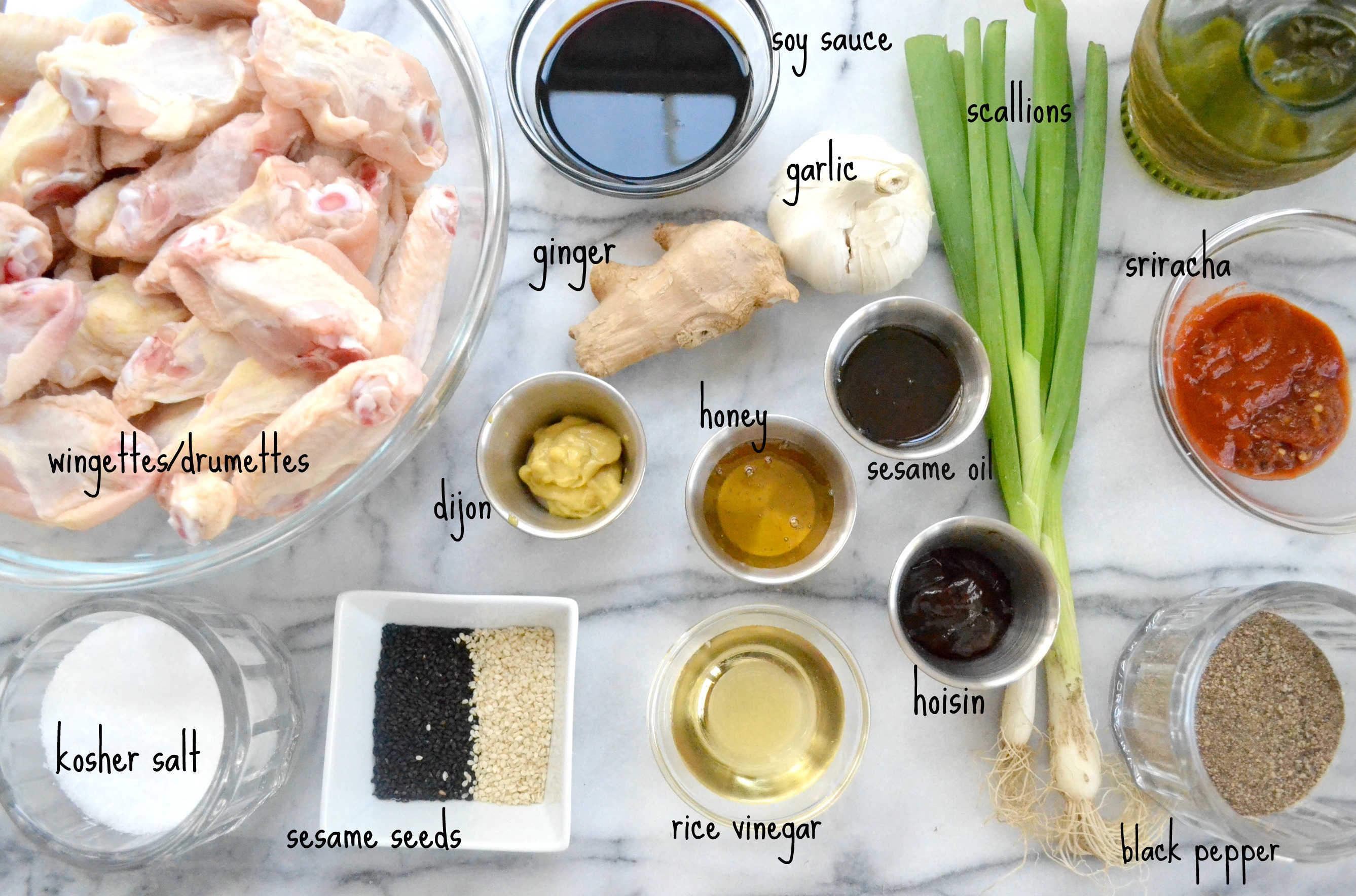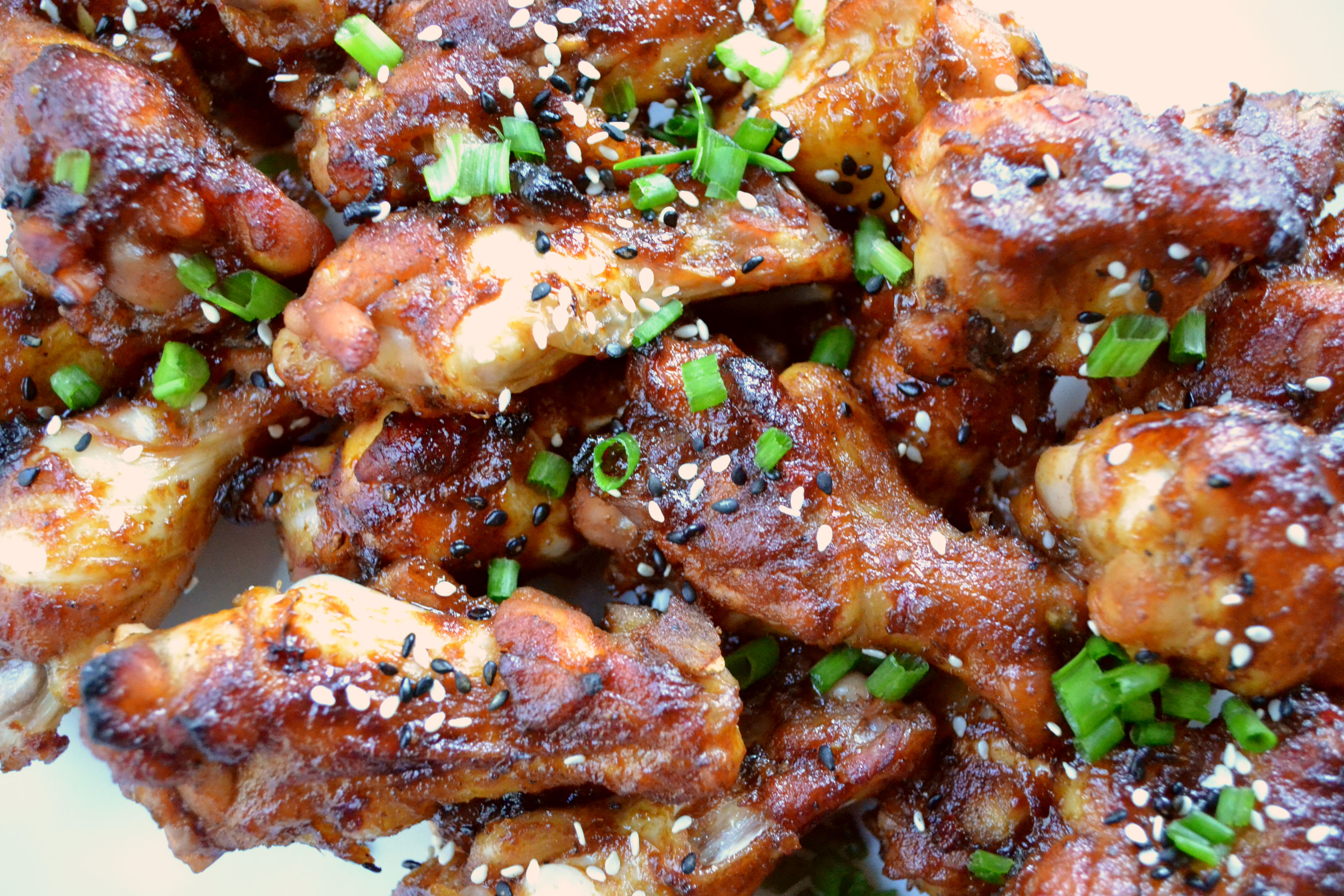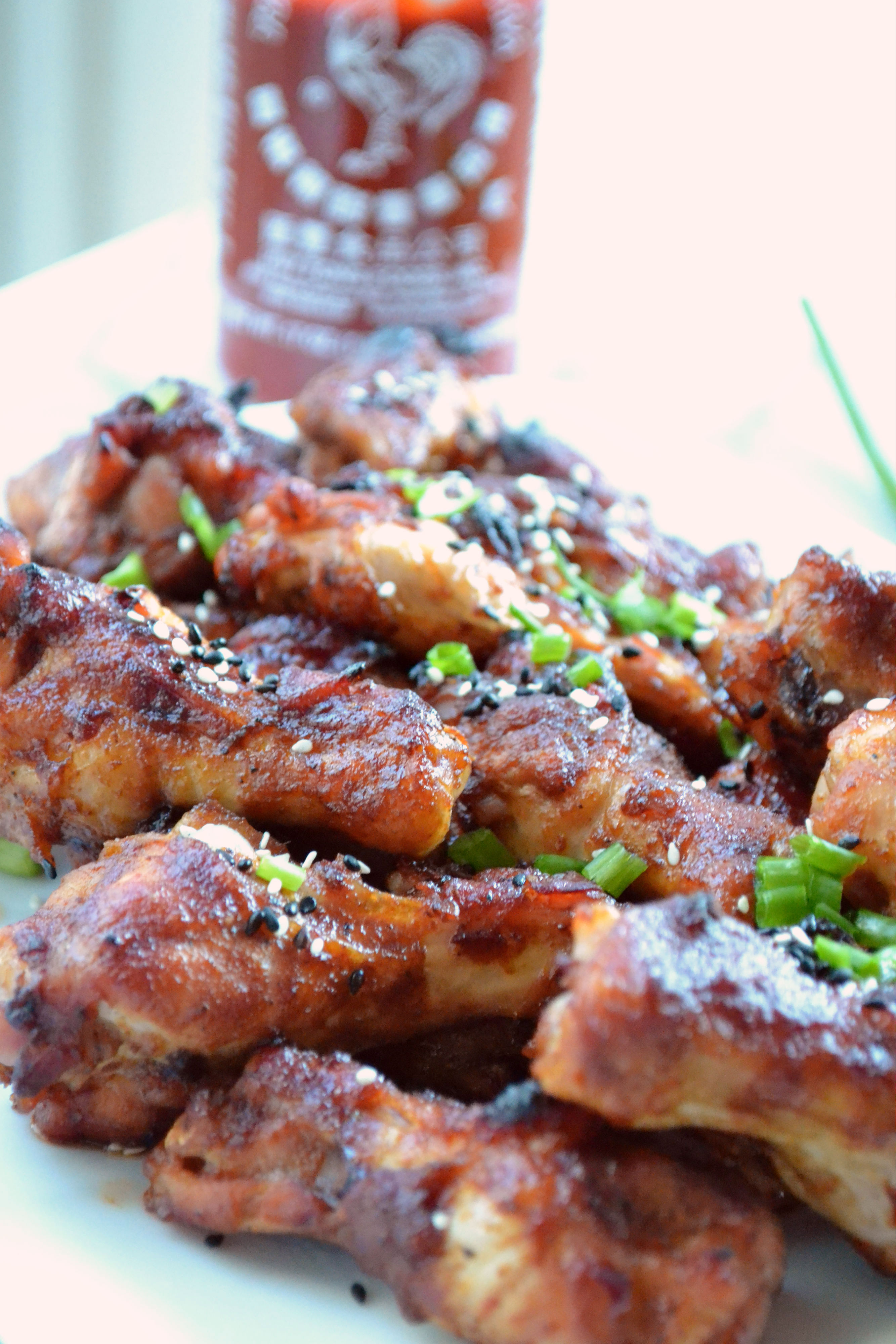 Sweet & Spicy Asian Wings
2015-11-09 19:43:23
Serves 4
Glazed sweet, spicy, and savory wings perfect for football season or any season!
Ingredients
3 lbs wingettes or drumettes (smaller than regular wings)
Kosher Salt & Black Pepper for sprinkling
4 Tablespoons soy sauce
3 Tablespoons honey
2 Tablespoons hoisin sauce
2 Tablespoons sesame oil
1-2 Tablespoons Sriracha sauce (see note below)
1 Tablespoon rice vinegar
1 Tablespoon dijon mustard
2 Tablespoons ginger, minced (about 1 inch piece)
2 cloves garlic, minced
For Garnish
3-4 scallions (green onions), sliced thinly
Sesame seeds
Instructions
Sprinkle chicken lightly with kosher salt and black pepper. Mix with your hands. Put aside. Wash your hands.
Make the marinade by combining everything listed from the soy sauce down to the garlic in a large bowl. Whisk together well.
Add chicken to the marinade and toss well to coat with your hands. Wash hands.
Cover chicken with plastic wrap and put in the refrigerator to marinate at least an hour.
When ready to bake, preheat oven to 375 degrees F. Cover a large baking sheet with foil. Place the chicken in a single layer on the baking sheet.
Bake for 20 minutes. Then spoon any remaining marinade over the chicken.
Bake 20 more minutes. Let cool 5-10 minutes on the pan before serving.
Serve warm, topped with sliced scallions and sesame seeds.
Notes
Tip #1: For a small amount of spice use 1 Tablespoon of Sriracha. For more kick use 2 Tablespoons. If you like it on fire use more!
Tip #2: You can marinate overnight to save time for a meal the next day. If you marinate over night, you don't need as much Sriracha sauce as if you were going to marinate for only an hour. The longer it marinates the spicier it gets!
Tip #3: You can find hoisin, sesame oil, Sriracha, and rice vinegar in the International section of most grocery stores.
Love & Food ForEva https://loveandfoodforeva.com/