I try to stay away from pasta, but at heart, I am a true carb junkie. There, I said it. I've tried to quit the stuff, but I always keep coming back so why fight it? Sometimes you just need a big bowl of pasta. And this Spinach Ricotta Bucatini came together because I was craving just that; plus I had all the ingredients on hand. I'm telling you, if you look at your pantry and fridge you'd be surprised at what you could throw together. Give it a shot sometime! Or just give this recipe a try…..it's like a big 'ole velvety hug from your old friend, Carby. Mmmm, carbs.
Bucatini is a thicker version of spaghetti with a hole in the center, so it's kind of like a big straw, perfect for absorbing a creamy sauce! You can, of course, use any pasta you have on hand.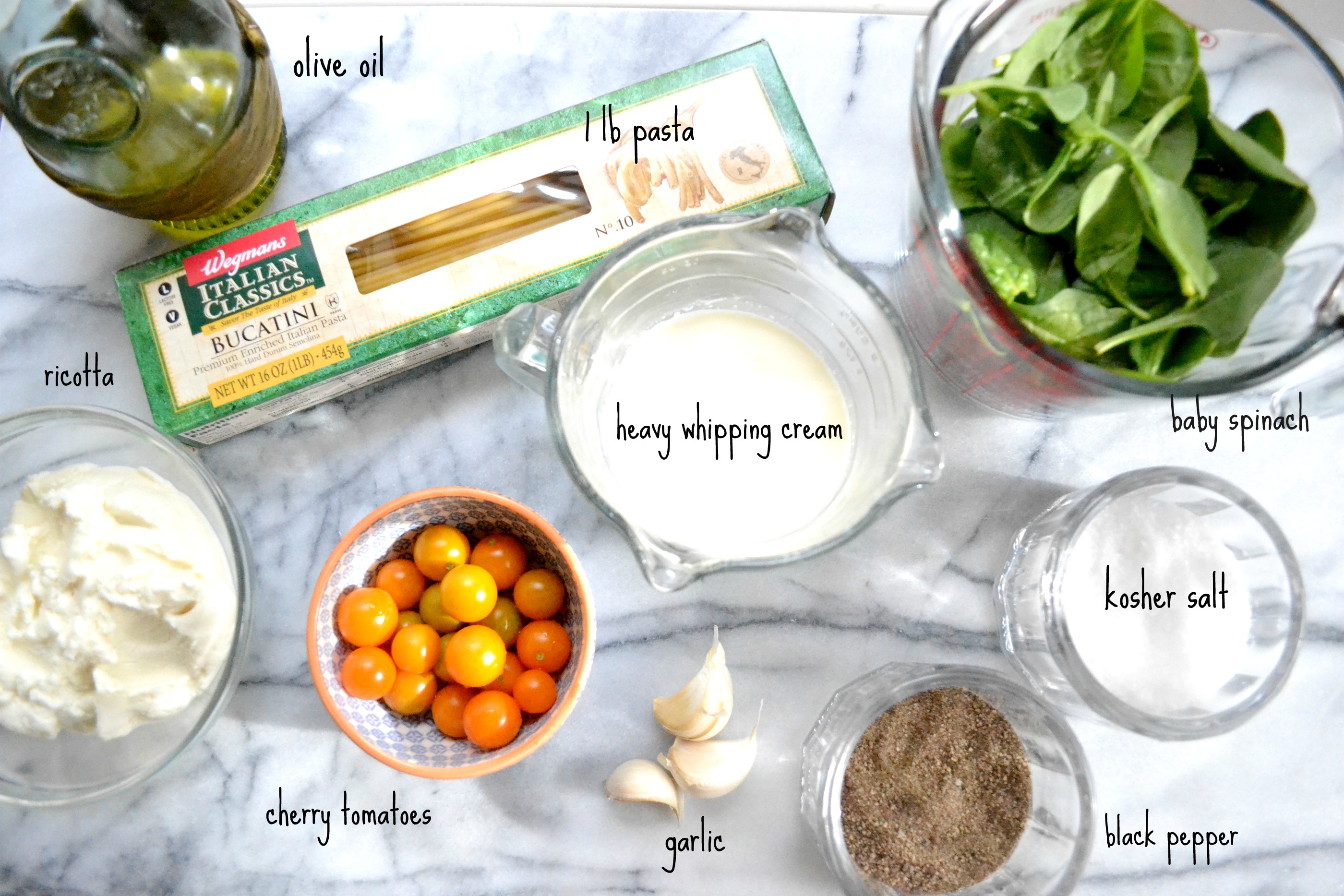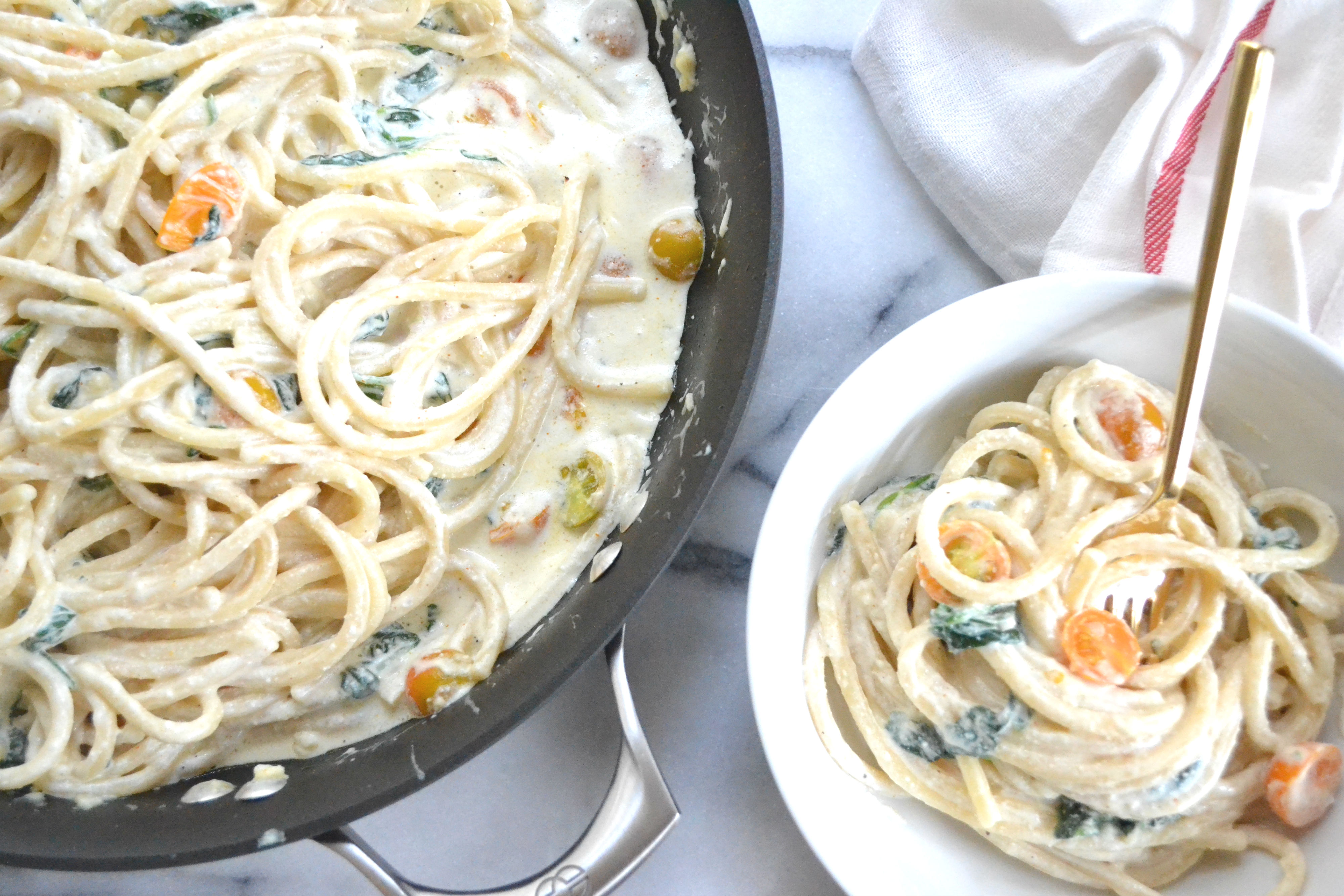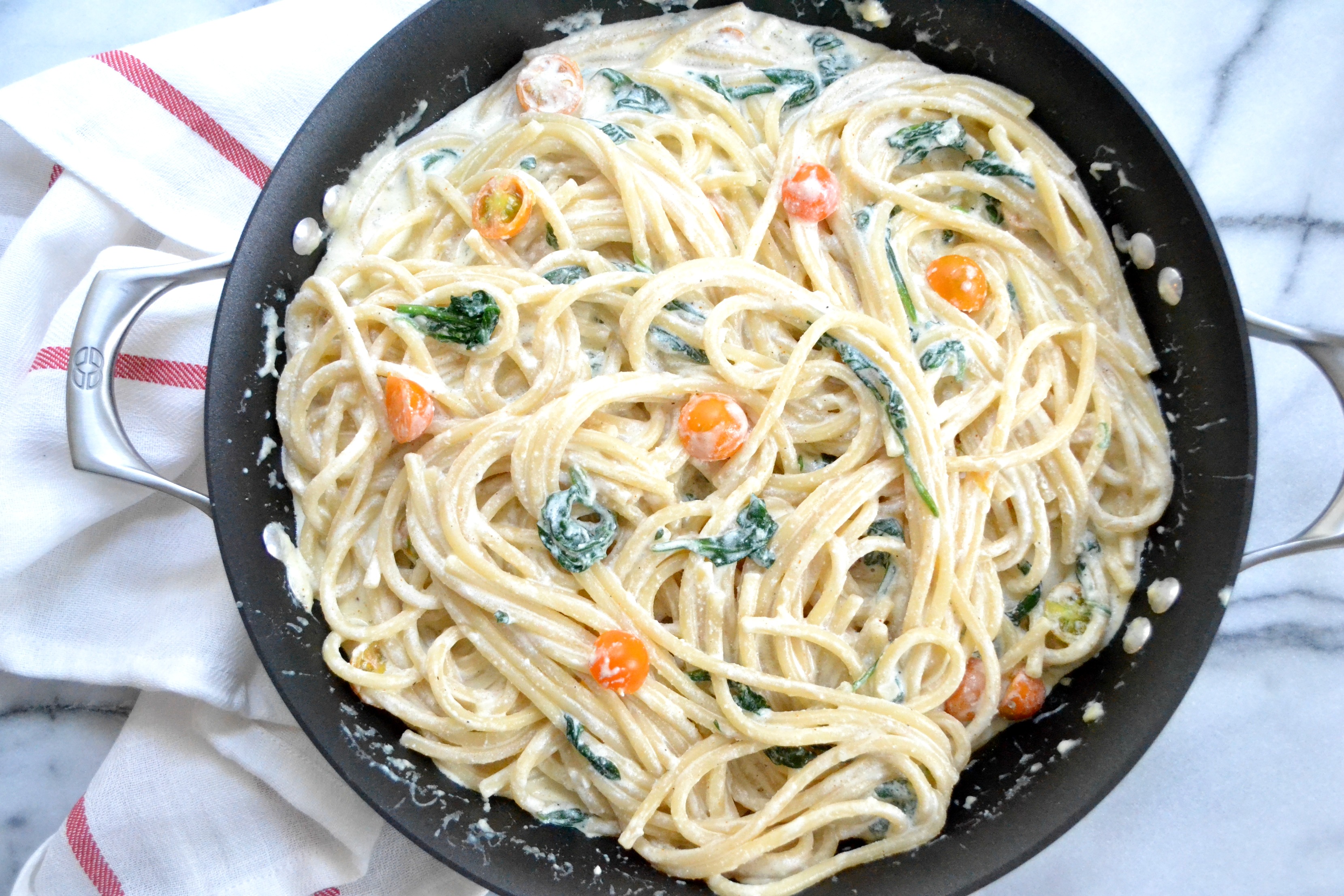 Spinach Ricotta Bucatini
2015-11-03 11:43:01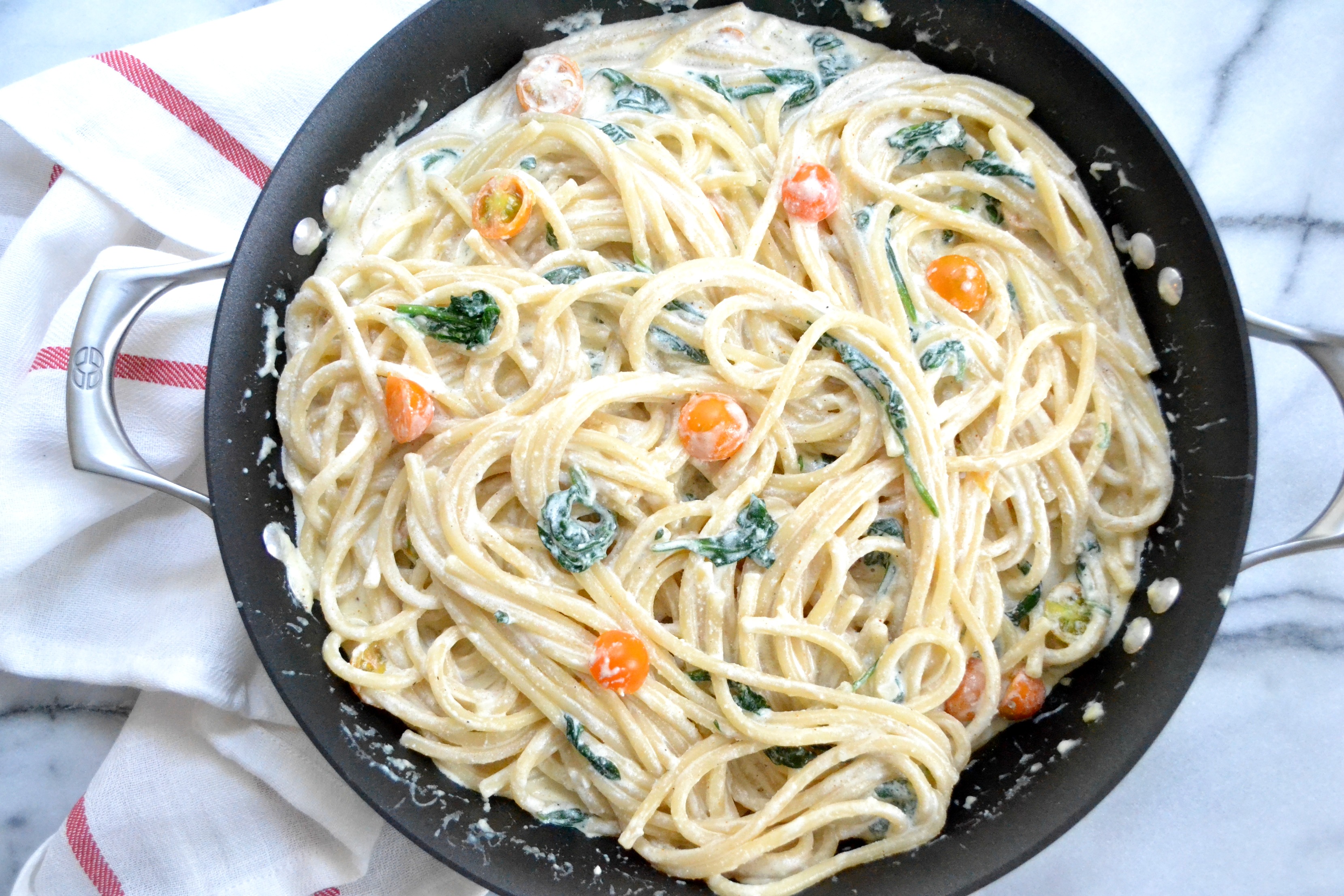 Serves 6
A simple pasta dish made with just a handful of ingredients that comes together quickly and is oh so creamy!
Ingredients
1 lb Bucatini, or any pasta you have on hand (Spaghetti, Penne, Egg noodles)
2 Tablespoons extra virgin olive oil
4 garlic cloves, minced
1 cup heavy whipping cream (can sub half & half or whole milk, but not skim/1%/2%)
1 1/2 cup ricotta (whole milk or part skim both work)
4 oz cherry tomatoes (about a cup), halved
4 cups fresh baby spinach
1 1/4 teaspoon kosher salt
1/4 teaspoon black pepper
Instructions
Start by boiling a big pot of water for the pasta.
While water comes to a boil, chop the garlic, cut the tomatoes in half, and measure out the whipping cream, ricotta, and spinach.
Once water is boiling, put in pasta and cook according to directions on the box.
While pasta cooks, heat the 2 Tablespoons of olive oil in a large skillet over medium heat for 1-2 minutes.
Once warm, add the garlic stirring constantly for 1 minute so it doesn't burn. Add baby spinach and toss, allowing it to wilt. This will take about 2 minutes.
Once the spinach is wilted, add the whipping cream and ricotta. Season with 1 1/4 teaspoon kosher salt and 1/4 teaspoon black pepper. Stir to combine until it is smooth and creamy.
Lower heat to low and let it simmer, covered, until the pasta is ready.
When pasta is done, drain the water out and add pasta directly into the skillet with the sauce. Toss well to combine, turn off the heat and add the halved cherry tomatoes. Toss again.
Serve hot with a side salad and you've got a full meal!
Love & Food ForEva https://loveandfoodforeva.com/