Raise your hand if you like tacos! If you could see me now I have both hands proudly in the air. I realize fish tacos are typically a "Summer food" and I also realize we're almost a week into Fall (even though I'm in denial, where did the last few months go??). So to officially bid adieu to Summer I had to get these in once more before the cold hits (and I'm talking about foreal cold….not this 60 degrees in the morning/80 degrees in the afternoon nonsense).
My recipe for Mahi Mahi tacos has tons of fresh flavors, some crunch, and a little bit of spice. I serve it with an addicting cilantro lime sauce – don't skip this, it makes the dish! It's also healthy since there's no breading on the fish and it is sauteed rather than deep fried. That means I can eat more, right?! (I may or may not have had 4 tacos when I made this last night. #sorrynotsorry)
PS: shout out to the hubs for growing those beautiful little cherry tomatoes – aren't they cute? And oh, so sweet.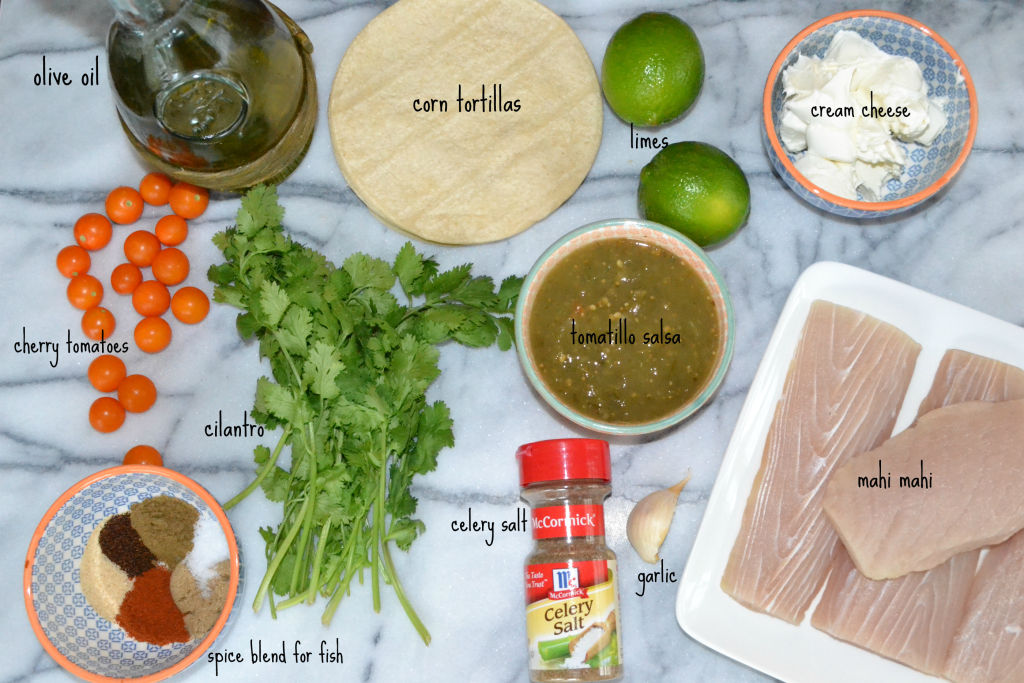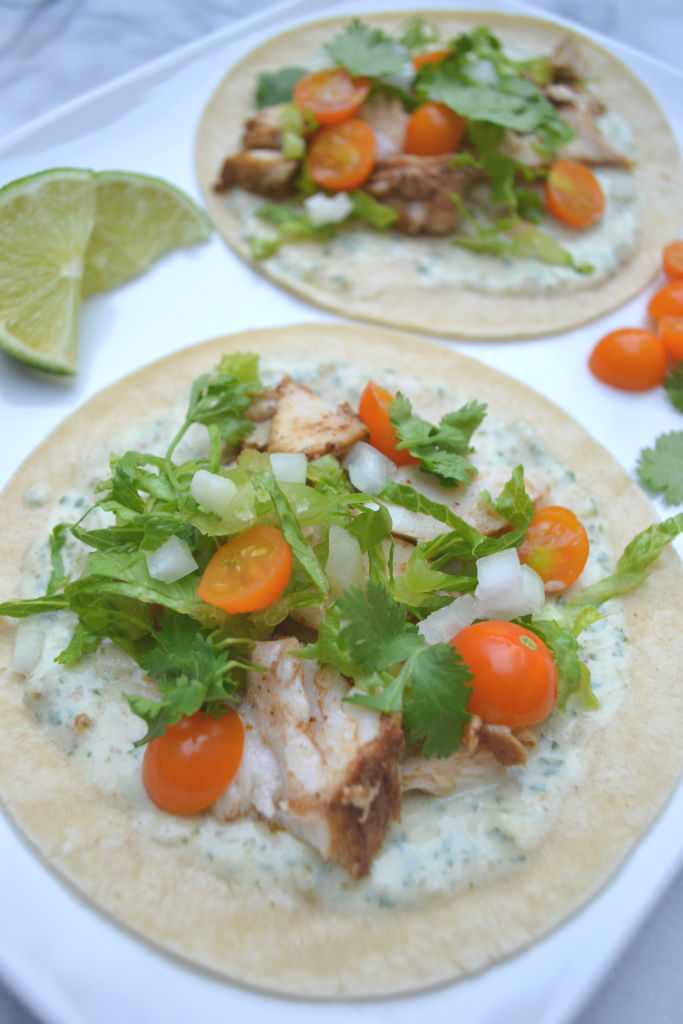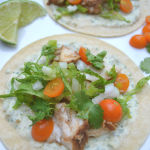 Mahi Mahi Tacos with Cilantro Lime Sauce
2015-09-28 09:48:07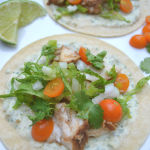 Serves 5
Easy and healthy fish tacos full of fresh flavors, crunch, and a little spice!
FOR THE FISH
1 pound Mahi Mahi fillets
1 teaspoon paprika (regular, smoked, or sweet)
1 teaspoon light brown sugar
1 teaspoon cumin
1/2 teaspoon chili powder
1/2 teaspoon garlic powder
1/2 teaspoon kosher salt
1/4 teaspoon cayenne powder
1 garlic clove, minced
2 1/2 Tablespoons olive oil
FOR SAUCE
2 oz cream cheese (or neufchâtel cheese)
1/2 cup bottled tomatillo salsa (salsa verde)
1/2 cup roughly chopped cilantro
Juice of 1 lime
1/4 teaspoon celery salt
OTHER
10-12 corn tortillas
1 cup shredded romaine lettuce or cabbage
1 cup cherry tomatoes, halved
1/4 onion, small diced
1 lime cut into wedges
1/4 cup whole cilantro leaves
Make the sauce
Add all the ingredients for the sauce into a mini prep, blender, or magic bullet cup.
Process/blend until smooth. Should take 10-15 seconds.
Transfer to a bowl and refrigerate.
Cook the fish
Pat the mahi mahi fillets dry with paper towel.
Combine all the spices, minced garlic, and olive oil into a small bowl. Stir to combine until it makes a paste.
Heat a skillet or non-stick pan over medium high heat. Pour 2 teaspoons of olive oil in.
Using a spoon or basting brush, cover both sides of the fish with the spice mix.
Cook fish for about 4 minutes on each side, depending on the thickness of your fillets. Once you've cooked on both sides, transfer to a plate and cover with foil.
Prep the toppings
Cut lettuce or cabbage into thin shreds (or you can buy these pre-shred and prepackaged).
Halve the cherry tomatoes.
Cut the lime into wedges.
Pick cilantro leaves off the stems, leaving them whole.
Put all of the toppings into serving bowls/dishes.
Warm up the tortillas - you can grill them to get those fancy grill marks, pop them in the oven for 5 minutes at 350 degrees, or you can do what I usually do - which is to wrap them in a couple of wet paper towels and microwave them for 25 seconds :)
Assemble Tacos
Uncover the fish. Using 2 forks, break the fillets apart into small bite size pieces, they should easily flake.
Take a tortilla, spread some cilantro lime sauce on top (I slather mine because this sauce is the bomb.com)
Top with fish, then shredded lettuce/cabbage, a few cherry tomato halves, a sprinkle of onions, a few cilantro leaves, then finally a squeeze of lime.
Notes
This makes 10-12 tacos and will serve 5-6 people. Or 3-4 hungry people.
Tip#1: I typically use neufchâtel cheese instead of cream cheese because it has less fat and you can't tell the difference in taste. Plus it's a bit softer than cream cheese. You can find neufchâtel right next to the cream cheese in the grocery.
Tip#2: I used a sweet onion to top the tacos because that's all I had but use red onion to add beautiful color and a bit more bite!
Love & Food ForEva https://loveandfoodforeva.com/