It has been a longggg and rainy week. Amiright?! Thank God for movie marathons curled up on the couch and warm, hearty soups to make dreary days a little brighter :)
Last weekend we hit up the farmers market, which is one of my absolute favorite things to do on a Sunday morning. The routine of browsing every stall, the beautiful produce colors, supporting local farmers, it's all good.
One of our favorite things at the farmers market are Kiwi berries from Beechwood Orchards. That's what those little round green things are in the last pic above! If you ever come across them, give them a try. They are exactly what they sound like – little berries that you eat whole and they taste like kiwi. Trust me: they. are. good.
Rocky even made a friend :)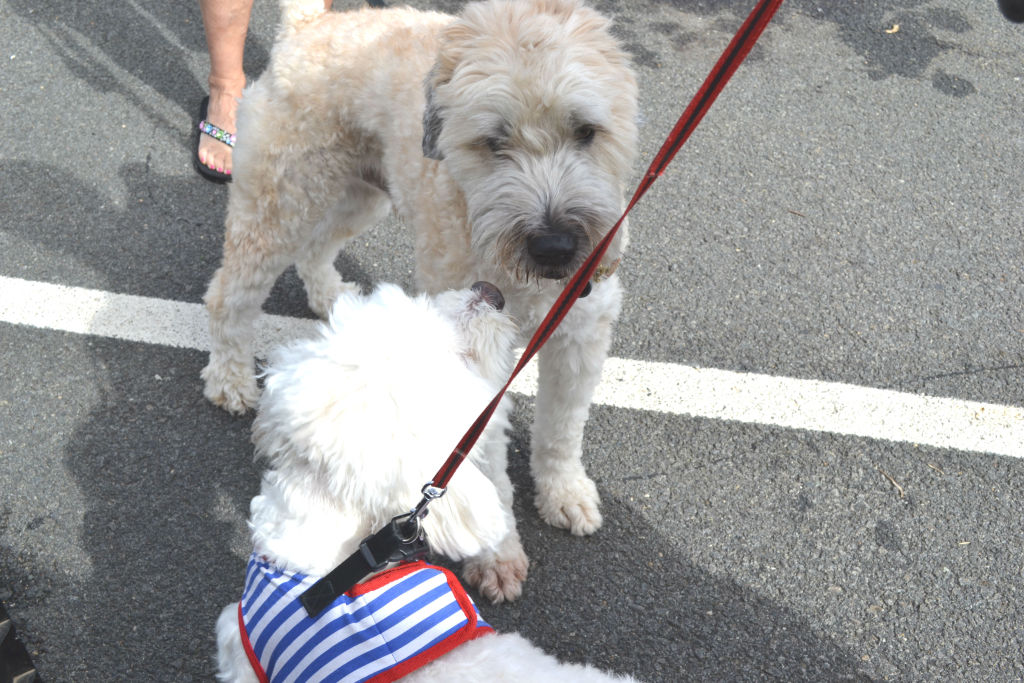 The find of the day, however, was some beautiful butternut squash from Pleitez Produce. I knew right away I wanted to make my Roasted Butternut Squash soup with crispy bacon. BACON, you guys. Bacon makes everything better, but this soup is so flavorful you won't need anything to go with it. Bacon is just the icing on the cake.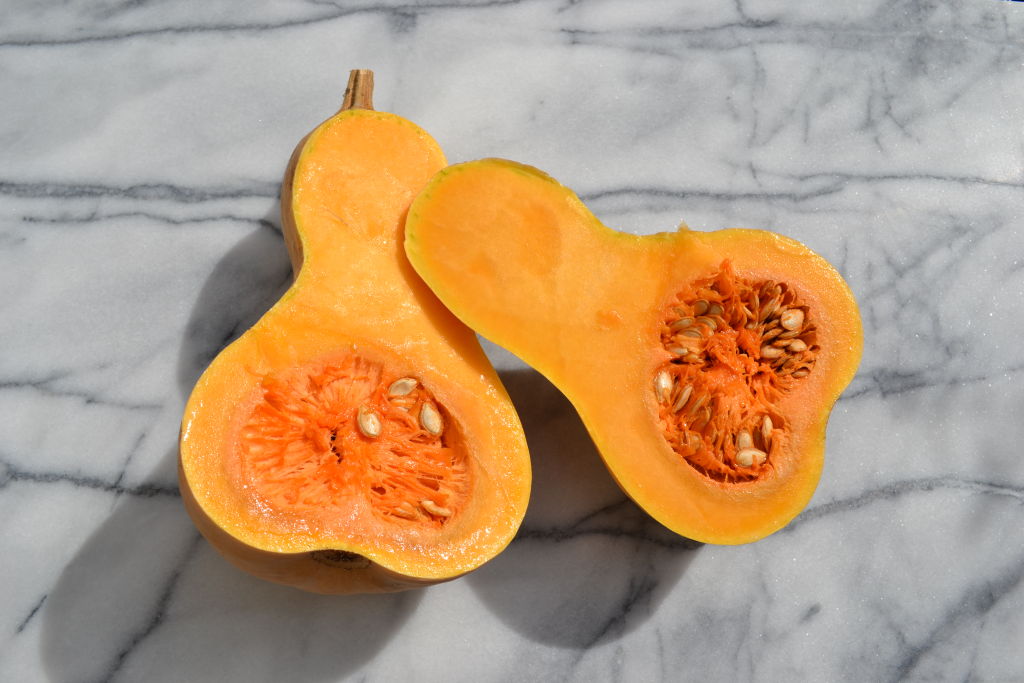 I've tried a lot of butternut squash soup recipes. And although they're good, I've found most of them are missing something – a little bite or punch of flavor. So I developed this recipe by taking some ideas from a Williams-Sonoma recipe and adding my own twist to get it just right. In a word it is simply FLAVORFUL. Even Ryan (my husband) loves it….if it's a vegetable dish and he goes in for seconds that's a huge deal, y'all. Make a batch and eat leftovers for lunch over the coming days! The flavors just get better the longer it sits in the fridge. Serve it with a simple grilled cheese for a delicious & filling dinner! Oh, and I should also mention this is super healthy…the recipe makes 8-9 cups depending on the size of your squash, and not counting the bacon, it clocks in at under 150 calories per cup! So go ahead, have seconds or thirds :)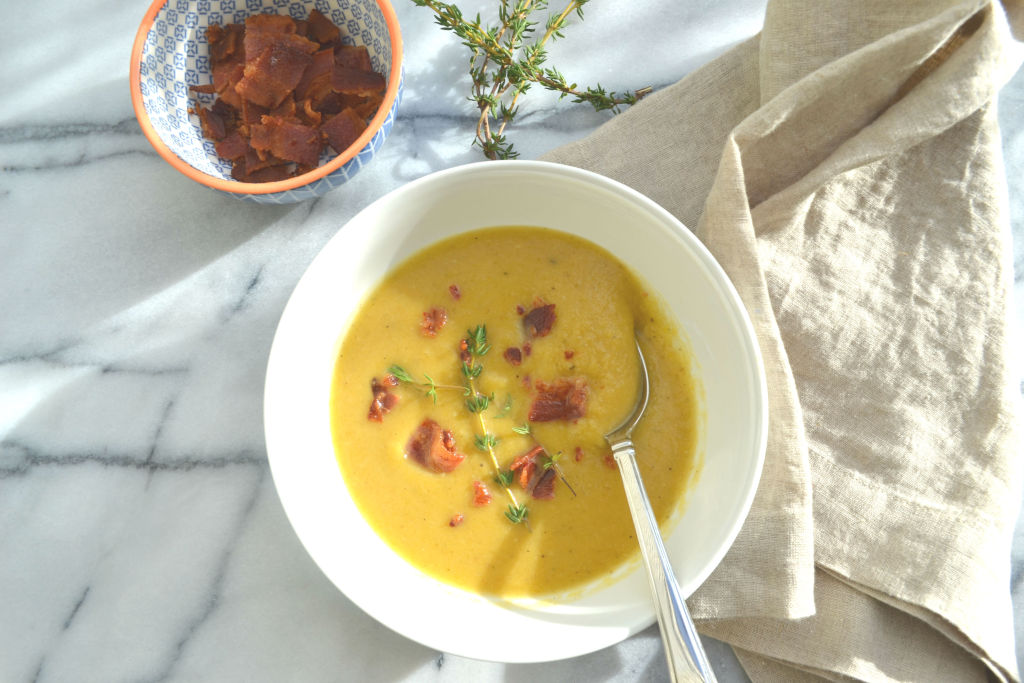 Roasted Butternut Squash Soup with Crispy Bacon
2015-09-30 07:28:23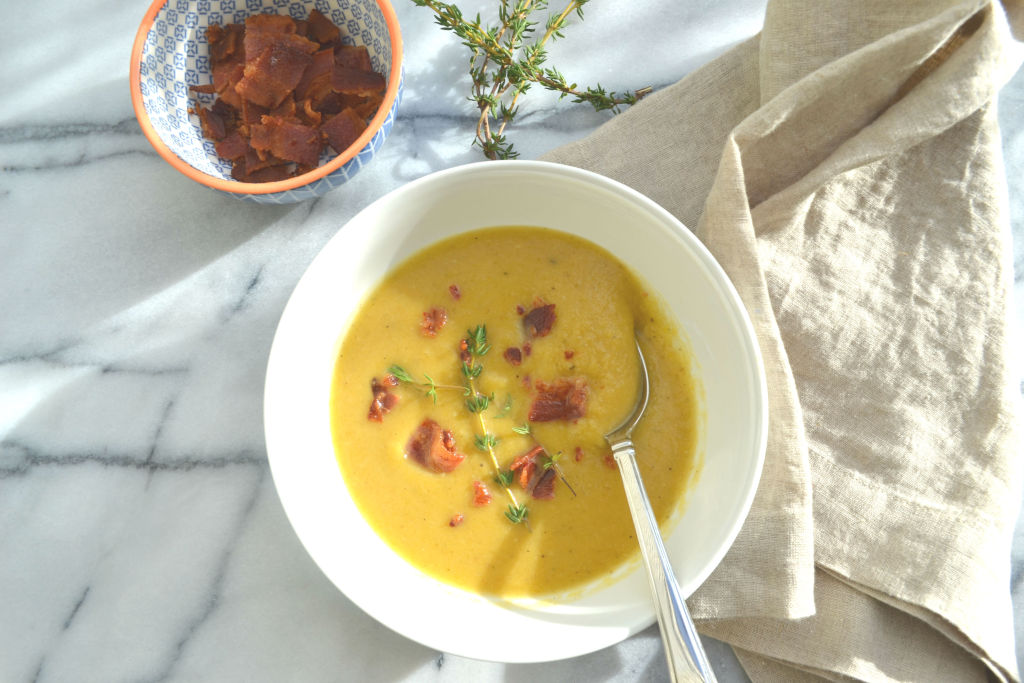 Serves 8
Slightly sweet and creamy butternut squash soup topped with crispy chopped bacon!
Ingredients
2-2.5 lbs butternut squash (1 medium squash)
Olive oil, kosher salt, & black pepper for roasting butternut squash
2 1/2 Tablespoons unsalted butter
2 Anjou pears (red or green), cut into 1/4-inch slices
1 small yellow onion, 1/2-inch dice
2 celery stalks, 1/2-inch dice
3 garlic cloves, minced
1 teaspoon fresh thyme, minced
1/2 teaspoon kosher salt
1/4 teaspoon cumin
1/8 teaspoon allspice
1/8 teaspoon nutmeg
1/8 teaspoon black pepper
Pinch of ground cayenne pepper (optional)
3 cups chicken stock (or chicken broth)
2 Tablespoons apple cider vinegar
1/2 -3/4 cup half and half
At least 8 slices of bacon - double it to be safe ;)
Roasting the squash
Preheat the oven to 400 degrees.
Prepare the squash: peel it with a Y-peeler, very carefully cut in half lengthwise, scoop out the seeds, cut into 1-inch cubes. (See my note below if you'd prefer not to use a whole squash.)
Put cubed squash onto a baking sheet. Pour about 2 Tablespoons of olive oil on top. Sprinkle with about 1/2 teaspoon each of kosher salt and black pepper.
Using your hands mix everything together.
Bake for 12 minutes.
Making the soup
While the squash roasts, heat the butter over medium-high heat in a large pot.
Once the butter is melted, add the sliced pears, diced onion, and diced celery. Stir occasionally for about 2-3 minutes
Add minced garlic and minced thyme, stir to combine and allow to sit for 1-2 minutes.
Next, add all the spices: kosher salt, cumin, allspice, nutmeg, black pepper, and cayenne pepper. Stir to combine.
By now the squash should be done roasting. Take it out of the oven and add it to the pot of vegetables.
Also add the chicken stock/broth and apple cider vinegar. Stir to combine.
Bring to a boil, cover, and reduce heat to medium-low. Simmer for 10 minutes.
While the soup is simmering, preheat the oven to 375 degrees. Cover a baking sheet with foil and lay the bacon on top in a single layer without touching. Bake 12-14 minutes or until crispy.
After the soup has simmered for at least 10 minutes, use a hand-held immersion blender to puree the mixture until smooth right in the pot. This should take about 3-4 minutes.
Once the soup is smooth, add the half and half and stir to combine.
If necessary add salt and pepper to taste.
When the bacon is done baking, take out of the oven and put the bacon on a towel lined plate.
After a couple of minutes, transfer the bacon to a cutting board and chop into small pieces.
Serve soup hot with a sprinkle of crispy bacon. Enjoy!
Notes
Tip #1: please feel free to use the pre-cut/pre-packaged butternut squash in the grocery store. This cuts out about 10 minutes of prep time and is just so convenient! If you go this route you'll need about a pound of it.
Tip #2: if you don't have an immersion blender, you can puree the soup in a blender. Just make sure to allow the soup to completely cool before you blend (cool for at least 20 minutes, uncovered off the heat). Once cool, use a ladle to spoon the soup into the blender. Puree the mixture then transfer to another pot so you can puree the rest of the soup in batches.
Tip #3: if you prefer a thinner soup, add more chicken stock until it's to your liking.
Adapted from Williams-Sonoma Home
Love & Food ForEva https://loveandfoodforeva.com/