I've been cooking with thyme a lot recently. I can't help it, thyme gives such amazing flavor. And let's be honest, when I buy fresh herbs I only need a small amount for a dish, then have to come up with ways to use the rest so it doesn't go to waste! This is actually how I plan out meals for the week. On Sundays I check what's in the fridge/freezer and pantry and go from there. I really hate wasting food and like to minimize trips to the grocery so this works best for me. One day I'll do a post on pantry staples – keeping my pantry stocked helps a LOT with meal planning :)
This Lemon Garlic Chicken is one of my go-to weekday dinner recipes – it's quick and easy; plus I usually have all the ingredients on hand. And it has such wonderful fresh flavors! It's no surprise that I love the Barefoot Contessa. I can thank my mom for that….I remember waking up on Saturday mornings and coming down the stairs to find her watching Ina Garten on the Food Network. Memories are a wonderful thing, aren't they? :) I've modified one of Ina's recipes slightly to work for skinless chicken breast and added a tiny spice (which is totally optional).
Serve with some crusty french bread to sop up the delicious lemon-wine sauce! Then add a side of frozen veggies for a quick, yet complete and healthy meal!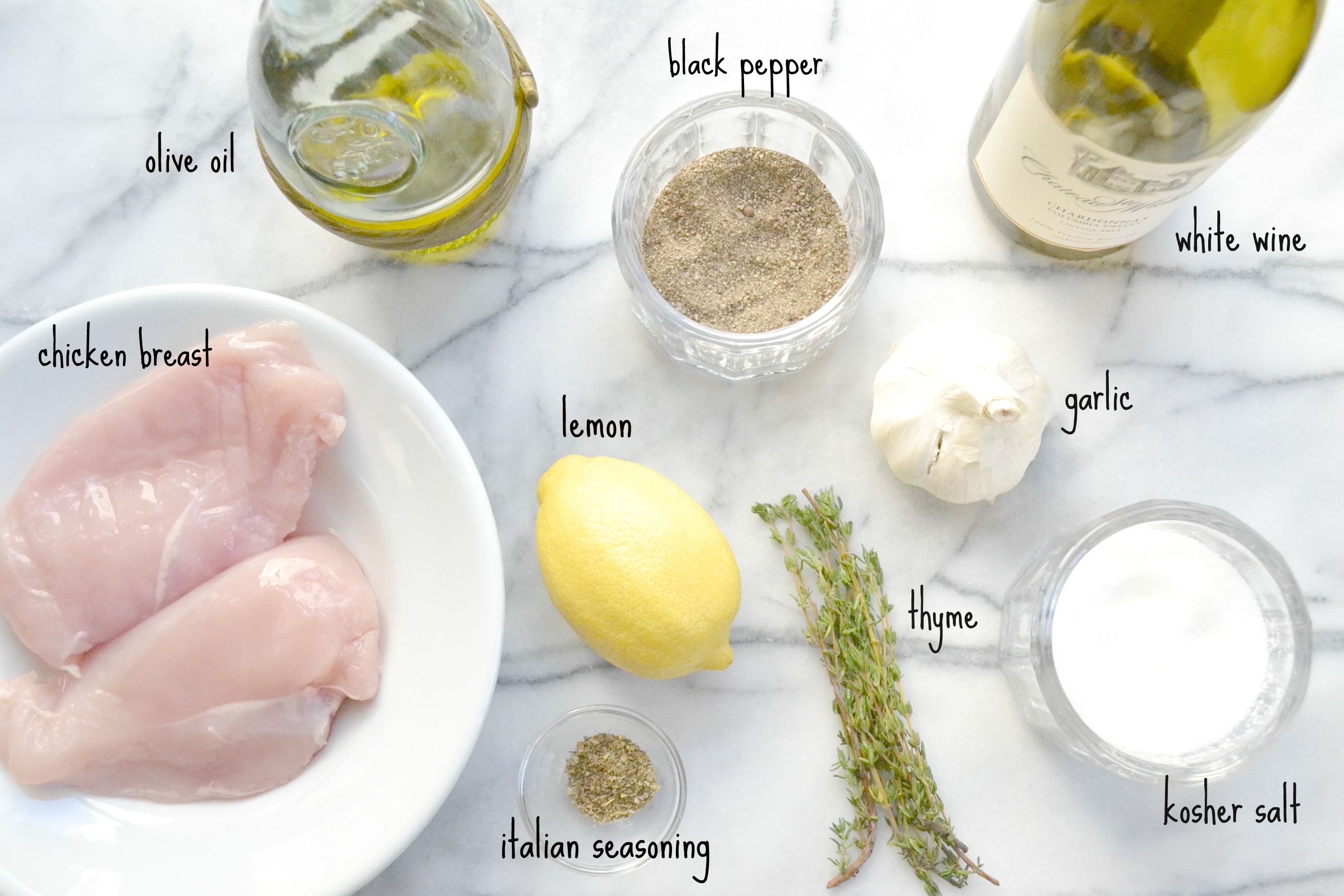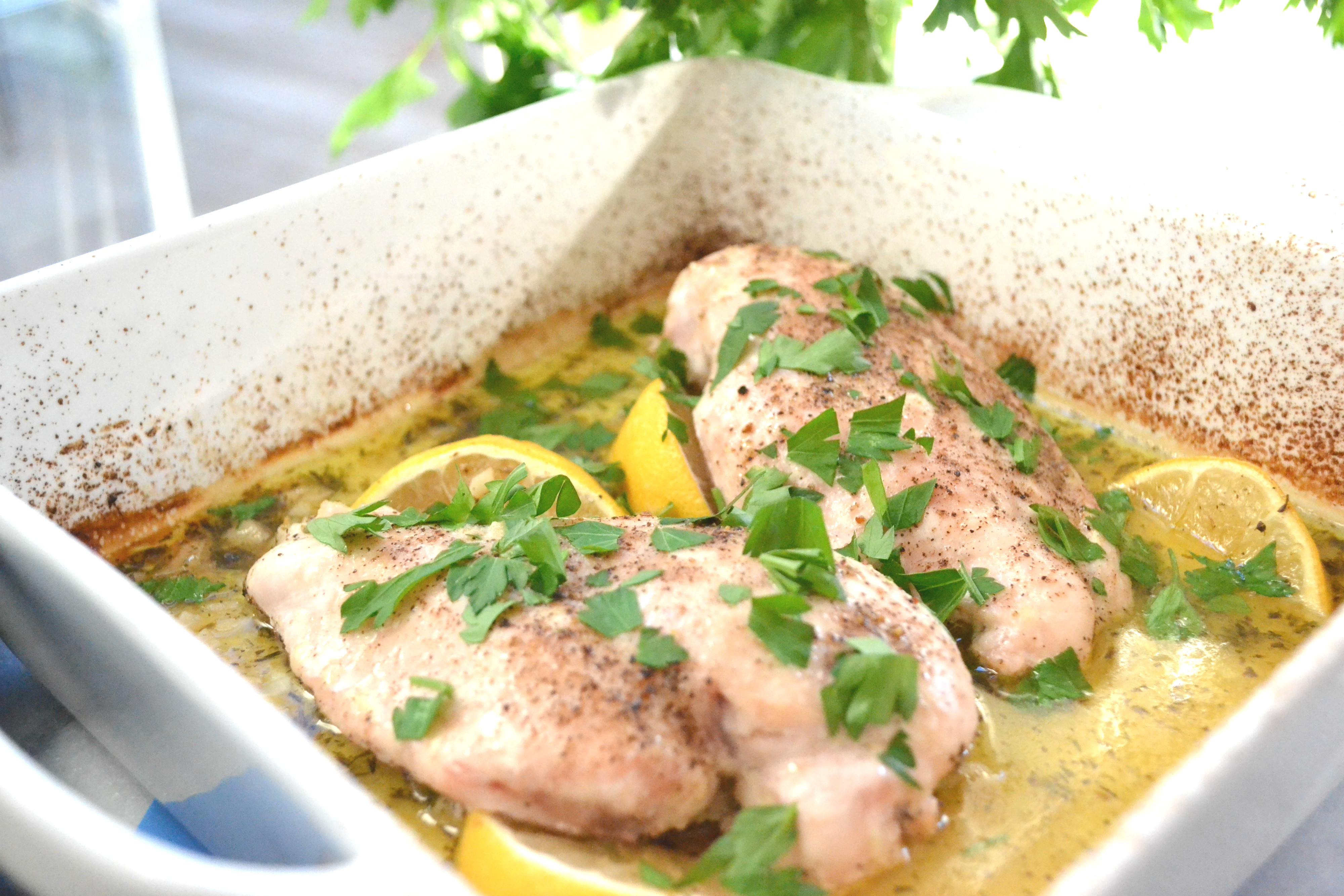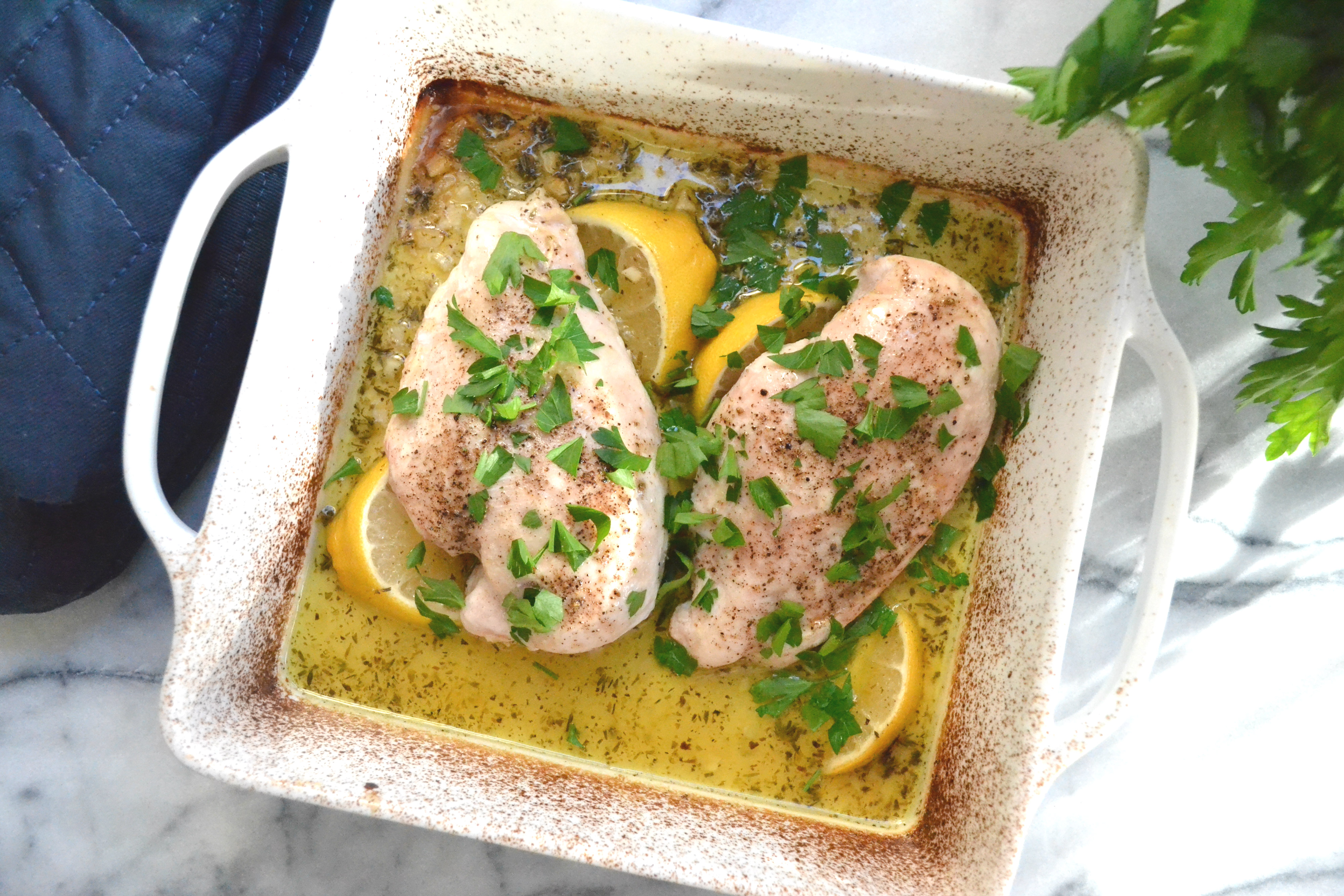 Lemon Garlic Chicken
2015-10-21 13:07:47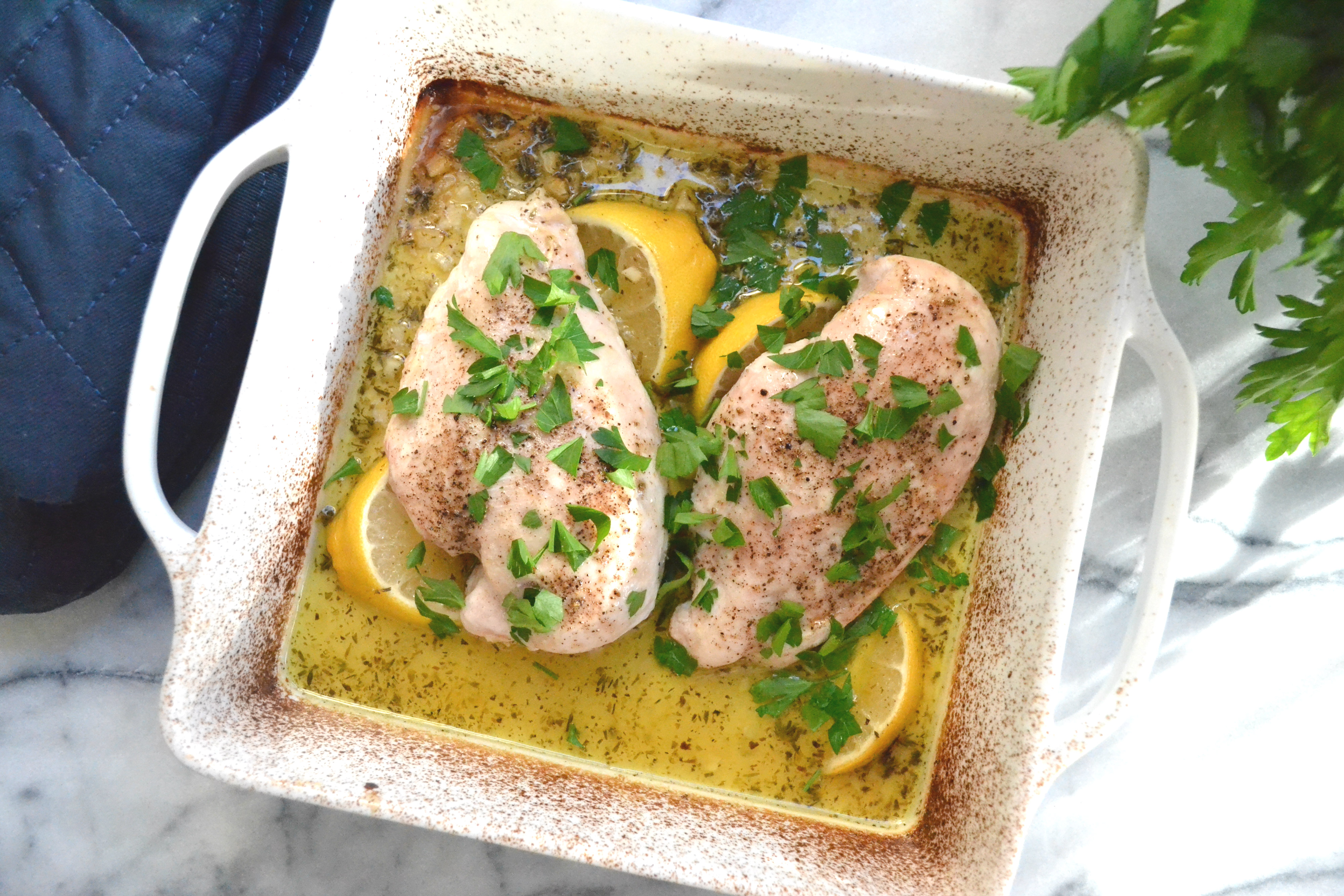 Serves 4
Simple, fresh flavors come together for a delicious Lemon Garlic Chicken. Perfect for a quick weeknight dinner!
Ingredients
4 boneless chicken breasts (about 2 lbs total), pat dry with paper towels
4 Tablespoons olive oil + extra for drizzling
4 garlic cloves, minced
1/3 cup white wine (any kind that you would drink will work, I use whatever is in the fridge :) )
2 lemons: cut 1 lemon into 8 wedges; zest the 2nd lemon and then squeeze the juice out of this same 2nd lemon into a small prep bowl
2 teaspoons fresh thyme or rosemary, chopped
1 teaspoon dried Italian seasoning
1 teaspoon kosher salt + extra for sprinkling
Pinch of crushed red pepper flakes (optional)
Black pepper for sprinkling
Fresh parsley for garnish (optional)
Instructions
Heat a small saucepan over medium-low heat, add the olive oil and heat for 1 minute.
Preheat the oven to 400 degrees F.
Add minced garlic to the oil, stirring constantly for about 1 minute so it doesn't burn.
Take the saucepan off the heat. Add white wine, lemon zest, lemon juice, fresh herb (thyme or rosemary), dried Italian seasoning, 1 teaspoon kosher salt, and a pinch of crushed red pepper (optional).
Pour the wine-lemon sauce into a 9x12-inch baking dish.
Put the chicken breasts on top of the sauce. Drizzle olive oil on top of each chicken breast, sprinkle with salt and pepper. Place all the lemon wedges in the dish, tucking them under the chicken as much as possible.
Bake for about 30 minutes, until the chicken is done and reads 165 degrees F internally (if you have a meat thermometer).
Take baking dish out of the oven and cover with foil for 5-10 minutes.
Serve hot with the lemon-wine sauce on the side.
Notes
Note: In the pictures you will see I only have 2 chicken breasts because I wanted to make only 2 servings. However, the recipe is written for 4 servings. To make it for only 2, simply use half of each measurement.
Adapted from Barefoot Contessa
Love & Food ForEva https://loveandfoodforeva.com/